Creamy Strawberry Pie ~ Delicious Flaky Crust Piled with a Creamy Strawberry Pie Filling!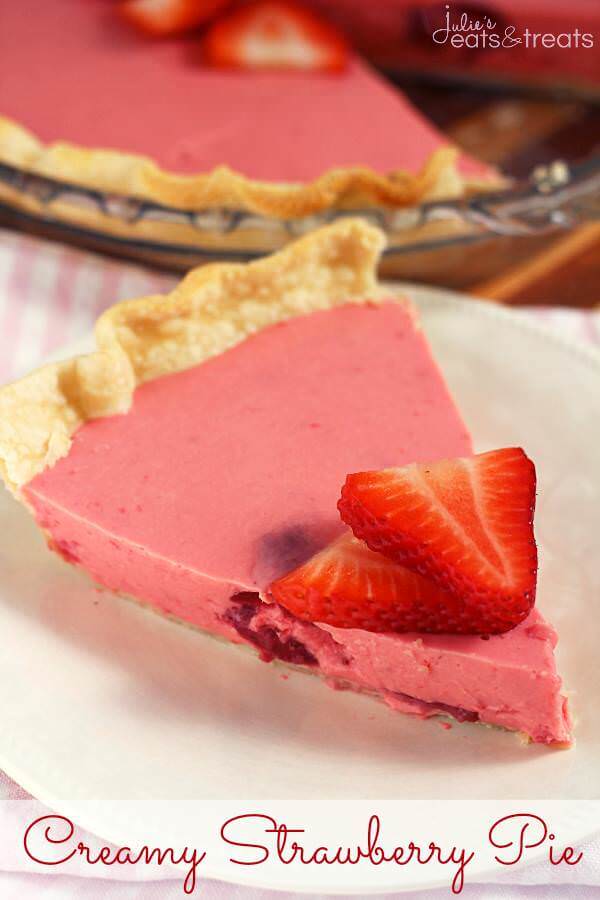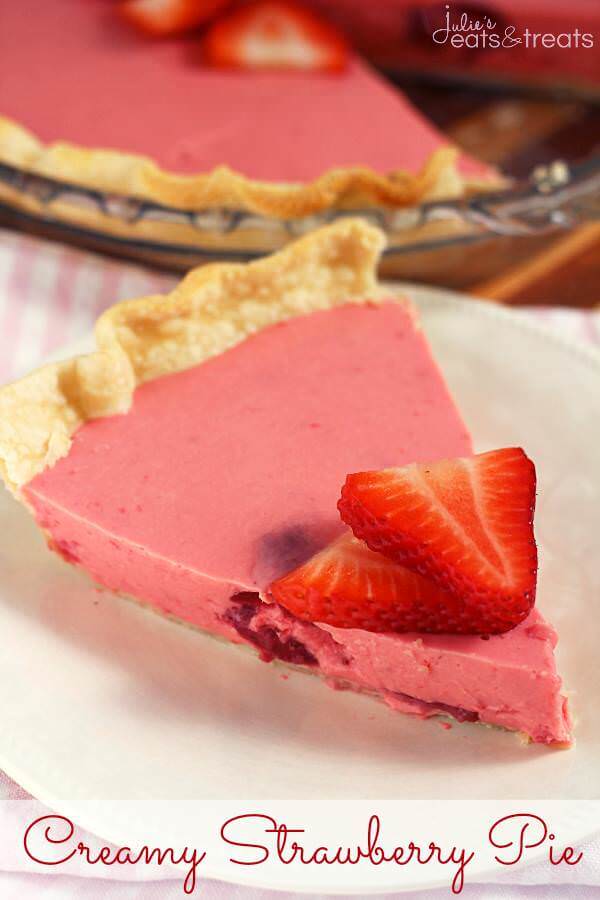 Today I'm helping celebrate my dear friend, Lisa from Wine & Glue's, Virtual Baby Shower! Won't you swing over to Wine & Glue and wish her a big fat CONGRATULATIONS on the upcoming arrival of her baby girl?
Great! I knew you would!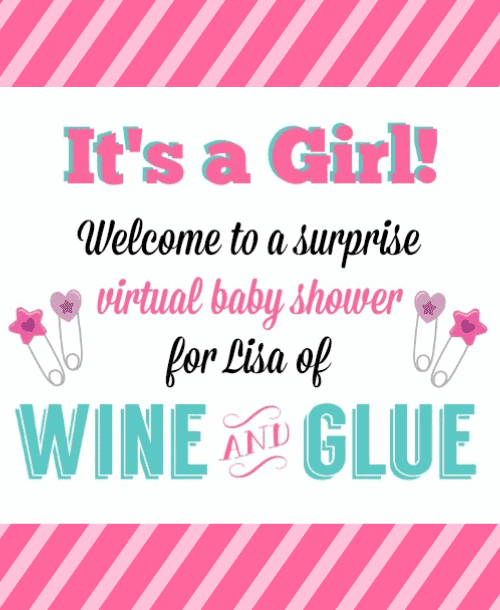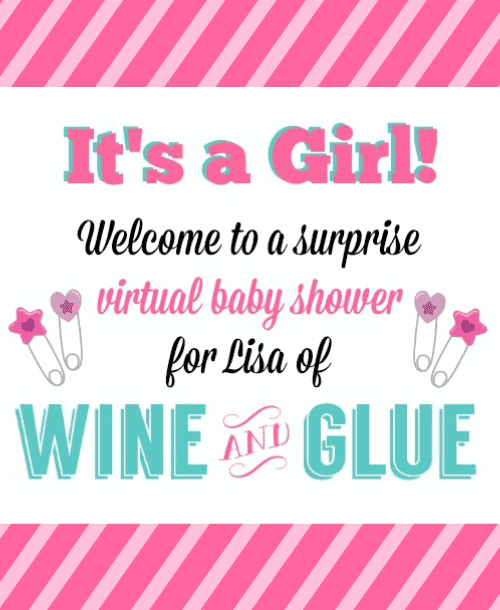 Lisa, oh Lisa, where do I even start? She's like the best friend a girl could ask for in the "virtual" world. We found each other a year or so ago and the rest is history. She's hilarious and definitely shares in my snarky sarcasm that only some people can appreciate. Lisa is always that person I can run to screaming, "LISA I'M GOING NUTS, THIS IS CRAZY, WHAT SHOULD I DO?" Then she promptly talks me down off my ledge and I deal with that disaster that has presented itself and I'm singing her praises once again.
We had the chance to meet this past winter when we both got invited to Pillsbury and I was so freaking excited I couldn't hardly contain myself. Then you meet and it's kind of awkward, I'm not going to lie, because you know like way to much about each other but you've never really talked. So it's like uh hug, handshake, high five…what should I do? So I just hugged her. End of story. Luckily she returned my hug, or at lease I pretended she did!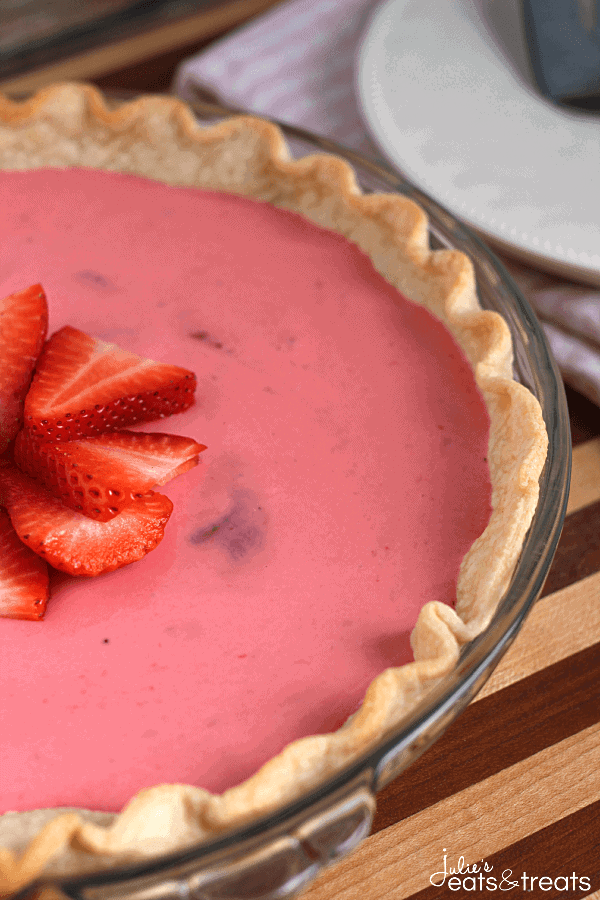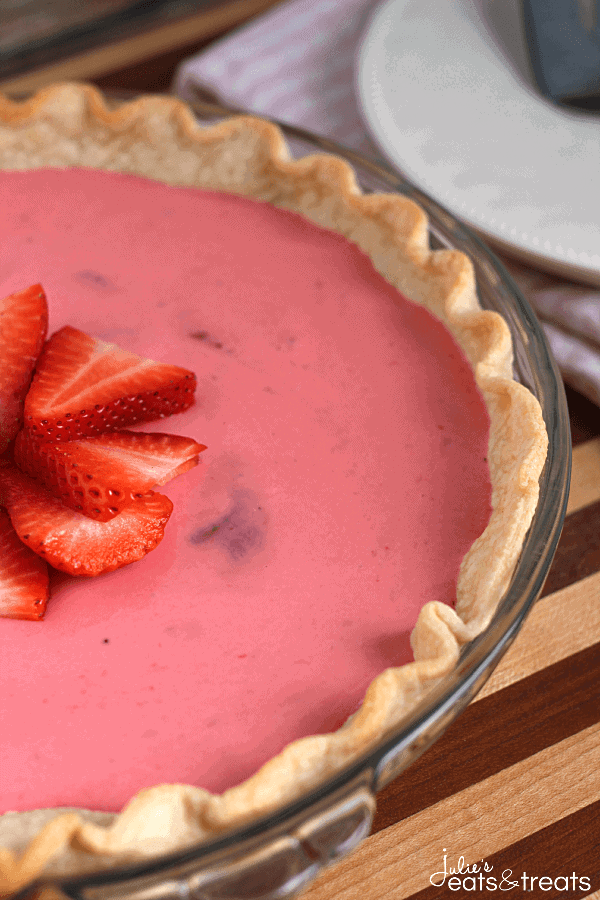 A few weeks ago I was revealing one of my darkest, deepest secrets to Lisa. It's the secret that pie scares the living daylights out of me. I mean seriously. I avoid it at all costs. The thought of trying to get those edges perfectly crimped just scares me. She promptly laughed at me. Then asked if I can make Rainbow Sugar Cookies why on earth couldn't I make a pie?
I figured for her baby shower I was going to tackle my biggest fear and thank her for giving me a kick in the butt! I did it peeps! I made a pie! Don't look to closely at the edges as they aren't perfect but I'm no longer scared and I have to thank Lisa! Smooches girl!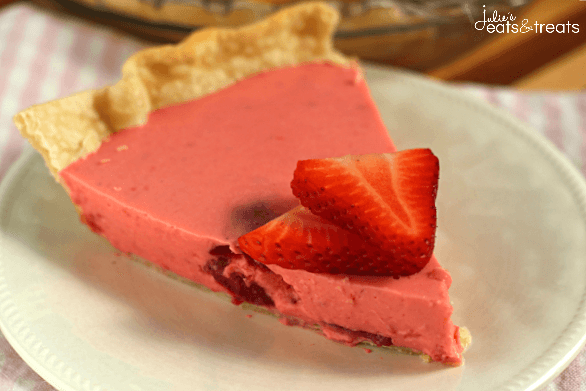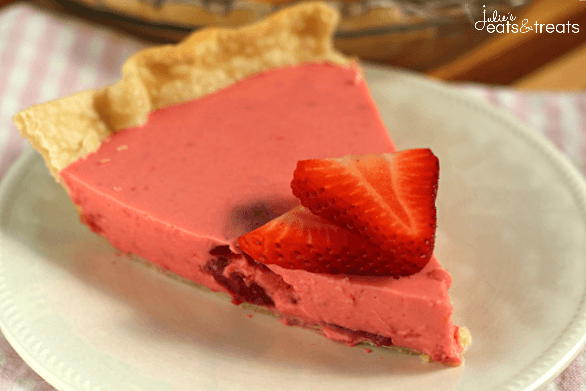 If it's heating up in your part of the world make sure to put this on your short list of recipes you must make. It's a cool, creamy strawberry pie that is second to none. In fact my hubs said that it might have kicked this Easy Strawberry Pie to the #2 place!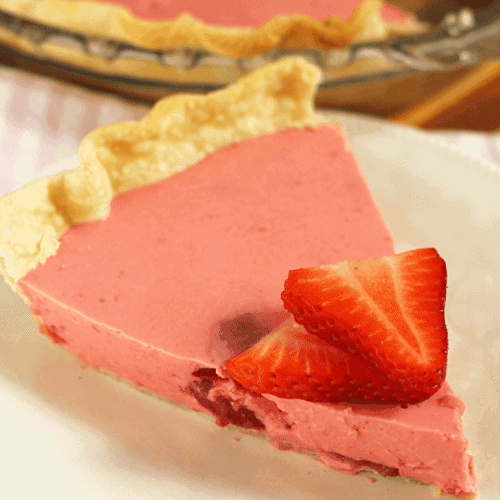 Creamy Strawberry Pie
Creamy Strawberry Pie ~ Delicious Flaky Crust Piled with a Creamy Strawberry Pie Filling!
Print
Pin
Rate
Ingredients
1

package

10 ounces frozen sweetened sliced strawberries, thawed

1

package

3 ounces strawberry gelatin

2

cups

strawberry ice cream

1

pie shell

9 inches, baked

1

c.

sliced strawberries
Instructions
Strain strawberries into a 1 c. measuring cup; reserve juice, set strawberries aside. Add enough water to the strawberry juice to measure 1 c. Pour juice/water mixture into a large saucepan. Bring to a boil over medium heat. Remove from heat and stir in gelatin until it is fully dissolved.

Add ice cream and stir until blended. Refrigerate mixture for 5-10 minutes or until it is just thickened.

Remove from fridge and fold in reserved strawberries. Pour into baked pie shell.

Fold in reserved strawberries. Pour into pastry shell. Refrigerate until firm, about 1 hour. Garnish with fresh strawberries. Refrigerate leftovers.
Nutrition
Serving:
1
g
|
Calories:
216
kcal
|
Carbohydrates:
24
g
|
Protein:
11
g
|
Fat:
8
g
|
Saturated Fat:
3
g
|
Cholesterol:
9
mg
|
Sodium:
128
mg
|
Potassium:
182
mg
|
Fiber:
2
g
|
Sugar:
3
g
|
Vitamin A:
105
IU
|
Vitamin C:
40.8
mg
|
Calcium:
60
mg
|
Iron:
1
mg
LEAVE A COMMENT
Craving more Strawberry?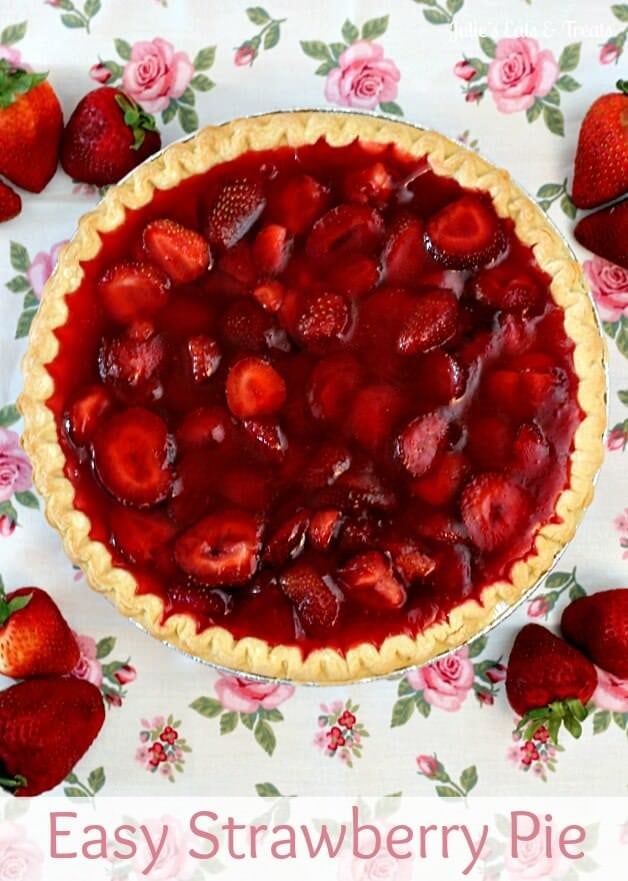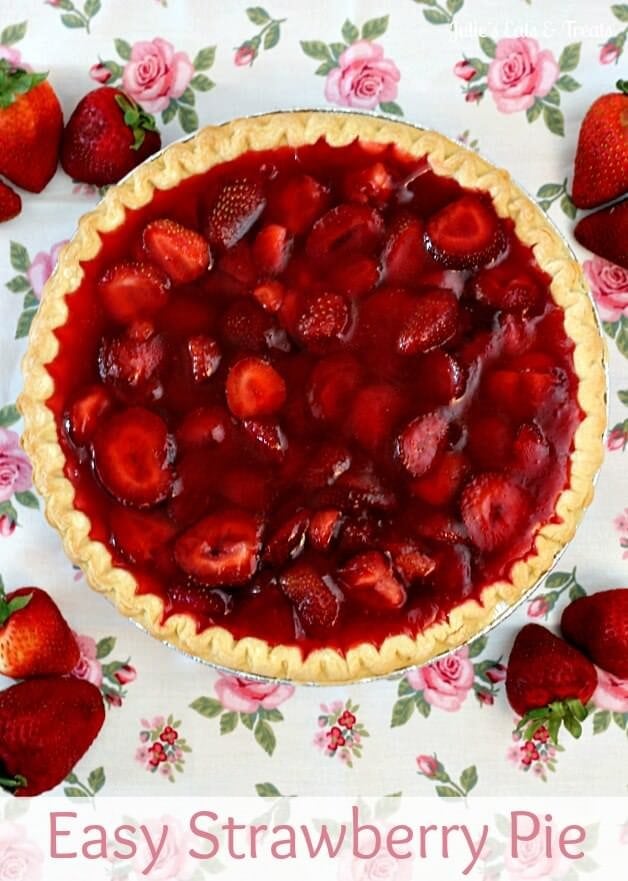 Easy Strawberry Pie ~ Quick and Easy Strawberry Pie anyone can make!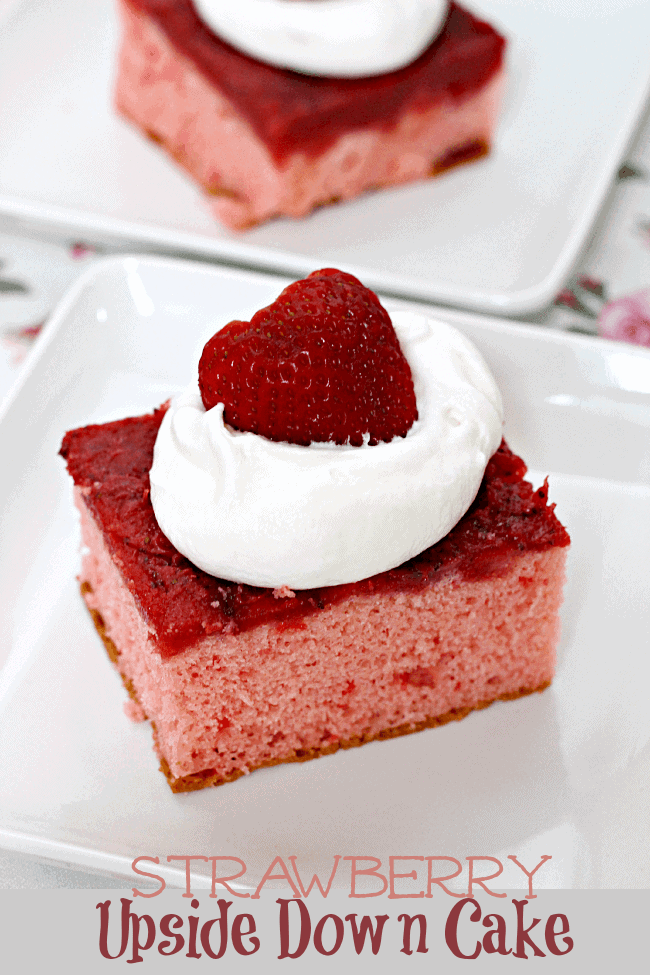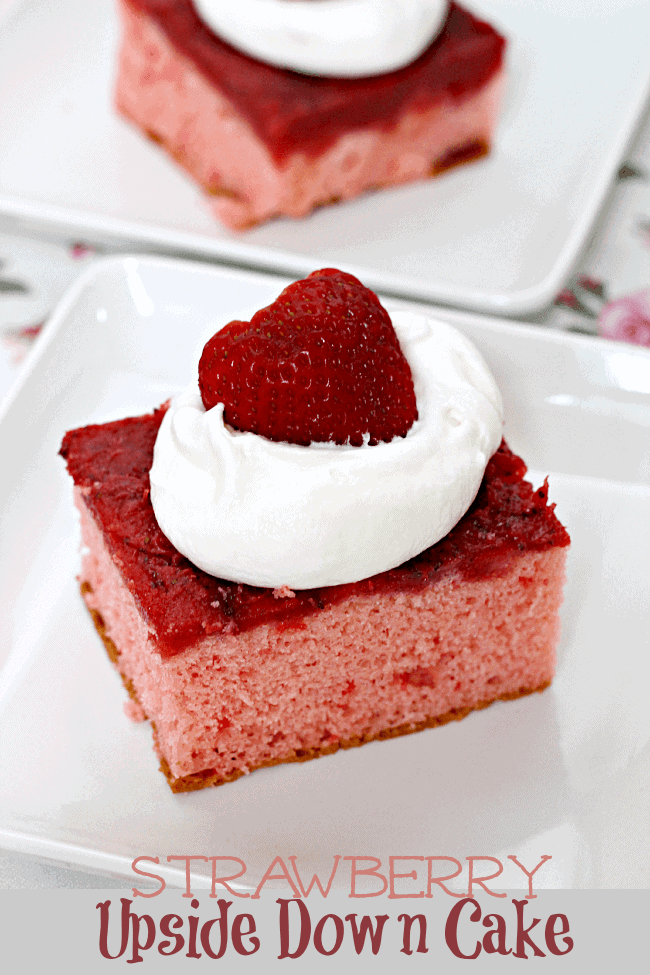 Strawberry Upside Down Cake ~ A Layer of Fresh Strawberries Tops off this Easy Cake!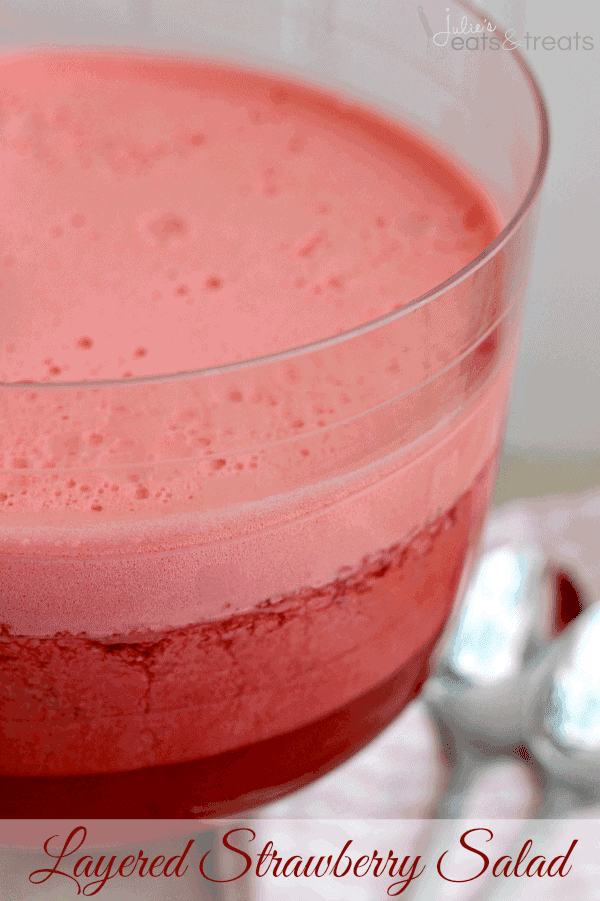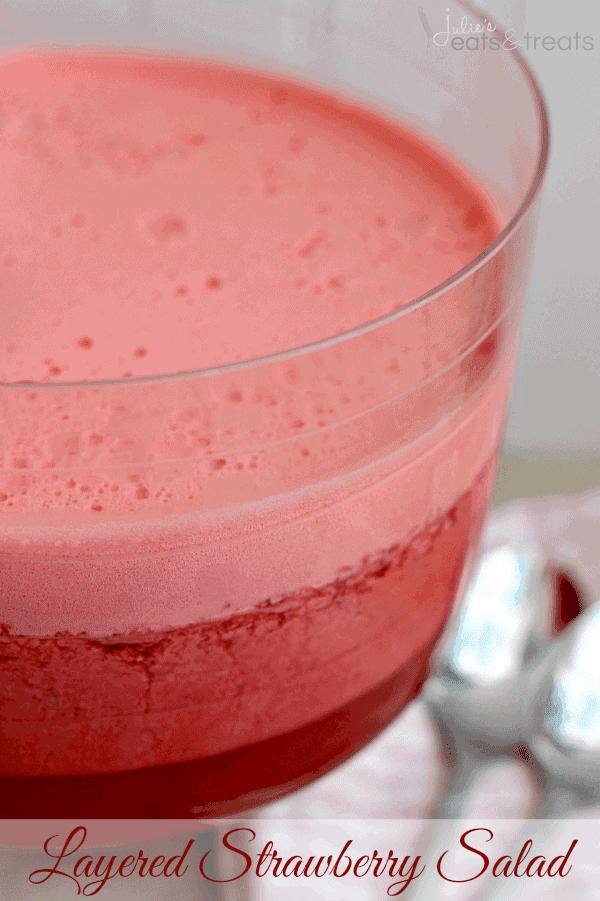 Layered Strawberry Salad ~ Light and fluffy layers of Strawberry Jell-O! Always a crowd pleaser!