Crockpot Shredded Chicken Tacos
With only three ingredients these Crockpot Chicken Tacos are the perfect quick and easy dinner recipe for a busy weeknight! Simply combine the chicken breasts, taco seasoning and salsa in your crock pot and let them cook. Shred the chicken, mix together and pile it on your tortilla and top with your favorite taco toppings!
You can also use it in enchiladas, burritos, nachos and more. The possibilities are endless!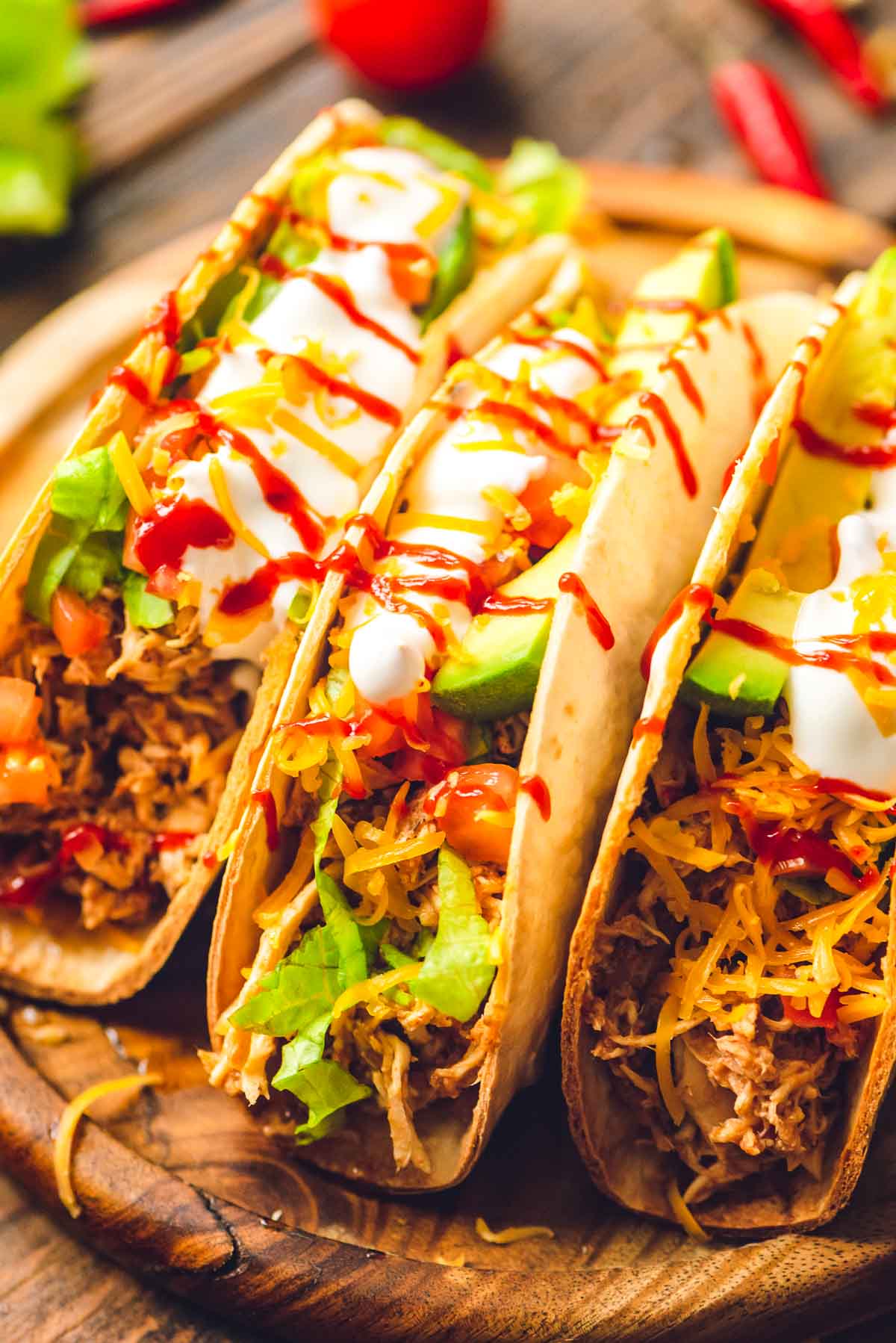 You guys know I love my easy recipes but when a recipe only has three ingredients and cooks in the crockpot all day AND can be used to make so many different dinners, well, that's just the best recipe ever, right? You can use this easy chicken recipe to make the most delicious tacos or any other Mexican-inspired dinner like enchiladas, burritos, nachos… the list goes on!
I'm pretty much a zombie first thing in the morning and the last thing I want to do is a bunch of prep work so this recipe is a lifesaver. Salsa, taco seasoning and chicken – that's it! You don't even have to slice the meat first. Crockpot Italian Chicken and Spanish Chicken are two of my other favorite "dump and go" crockpot recipes you might like, too.
When you get done with your busy day with a hungry family to feed all you have to do is shred the meat. Then serve it up – we love our tacos around here and I love to get all the toppings on the table and let everyone dress up theirs however they want. It really doesn't get any easier – it's the ultimate easy weeknight dinner.
I also love to make ground beef taco meat in my crock pot!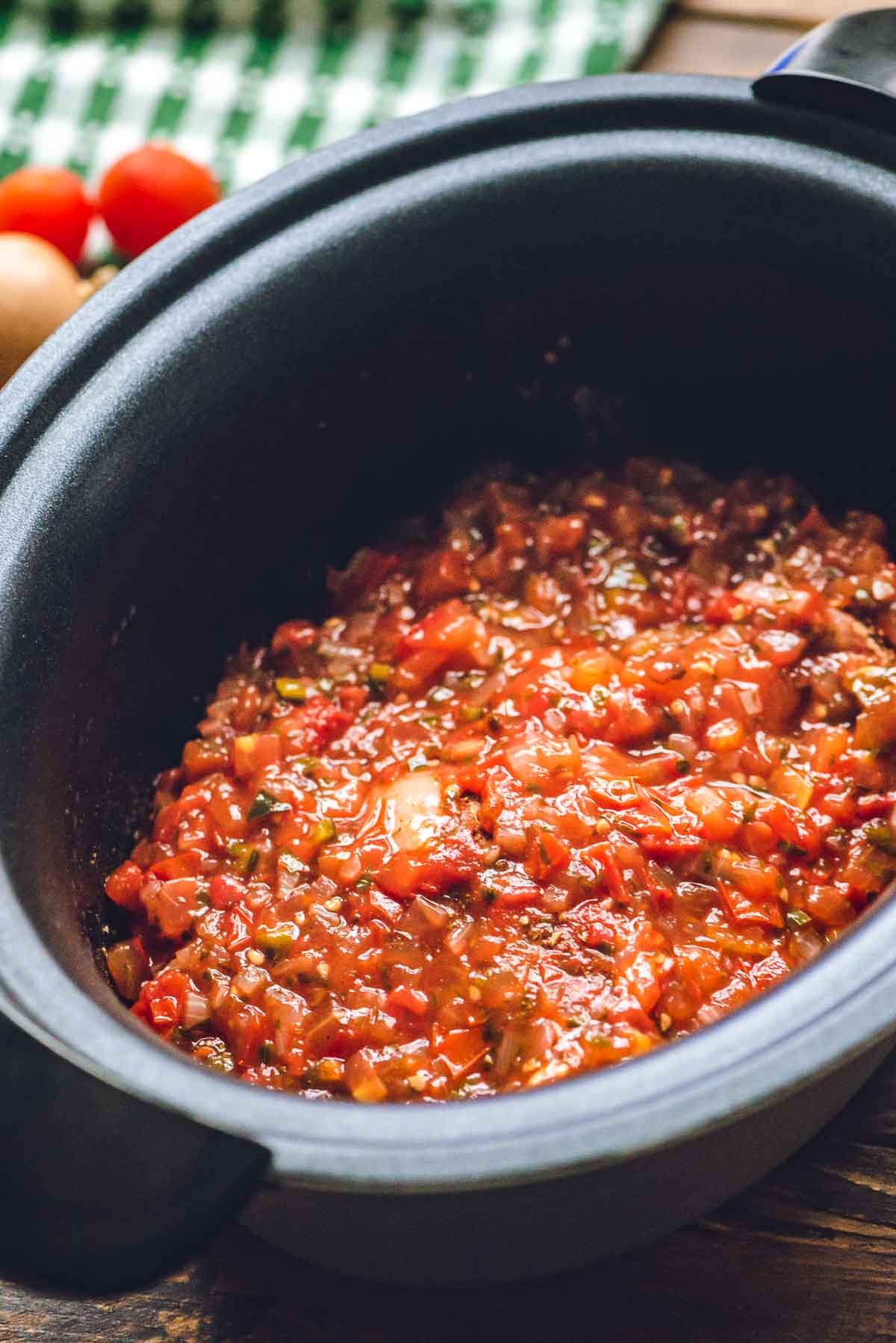 3 Ingredients for Crockpot Shredded Chicken Tacos
I love to use boneless, skinless chicken breasts for this recipe but if you like thighs you can use those, too! Or you can do a mix of both, but just be sure to use boneless, skinless ones. Thighs are smaller than chicken breasts so you might want to toss a couple of extra ones in if you use them.
You will want to use one packet of low-sodium taco seasoning or use your own homemade taco seasoning.
For the salsa, you get to choose your own adventure. Pick your favorite store bought salsa – spicy or not spicy, it's your choice!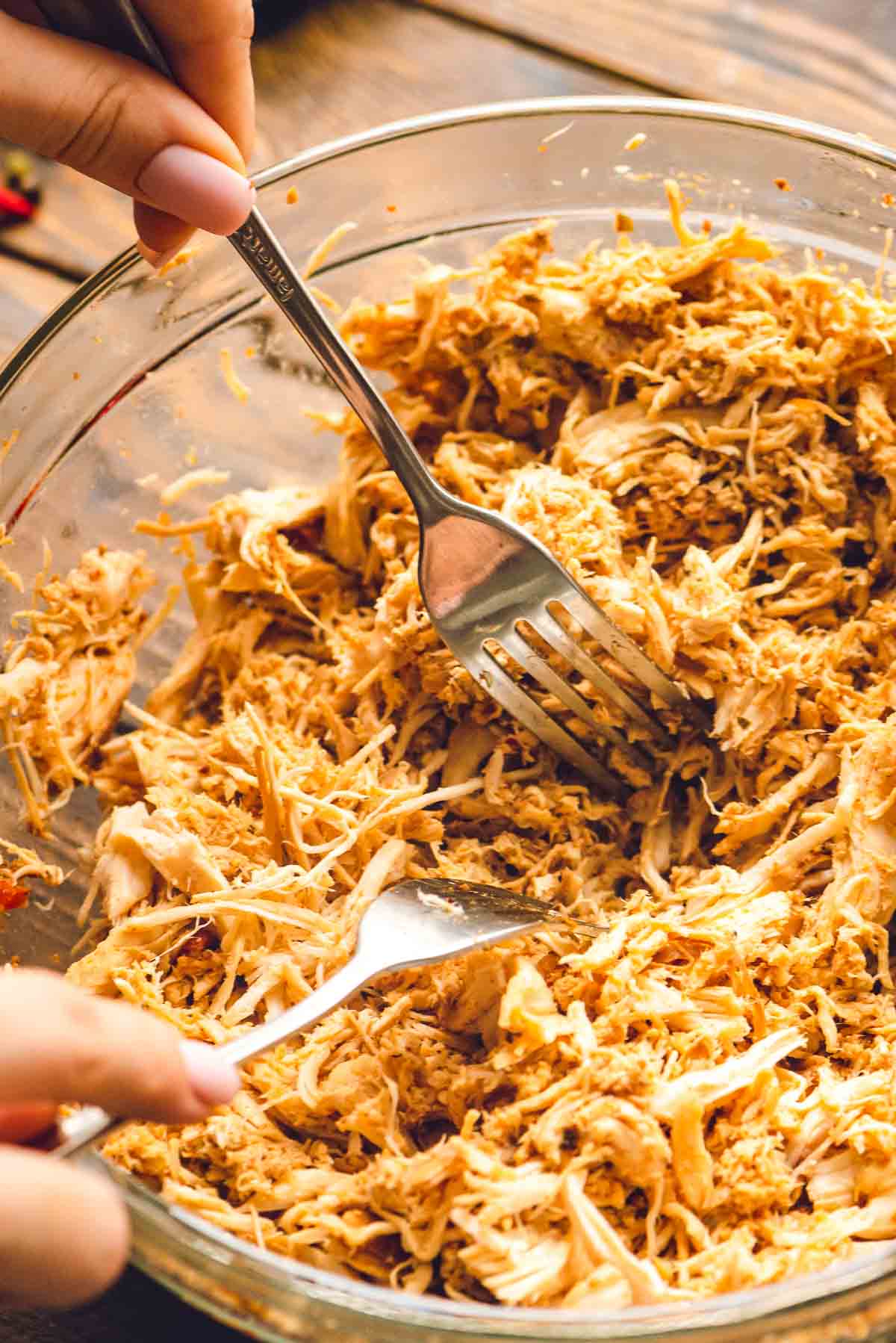 How to Make Crockpot Chicken Tacos
Spray the slow cooker with non-stick spray then place the chicken breasts inside.
Sprinkle with taco seasoning and pour salsa over the top of the chicken breasts.
Cook on low for 6-8 hours or high for 4 hours.
When chicken is done cooking remove from crock pot, shred and return to crock pot. Stir to mix all ingredients together.
Serve on corn or flour tortillas with your favorite taco toppings.
After the chicken has simmered in the salsa all day it's so flavorful.
It's also super tender so once you're ready for dinner all you have to do is shred it.
Ways to Shred Chicken
There are a few different ways to shred chicken depending on what tools you have in your kitchen.
The one that everyone can do is simply shred it with two forks.
Another great option is using a stand mixer with a paddle attachment or a hand mixer. This is quick and easy and gets it's shredded evenly. It's by far my favorite way to go!
If you let the chicken cool you can even do it with your hands, but this is the messiest way. It gets the job done in a pinch, though.
Chicken Tacos Crockpot Topping Ideas!
You can use this shredded chicken in so many ways, but I love to use it to make tacos. Here are some of our favorite toppings:
We love some crunchy taco shells but sometimes I mix it up and serve the tacos with soft corn tortillas or flour tortillas.
Shredded lettuce – iceberg, romaine, even spinach works well! We also love diced tomatoes.
All the cheese, please! Cheddar cheese is our go-to, but Monterey jack and pepper jack cheese are great, too.
Add some sliced avocado or make a batch of my easy guacamole!
Spoon some salsa over the top or pico de gallo.
Creamy sour cream and chopped fresh cilantro are great, too.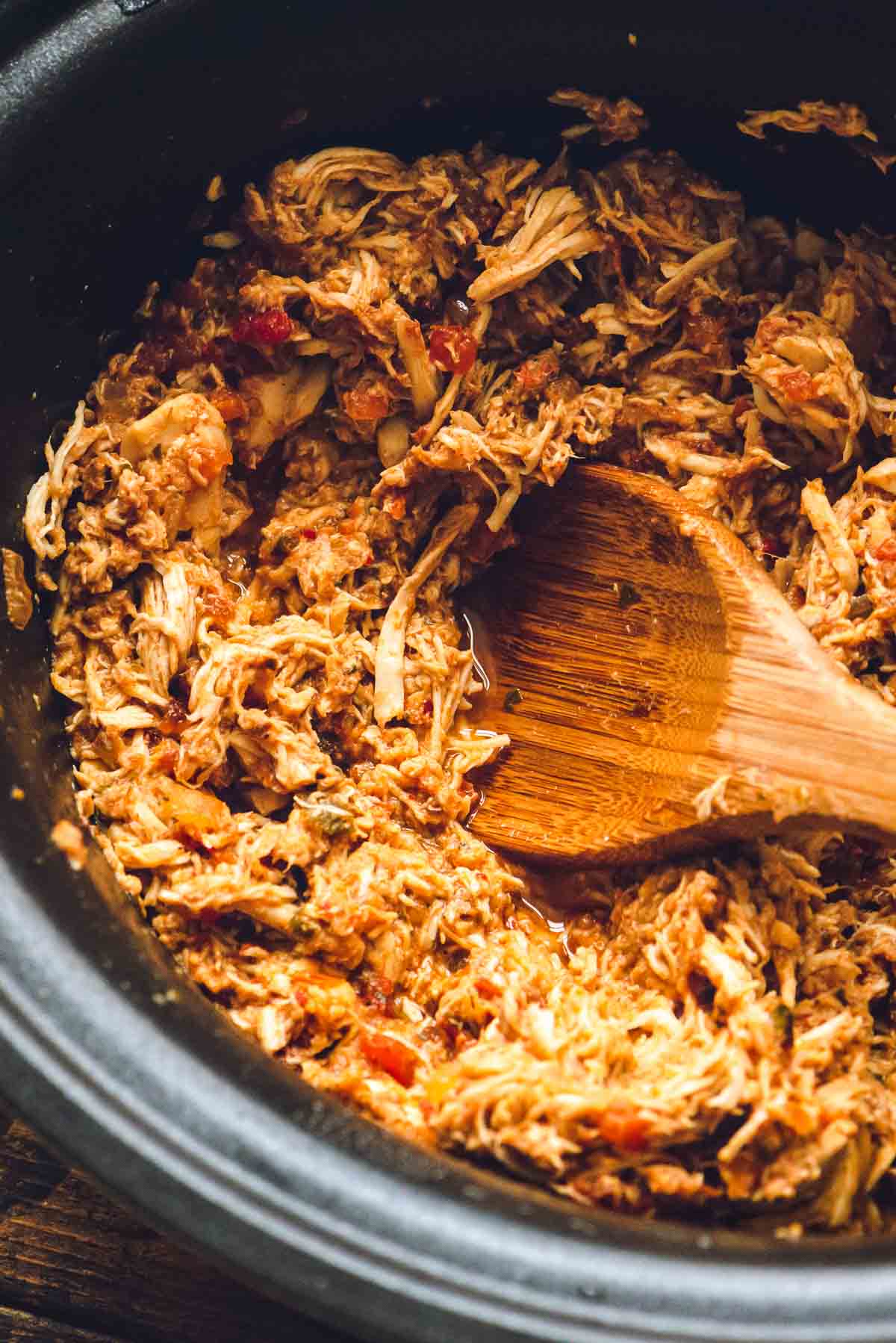 More Ways to Use Crockpot Taco Chicken
When I'm not in the mood for tacos, I've use this easy crockpot chicken to make:
Enchiladas: just roll-up tortillas with the chicken and cheese, top them with enchilada sauce and cheese and bake them until warm and bubbly.
Nachos: Grab your tortilla chips, spread them in an even layer on a baking sheet, top them with the shredded meat and cheese and bake them for a few minutes until the cheese has melted. Top with all of your favorite nacho toppings!
Burritos: Roll the chicken up in tortillas with other fillings like beans, cheese, and sour cream. Serve them smothered with salsa and more cheese on top.
The great thing about this shredded chicken is that it will keep in the refrigerator for a few days for easy lunches. We always have some leftover over and the hubby loves that he gets more tacos for lunch the next day. Or, you can use the leftovers to make sandwiches, wraps, add it to a salad – I'm telling you, it's so versatile!
The chicken tacos are a great family-friendly weeknight dinner, but they're also a super-easy way to feed a crowd for game-days or other parties, too. Make a big batch, layout all of the toppings and let everyone make their own tacos. Add a pitcher of margaritas and you have a party!
This recipe needs to be in your dinner rotation! It's so easy you'll want to make it every week.
Storing Leftover Crockpot Shredded Chicken Tacos
Refrigerator – Place cooled leftover chicken taco meat in an airtight container in the refrigerator for up to four days.
Freezer – Place cooled leftover chicken taco meat in an airtight freezer container or resealable freezer bag. If you are using a resealable bag make sure to remove as much air from the bag as you can before you seal it. Place in the freezer and freeze for up to two months.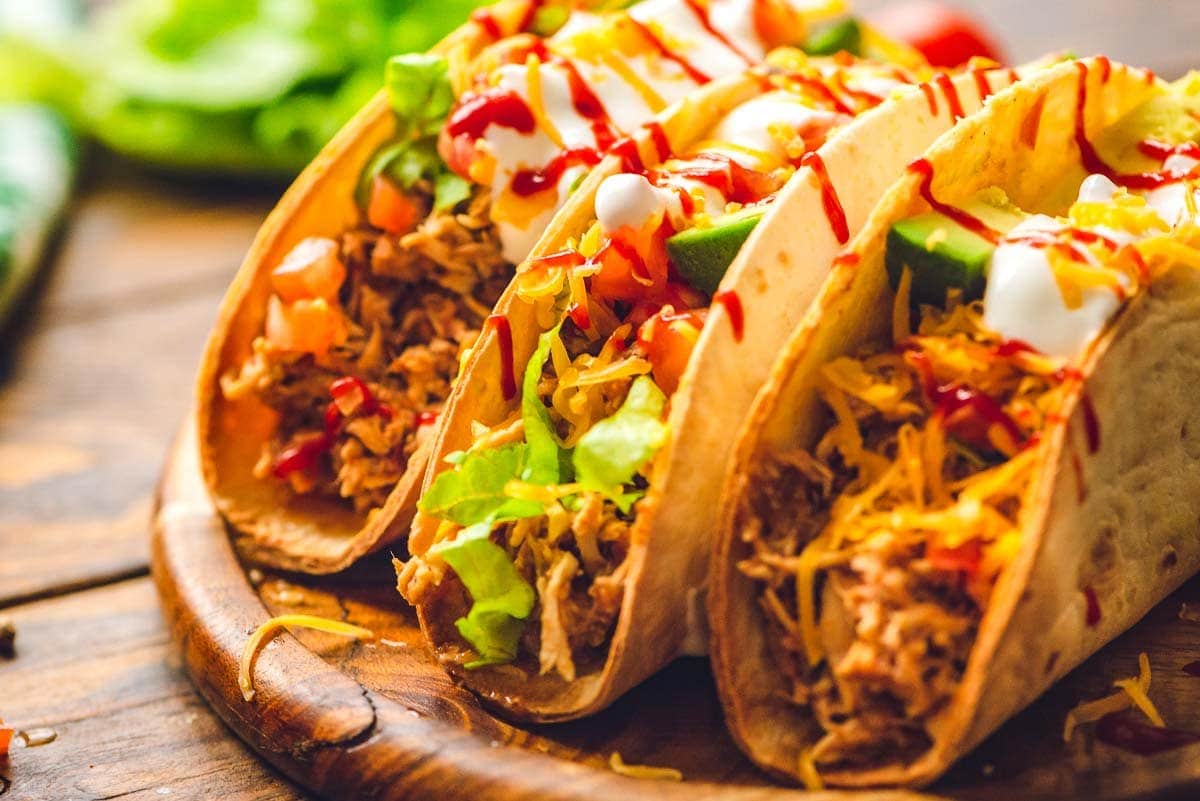 FAQ for This Crockpot Chicken Tacos Recipe
Can you put frozen chicken in the crockpot?
The United States Department of Agriculture (USDA) recommend that you do not put frozen meat in your slow cooker.

This is because your slow cooker takes a while to warm up and it can take several house to reach a temp that's considered "bacteria-killing" making it unsafe to cook frozen meat in it, including chicken.

To be safe thaw your frozen chicken safely before putting it in your slow cooker to cook.
How long does it take chicken breasts to cook in the crockpot?
It will take chicken breasts 6-7 hours on low to cook to an internal temperature of 165 degrees Fahrenheit. If you cook them on high heat in the crock pot it will take about 3-4 hours to cook.
What to Serve with Crock Pot Chicken Tacos
Here are some great ideas to serve with your chicken tacos.
Mix up a batch of homemade guacamole, salsa, corn salsa or pico de gallo to serve as a topping or with chips.
Another great option is a side of homemade Spanish Rice or Mexican Street Corn!
mORE GREAT RECIPES TO TRY!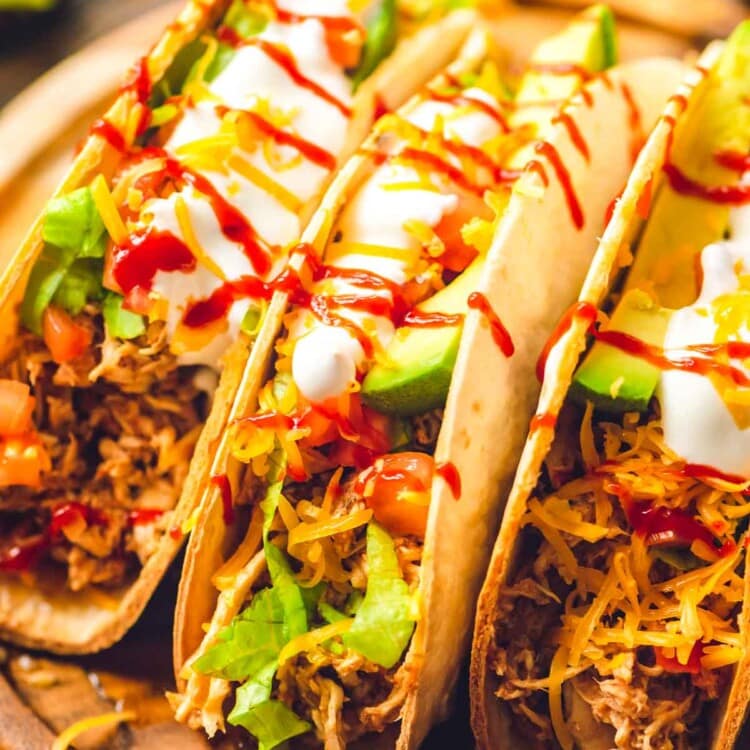 Crock Pot Chicken Tacos
Quick and easy shredded chicken flavored with salsa and taco seasoning in the crock pot!
Ingredients
4

Boneless skinless chicken breasts

1.25 oz

packet low-sodium taco seasoning

16 oz

jar salsa

Taco Toppings: Corn or Soft Shell Tortillas and optional toppings such as: shredded lettuce, diced tomatoes or pico de gallo, shredded cheese, chopped avocados or guacamole, sour cream, hot sauce, cilantro for garnish
Instructions
Place chicken breasts in the bottom of a greased slow cooker.

Sprinkle taco seasoning on top of chicken breasts.

Pour salsa over the top.

Cook on low for 6-8 hours or high for 4 hours.

When the chicken is done cooking shred with two forks or bear claws in crock pot. Stir to mix all ingredients together.

Serve on corn or soft shell tortillas and top with favorite taco toppings.
Tips
*Nutrition is only the chicken, salsa and taco seasoning.
Nutrition Information
Calories:
87
kcal
(4%)
,
Carbohydrates:
1
g
,
Protein:
16
g
(32%)
,
Fat:
2
g
(3%)
,
Saturated Fat:
1
g
(6%)
,
Cholesterol:
48
mg
(16%)
,
Sodium:
123
mg
(5%)
,
Potassium:
286
mg
(8%)
,
Fiber:
1
g
(4%)
,
Sugar:
1
g
(1%)
,
Vitamin A:
55
IU
(1%)
,
Vitamin C:
1
mg
(1%)
,
Calcium:
4
mg
,
Iron:
1
mg
(6%)