Easy Taco Dip ~ Everyone Will Dig Into this Festive Taco Dip! Loaded with Sour Cream, Taco Seasoning, Salsa, Cheese, Lettuce, Tomatoes & Black Olives!
Everyone has that recipe they really hope that someone brings to a potluck, the big game or any get together right? This Easy Taco Dip is mine. I love it. It's got this amazing creamy base layer that's loaded with tacos seasoning then salsa, cheese, lettuce, tomatoes and black olives is piled on top of it. Then add some chips to dunk in it and I'm a total goner. So simple. So scrumptious.
Ingredients Need for Easy Taco Dip!
Sour cream

Cream cheese

Taco seasoning

Salsa

Taco Cheese

Shredded lettuce

Cherry tomatoes, halved

Sliced black olives
Then when on earth has it taken me this long to actually make it?! I mean seriously. If I look forward to it that much there is no good reason I can offer. Sure the hubs doesn't like about half of that stuff I just listed but I go to parties and ladies nights and everything else so why haven't I made it? I suppose it's so easy, everyone makes it and I feel like people expect more from a blogger. It's a lot of pressure people.
I've also learned that people are nervous to come to my parties because they think I'm going to judge the food they make! You guys, that's so silly! Nothing I make is that fancy. Heck, I just love other people cooking and baking for me! I will never ever judge you!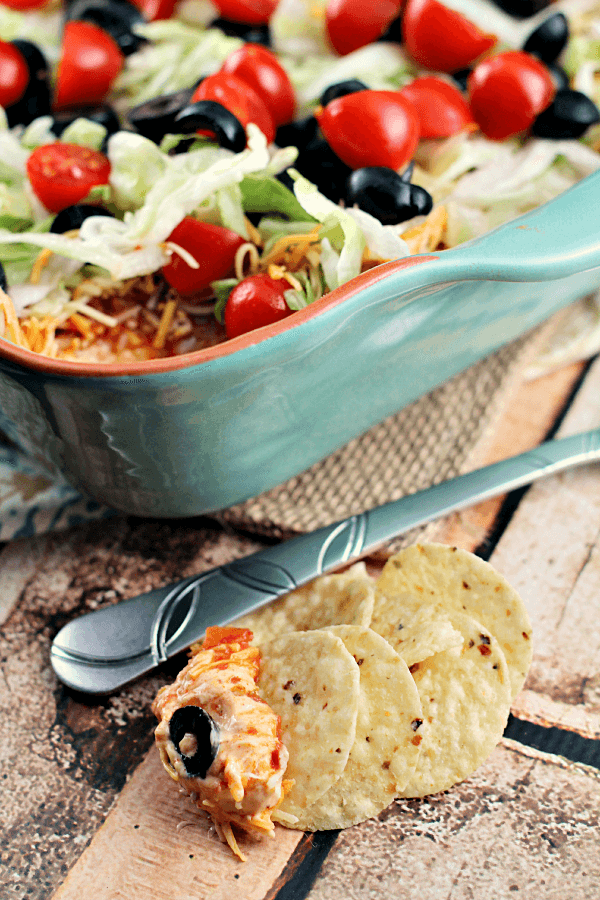 Also, I've never made it for you because I figure that everyone has this recipe and knows about this dip because everyone makes it except me right? Well in case you haven't been introduced to this staple around the Midwest I'm here to share. I don't want you missing out on it because well it's easy but it's epic. I could pretty much sit down with the entire platter and a bag of chips….. don't judge.
In case you have made this recipe and are looking for something else to make in dip form make sure to check out these favorites of mine! They include Crack Dip, Corned Beef Bagel Dip, or Kickin' Ranch Corn Dip!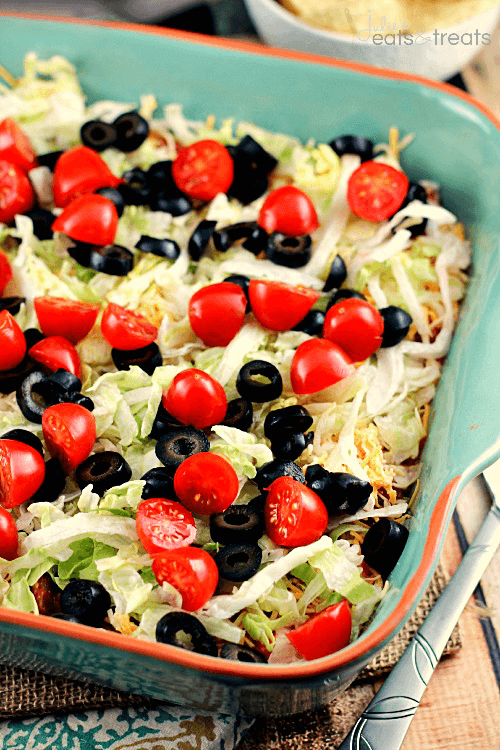 I finally made this when I was searching for a treat for my sister-in-laws birthday. We work with each other and I started this thing where I bring a birthday treat for the birthday lady/guy. Now I know this sounds crazy but the said sister-in-law doesn't really like sweets. I know. GASP. So I began racking my brain for ideas and after a while I'm like duh. Taco Dip. I can throw it together the night before, I know she loves it, and I haven't blogged it. It was kind of a no brainer. Plus, as previously mentioned I could eat the whole platter….
I also learned my daughter loves black olives after making this. That's another story.
Tools Helpful for Making Easy Taco Dip
I'm proud to say that this was a hit for the birthday lady! She had a big smile on it and we all enjoyed it.
If you are looking for an easy, delicious appetizer for all the barbecues and parties this summer or game day or whatever floats your boat I'm handing you the recipe for Easy Taco Dip or giving it to you virtually. Don't be a fool like me and wait to make it! Plus, its our secret if you just hoard it for yourself. If you are feeling generous invite me over and at least share with me!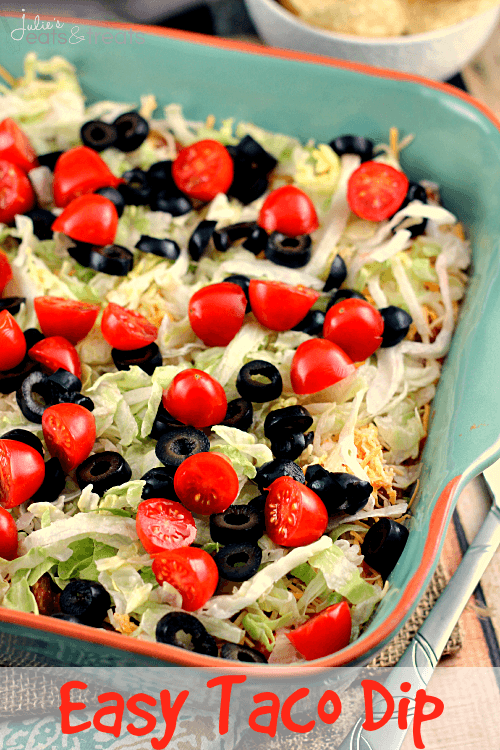 Easy Taco Dip
Easy Taco Dip ~ Everyone Will Dig Into this Festive Taco Dip! Loaded with Sour Cream, Taco Seasoning, Salsa, Cheese, Lettuce, Tomatoes & Black Olives!
Ingredients
1

16 oz container low-fat sour cream

1

8 oz cream cheese, softened

1

1.25 oz envelope taco seasoning

1

c.

salsa

1

c.

Taco Cheese

3

c.

shredded lettuce

1

c.

cherry tomatoes

halved

1

2.25 oz sliced black olives
Instructions
Combine sour cream, cream cheese and taco seasoning in a medium bowl until smooth. Spread on 9x13 in pan. Cover mixture with salsa. Then sprinkle cheese, lettuce, tomatoes and black olives on top. Refrigerate until serving. Serve with chips
Nutrition Information
Calories:
217
kcal
(11%)
,
Carbohydrates:
9
g
(3%)
,
Protein:
8
g
(16%)
,
Fat:
17
g
(26%)
,
Saturated Fat:
9
g
(56%)
,
Cholesterol:
52
mg
(17%)
,
Sodium:
645
mg
(28%)
,
Potassium:
305
mg
(9%)
,
Fiber:
1
g
(4%)
,
Sugar:
3
g
(3%)
,
Vitamin A:
1240
IU
(25%)
,
Vitamin C:
7.9
mg
(10%)
,
Calcium:
223
mg
(22%)
,
Iron:
0.9
mg
(5%)