Easy Christmas Cookie Recipes!
Welcome to the most wonderful time of the year – where the air is filled with the sweet scents of cinnamon, sugar, and joy! It's the season for cozy gatherings, festive decorations, and, of course, the delightful tradition of baking Christmas cookies.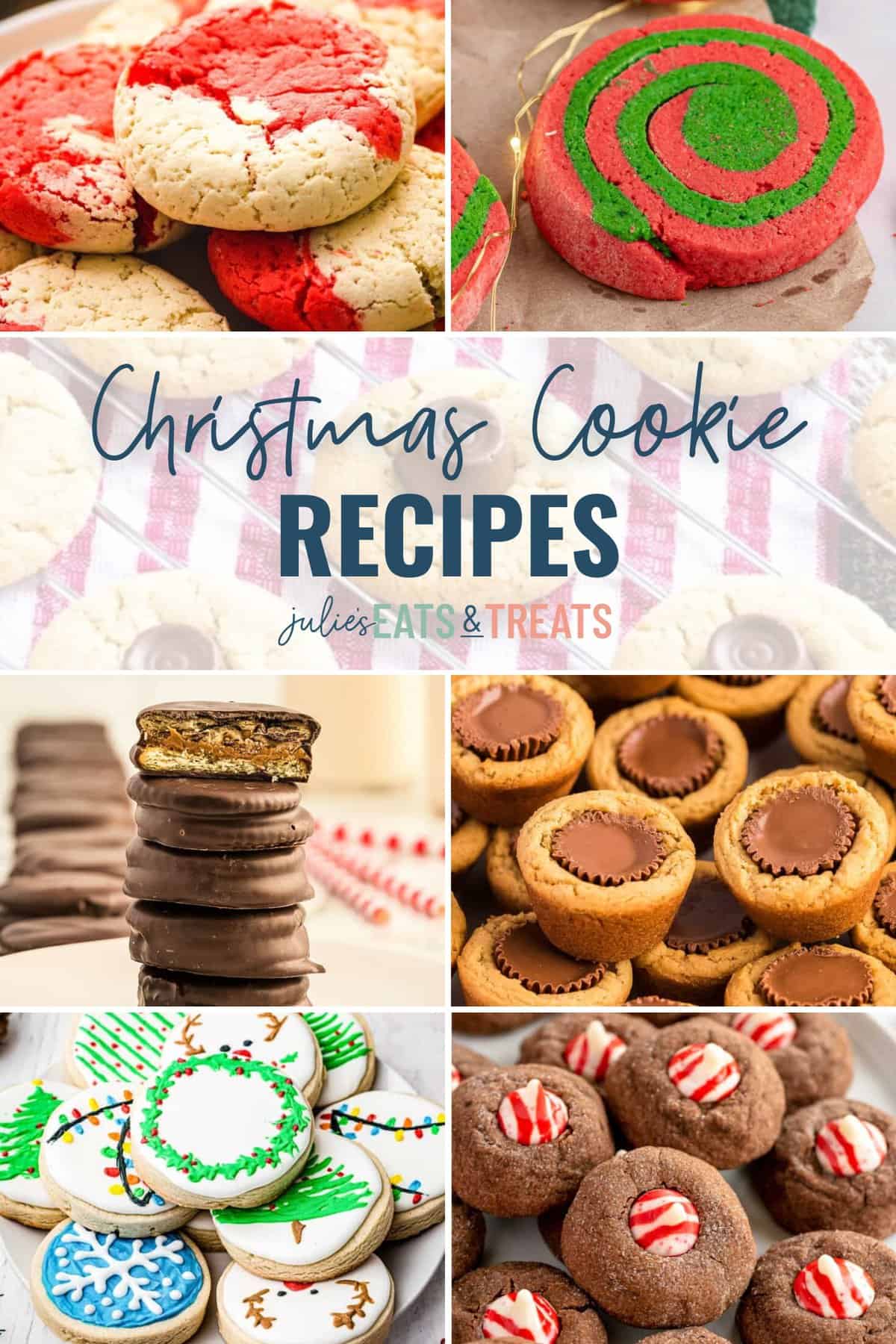 It's that time of year when we are busy baking until we drop. I know I always like to try out a few new cookie recipes each year to mix things up a bit, so we collected our favorite Christmas cookie recipes in this fun round-up!
A few of my must make recipes every year are the peanut butter ritz cookies, soft sugar cookies and chocolate crinkle cookies. They are all so easy and delicious. But there are so many recipes for Christmas cookies to choose from, so just find your favorites. No more scouring the internet for the best cookie recipes, we've got 'em all lined up for you right here!
To thank us we accept payment in form of fresh baked cookies! Enjoy!
Whether you're a fan of chocolate, caramel, or just delicious cookies, Rolo cookies bring a whole new level of sweet joy with every bite.
These are a simple, yet addictive, treat that's perfect for satisfying your sweet and salty cravings. Fill you Christmas cookie platter with one of our favorite Christmas cookie recipes.
Chocolate crinkle cookies are a beloved classic during the holiday season. You're going to love making these fudgey cookies rolled in a snowy powdered sugar.
Chocolate cherry cookies are a delightful blend of rich, decadent chocolate combined with the sweet and slightly tart flavor of cherries. One of the most underrated Christmas cookie recipe out there!
Gingerdoodles offer a delightful combination of warm spices, sweetness, and a comforting chewiness. This makes them an irresistible treat for anyone who loves the cozy flavors of ginger and cinnamon.
Enjoy these white chocolate cranberry cookies as a delicious treat that combines the festive flavors of the season! Easy Christmas cookie recipes like these are always a hit.
Their vibrant red color of these chewy cookies adds a festive flair, making them a delightful addition to any cookie assortment. Not to mention, the frosting is just drool-worthy!
These cookies offer a shortcut to delicious treats, perfect for holiday gatherings or a fun baking activity with the family. They are so festive and have a flavor that is so inviting!
A powdery cloud of sweetness, these Mexican wedding cookies are one of the best Christmas cookie recipes ever!
These cookies often embody a perfect balance of sweetness, warmth, and comforting flavors. So they are a popular choice, especially during the fall and winter seasons.
These soft sugar cookies are beloved for their chewy and light texture. Make them for various occasions, from holidays to simple parties and everything in between.
These mint chocolate cookies are one of our favorite Christmas cookie recipes! They are a delightful fusion of rich chocolate, minty freshness, and the irresistible sweetness of Hershey's peppermint kisses.
These bite-sized treats are perfect for satisfying your sweet tooth and make for an excellent addition to any dessert spread. Add this to your list of must make easy Christmas cookie recipes.
If you're looking for unique Christmas cookie recipes, then make these peppermint macaroons. This sweet cookie is a delectable twist on the classic coconut macaroon, infused with the cool, refreshing flavor of peppermint.
Salted caramel almond thumbprint cookies are the ultimate delight for those who savor the rich taste of caramel, the nuttiness of almonds, and the perfect touch of salt.
Imagine this: a soft, chewy peanut butter cookie hugging a delightful, melt-in-your-mouth peanut butter cup right in the center. Are you drooling yet? Then make these super easy Christmas cookies ASAP!
Snowman cookies are delightful and adorable treats and one of the most fun Christmas cookie recipes out there. If you're looking for no bake recipes for Christmas cookies, then these should go to the top of your list!
These delightful treats take inspiration from the well-loved Almond Joy candy bars. Transform those flavors into chewy, coconut-infused cookies with a burst of almond and a decadent chocolatey finish.
They're not just cookies; they're a mini-celebration of two fantastic flavors coming together. These minty sandwich cookies are one of the Christmas cookie recipes that should not be forgotten!
These cookies are made by rolling two different colored doughs together to create a swirl, resembling a pinwheel or a festive holiday candy cane. It's one of the easy Christmas cookie recipes that is a family favorite each year!
If you're a fan of the classic candy bar, then you have to make this easy recipe. These cookies replicate the delightful layers of the Twix candy bar, offering the buttery crunch of shortbread, the sweetness of caramel, and the richness of chocolate.
Enjoy the delightful combination of flavors in each scrumptious bite! Soft, chewy and they also have a slight crunch with every bite of peppermint!
The contrast between the intense chocolate and fruity strawberry creates a satisfying and indulgent treat that appeals to both chocolate and fruit lovers. While you've gotta add this to your list of easy Christmas cookie recipes, you can also make them for holidays like Valentine's Day!
Almond cherry cookies are delightful treats that combine the nutty essence of almonds with the sweet, slightly tart flavor of cherries. These chewy cookies have a fun surprise in the middle!
Experience a delectable combination of chocolate and mint in every bite! This easy recipe combines these powerhouse flavors and makes them irresistibly yummy.
Indulge in the perfect blend of rich chocolate and sweet cherry with these delightful chocolate cherry thumbprint cookies! If you're a fan of cherry and chocolate, then you're going to swoon over these cookies!
Twirl into the holiday spirit with peppermint pinwheels! These go on the list of most fun recipes for Christmas cookies!
Indulgent bites of bliss: Oreo Balls making the holidays sweeter! Who wouldn't love a sweet no bake treat packed with the tasty flavor of Oreo cookies?
Hot chocolate cookie cups are a delightful twist on traditional cookies. Create edible cups that resemble a mug and fill them with gooey hot chocolate. Such a fun recipe that is also completely delicious!
Sugar cookies like these are a classic and beloved treat during the holiday season. Decorate with a Christmas theme and you have bakery worthy treats in no time.
Sweetening the season with every cinnamon-coated bite! 🍪✨ This easy recipe is a festive twist on a favorite cookie.