Quick and easy recipes for watching the big game that are made in your Crock Pot. Everything from dips, meatballs, snack mixes, sandwiches, chili and more.
Sit back while you host the Super Bowl party and let the slow cooker do all the work while you have fun!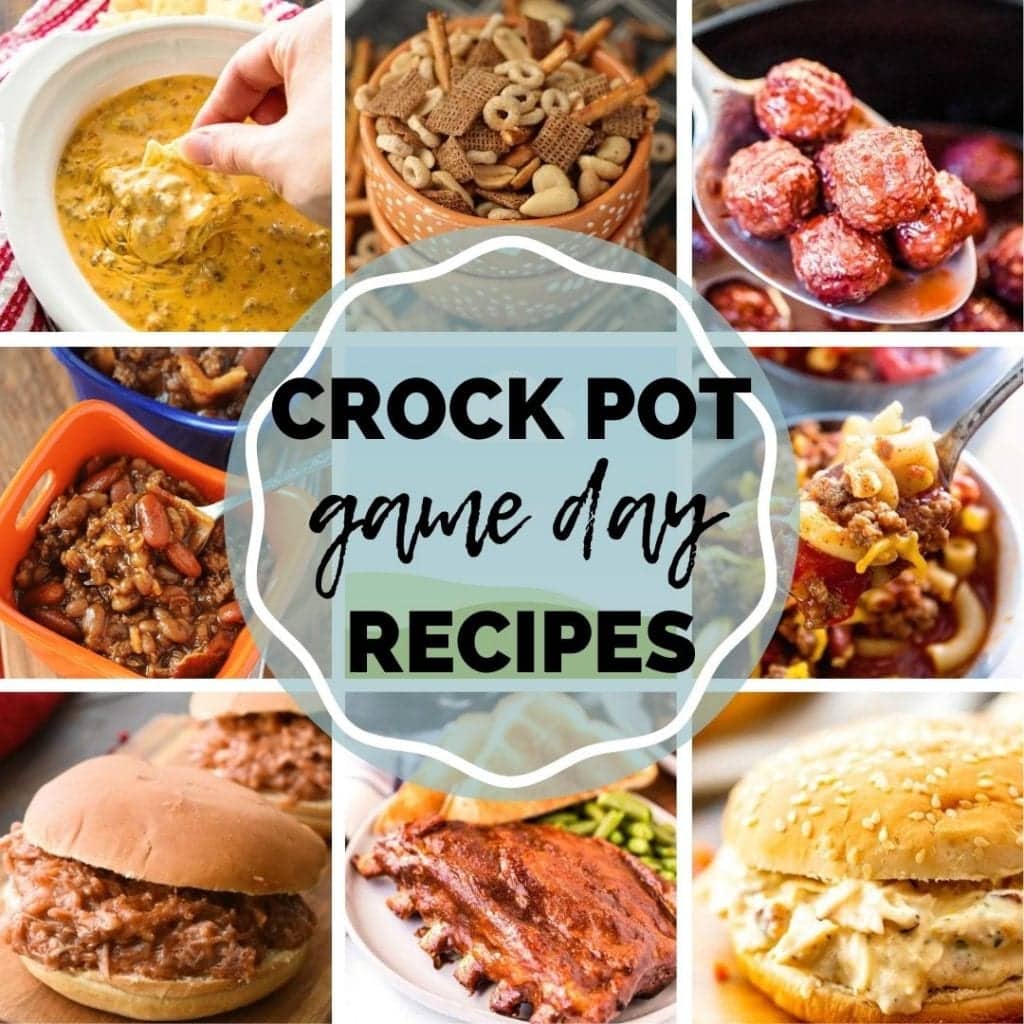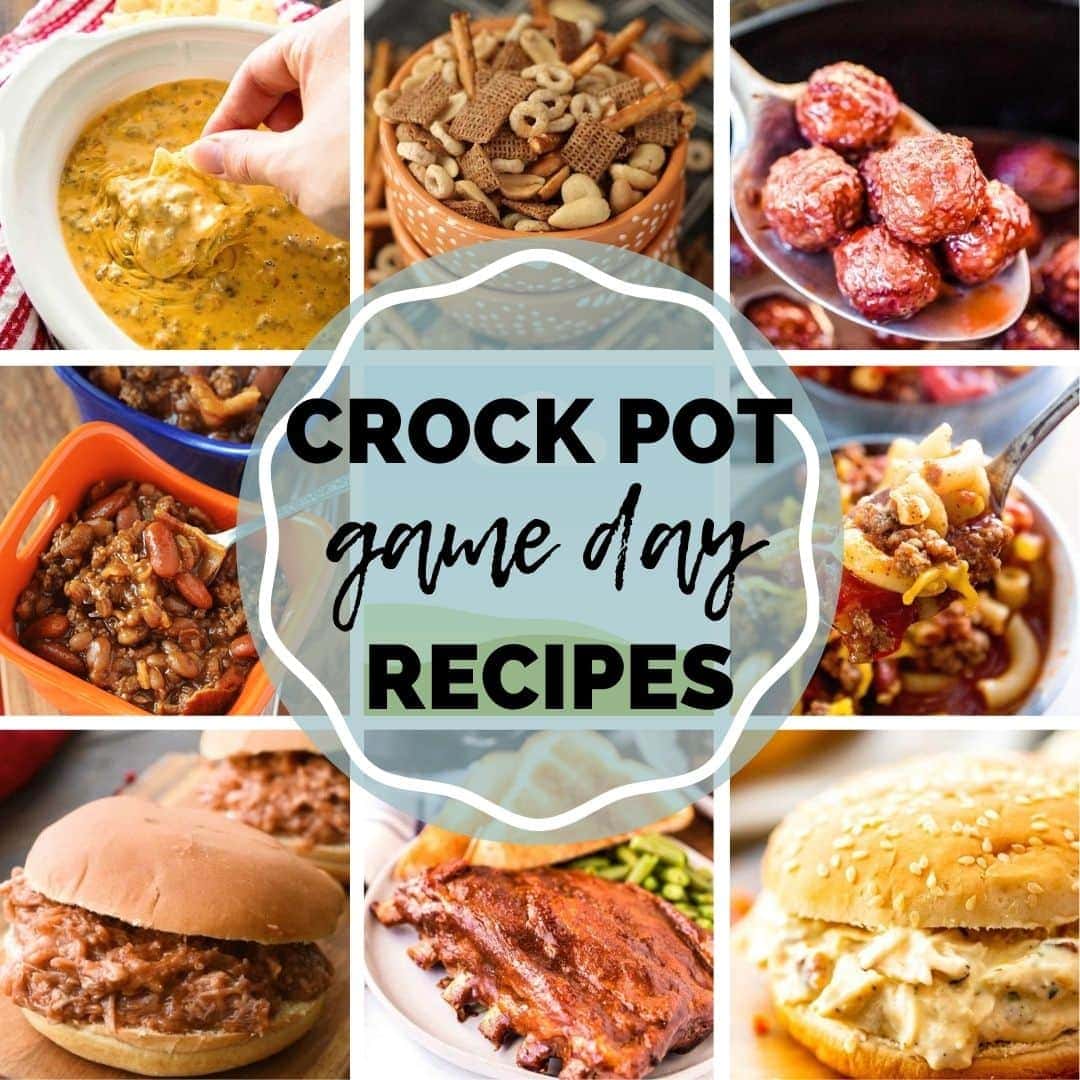 Using your crock pot when entertaining is so easy. It's perfect for when you have guests and you are watching the game because you can keep the food warm for people to munch on whenever they want.
Plus, a lot of the food is ready before your guests arrive so it's not stressful to make.
If you are going somewhere to watch the game Crock Pot recipes are easy to transport. They keep warm during travel time and then simply plug it in when you arrive and you are ready to go!
It doesn't get easier than throwing in all your ingredients, setting the time on your Crock Pot and letting it heat while you sit back and have fun with your guests.
My go-to recipes are definitely the Cheesy Hamburger Dip, Hot Ham And Cheese Sandwiches and Grape Jelly Meatballs. For the littles you have to make the Mac And Cheese, plus the adults will gobble it up!
Chips and Dips
With only two ingredients this Chili Cheese Dip is so easy to make that even the most novice chef can pull it off! Plus, you can make it on your stove top or crock pot so it's perfect for bringing to parties. Grab your chips and dig into this hot dip recipe that's the star at any appetizer table!
An easy appetizer dip anyone can make! This creamy Buffalo Chicken Dip is everyone's favorite dip for parties. It can be prepared in your Crockpot or baked in the oven. This dip recipe is full of chicken, ranch, buffalo sauce, cream cheese and shredded cheese. It's the best game day appetizer recipe!
This Crock Pot Chicken Enchilada Dip is so easy to make too. If you have rotisserie chicken you could totally use that instead of shredding your own chicken that's been seasoned with taco seasoning. I would just stir the taco seasoning into the cream cheese mixture. That would make this recipe even easier!
It's perfect for all the upcoming parties for the holidays, watching the game, or just because. I mean, if you make a whole batch and inhale it, I won't judge. Not at all. My self-control is totally out the window when it comes to this dip! So get the chips and start dipping!
This 4 ingredients easy Sausage Dip that can be made in the crock pot or on the stove top is a delicious and easy appetizer perfect for parties, watching the game or holiday parties! A creamy dip with a hint of spice that's filled with sausage, cream cheese, sour cream and diced tomatoes with green chilies.
An easy hot dip with all the flavors of your favorite classic sandwich! This Reuben Dip can be made in your Crock Pot or baked in your oven. A creamy mixture of sauerkraut, corned beef, cream cheese, sour cream, Thousand Island Dressing and Swiss Cheese make a great party appetizer with only 5 minutes of prep.
Little Bites and Sides
If your family loves Mac and Cheese you have to try this easy Crock Pot Mac and Cheese that is over the top creamy! Tender macaroni noodles smothered in a cheese sauce. It's the ultimate, classic comfort food. It's perfect for a holiday side dish, potluck or weeknight dinner.
If you are hosting the holidays and running out of kitchen space this delicious Crock Pot Creamed Corn is the perfect solution! This creamy side dish is super easy and I love that it's cooked in my slow cooker and doesn't take up any oven space. Plus, it has a secret ingredient. Cheese! Everything is always better with cheese. I'm always asked to bring this easy, classic creamed corn to the holidays.
With only three ingredients these Grape Jelly Meatballs are a quick and easy appetizer to make for any day. The best part is they are made in the crock pot so they are hands off and only require a couple of minutes of prep time. Make these for your next party!
Made in the crock pot and loaded with flavor! This salty snack mix is addicting and so easy to make. Perfect to bring along to a party!
These Crock Pot Baked Beans are loaded with hamburger and bacon then covered in a sweet and smokey sauce! Throw them in your slow cooker and you have the best side dish recipe for pot lucks, BBQs and more. Slow Cooker Baked Beans are so easy and delicious it will become your favorite recipe to bring with you to parties!
If you are looking for a new recipe to impress every one with Crock Pot Kickin' Cheesy Beer Smokies are your ticket! They are sooooo easy even a guy (yes I know many men are amazing cooks!) can do it. Simply stir a few ingredients together toss in your smokies and turn the crock pot on for a few hours.
If you try these, which I totally hope you do, you will never go back to your plain old smokies again. They are amazing. These are totally craveable and totally easy for a quick and delicious appetizer. Plus they are still super simple so you just impress everyone and don't have to slave at all!
Sliders, Sandwiches and More
This Crock Pot Pulled Pork recipe makes the best Pulled Pork Sandwiches! Delicious, smoky pulled pork that simmers in the slow cooker all day while you are busy and comes together in a couple minutes. If you have leftovers it's great to freezer or make Pizza, Chili, Nachos and more with the leftovers. This recipe is perfect for busy nights and meal planning!
Hit the easy button tonight for dinner when you make this Crock Pot Taco Meat! Ground beef plus a few more ingredients turn into delicious slow-cooked taco meat perfect for topping your taco shells, salads, and more on a busy night!
We love making chili in our crock pot because the flavors are so amazing from simmering all day long, but the kids love pasta for dinner every night of the week. That's why this Crock Pot Chili Mac is the best of both worlds.
I love this recipe because it involves relatively no work at all. Buy the premade meatballs to make this recipe even easier! Nothing sounds better than this comfort meal that is loaded with cheese, spaghetti sauce, noodles, and meatballs!
These Crock Pot Hot Ham & Cheese Sandwiches are a family favorite! They are perfect for an easy lunch or dinner recipe. I especially love making them when we are having friends and family over. They are ready whenever I need them and I can do all the prep work before hand. You can go wrong with warm, toasty ham and a cheese sauce piled on top of your bun!
Light Crock Pot Fiesta Chicken & Rice Bowls are loaded with chicken, brown rice and pico de gallo for a healthy dish you can throw in your slow cooker for an easy and delicious meal that will be ready to serve when you get home from work!
I prepped all the ingredients the night before and just through the steak in the seasoning and threw everything in the crock pot. The perfect, quick, and easy fajita recipe!
If you are looking to relax and play a little more in life like I am I'm going to highly recommend you start this by making delicious Crock Pot BBQ Brisket for dinner. You'll be able to relax and play without the hassle of the dinnertime rut.
Tender, fall-off-the-bone pork ribs that are packed with flavor! These quick and easy, but yet delicious crock pot ribs are going to be a family favorite. You simply rub a little mustard on your ribs, season them and then place them in your slow cooker. Finish them off by broiling them in the oven for finger-licking good ribs!
Shredded Chicken Bacon Ranch Chicken is a delicious combination of shredded chicken, cream cheese, Ranch seasoning, cheese, and bacon! It's slow-cooked in your crock pot and is the perfect quick and easy sandwich filling for busy weeknight meals or quick lunches.
With only three ingredients these Crockpot Chicken Tacos are the perfect quick and easy dinner recipe for a busy weeknight! Simply combine the chicken breasts, taco seasoning, and salsa in your crock pot and let them cook. Shred the chicken, mix together and pile it on your tortilla and top it with your favorite taco toppings!
You can also use it in enchiladas, burritos, nachos, and more. The possibilities are endless!
Desserts
Crock Pot Peach Crisp is made with fresh peaches and topped with a crumble oat topping. It reminds me of my favorite dump cake but it's made with real ingredients. No canned pie filling here. Instead, we use juicy, fresh peaches that make this the best peach dessert ever! Don't forget the scoop of ice cream on top or whipped cream.
When life gets to be to much and you kind of want to freak out I recommend you make a big batch of these delicious Caramel Apple Rolls in your crock pot because it will make things much better in life.
This recipe is so unbelievably easy. You just take some peeled and sliced tart apples, mix them with a few simple ingredients that you probably already have on hand, and let them cook in the slow cooker for a few hours. Stir once during the cooking process to make sure all the apples get nicely coated in the cinnamon sauce and you've got delicious gooey cinnamon apples in no time at all!
With only 5 ingredients the Crock Pot Peanut Clusters are an easy treat to make that is virtually foolproof. The combination of sweet and salty is always a hit. It's hands-off and one of the easiest candies to make with 3 different types of chocolate!