Simplify meal times at your home with these easy freezer meal recipes. Whether your making breakfast, lunch or dinner, Freezer Meals are an awesome way to get food on the table when you're short on time! Packed with home cooked goodness, your entire family (and maybe the neighbors too) will love these!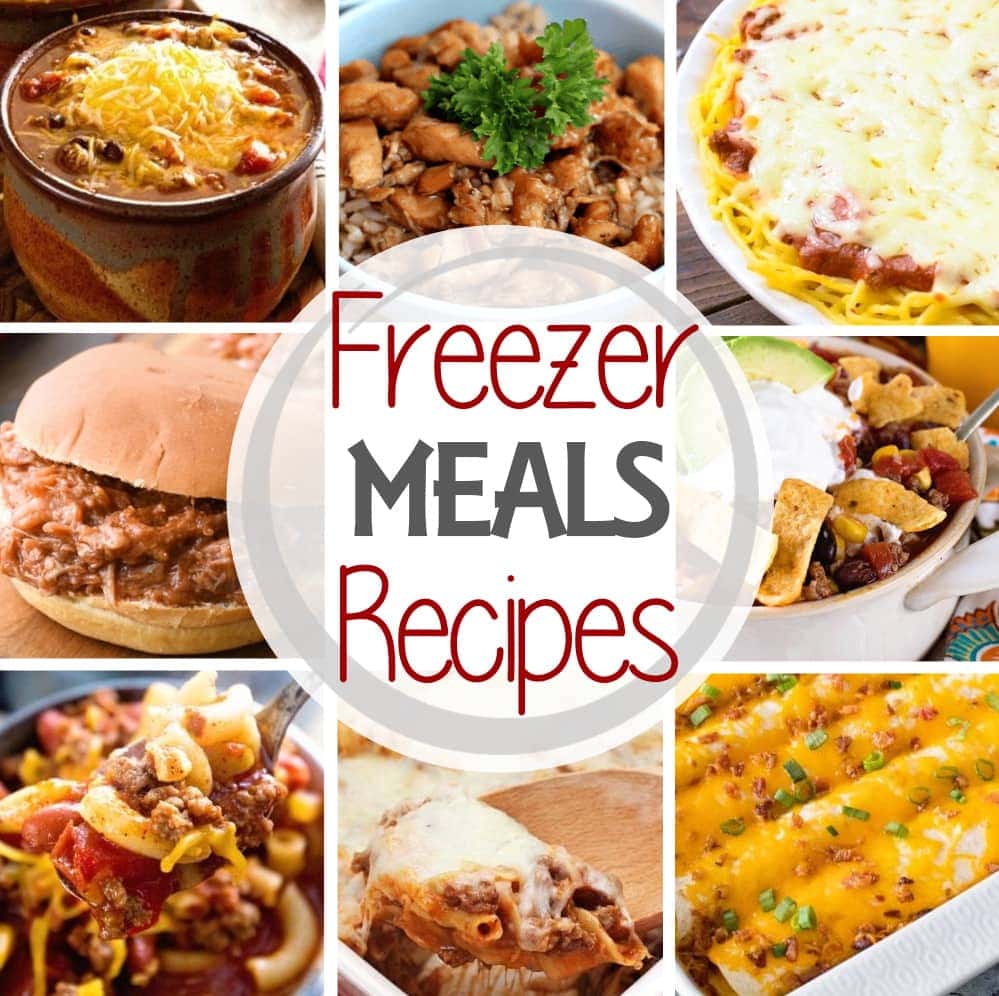 Alright, I'm going to be honest with you all from the get-go! I used to never make freezer meals and thought people who did were crazy.
I grew up in a traditional, old fashioned home where my sweet ma made home cooked meals each and every day. So no surprise, when I was first married, I made home cooked meals daily for my husband and I.
These meals usually included a freshly baked dessert to go with it (who is counting calories right?). And then I had three children, in four years, and became desperate for an easier way to get healthy, family friendly meals on the table each night!
I was short on time (and short on a whole lot of sleep). And that is when I feel in love with easy Freezer Meals!
Let's face it, after a busy day, there isn't always time or energy left to do all the prep work that goes into cooking a meal from scratch. And even if you're a super mom and don't think these meals would be for you, think again!
Having freezer meal recipes prepped and ready to cook in the freezer allows me to be more present with my family. It allows me to sit down and play an extra board game, make playdoh, take the kids to the library and the park, or spend an afternoon sledding in our backyard!
Freezer meals have revolutionized the way I feed my family and how much time I spend in the kitchen cooking and cleaning up in any given week.
Try these Quick and Easy Freezer Meal Recipes that will be your new favorite go-to recipes week after week! At our house, we use Freezer Meals for breakfast, lunch and dinner.
This roundup has a little something for everyone. From soups and chilis, to casseroles, pastas and sandwiches there is something for everyone (even picky little eaters)!
Freezer Meals – Tips and Tricks
Making all these meals at one time can seem overwhelming if you're not properly prepared! These tips and tricks will help you save you time, money and a whole lot of hassle!
1. Plan Out Your Recipes
Start by finding recipes you're excited to be making and that you know your family will eat. Since you already have this round-up of meals, you're on your way to finding the perfect recipes for your family! You'll find our mom and kids approved family favorites below!
2. Start Small
Preparing a month's worth of meals can seem daunting! If you've made it this far, I'm confident that you can do this and it will help you find freedom in your cooking routine! When you're starting to make freezer meals, it's a good idea to start with a single bath of a recipe before your make bulk amounts of it to freeze. Why? There's no sense making food that you didn't end liking. Once you know which meals you and your family loves, you can start to prep more in bulk (cutting down on costs, dishes and waste)!
3. Make Your List
Once you've finalized the recipes you're going to make, write down the groceries and supplies you're going to need. Don't forget to add freezer safe storage containers (if you're planning to use them).
4. Separate Shopping and Prepping
A good friend of mine gave me a lots of good advice when I was a novice at freezer meals. One of the best tips she gave me was to not shop and prep food all in the same day! Instead, plan a day or two in advance to stock up on groceries and supplies so you're ready to tackle freezer prep day!
5. Get Your Gadgets
Optimizing your time and efficiency is key to making this process a breeze! Your favorite kitchen gadgets to help make your prep work go faster! Every time I prep freezer meals, I use my Cuisinart Food Processor which saves on time shredding, chopping and slicing! The KitchenAid Stand Mixer is another kitchen essential for my freezer meal recipes. A couple years ago, my family bought me the KitchenAid Dicing Kit Accessory and it's revolutionized my freezer meal prep. It saves me so much time and hassle dicing up veggies! And for all those other ingredients that need manual knife prep, grab a set of these Gorilla Grip Cutting Boards! These dishwasher safe boards make food prep so easy!
When it comes to cooking freezer meals, the crock pot will be your new best friend! This slow cooker is my favorite and I use it all the time, but if you want a temperature probe for temperature monitoring this crockpot is great! Grab a pair of these Bear Claws so you can easily shred meats from recipes when they're done cooking!
6. Take Notes and Label
While your kitchen is messy and you're ready to be done and put your feet up, it's easy to overlook the importance of organization and writing things down! Did you add extra vegetables to one meal? Maybe you made a soup base and added chicken to one container and beef to another? Write it down! Make an inventory of what meals you made, things that went well and things that didn't (we can all learn for next time, right? I'm still fine tuning my process) and take note if you bought too much or too little of something. Then put all your notes together – recipes, shopping lists, follow-up notes – so you can easily reference it next time!
Also, make sure you use a permanent marker on your freezer meals with the name of the meal, the date prepped and any thawing or cooking instructions.
7. Grab Your Girlfriends
I LOVE to use Easy Freezer Meals as a reason to get together with my girlfriends! It's always more food working side by side with someone else and while you're cutting, chopping and shredding, it's perfect time to catch up on life.
[et_bloom_inline optin_id="optin_3″]
Be sure to bookmark this page or pin it.
Here you will find the following types of freezer meal recipes:
*click on one of these to take you directly to that section of recipes*
Soups and Chilis
These soup and chili recipes are super easy and affordable to prep! Simply, add all your ingredients to your freezer container or ziplock and freeze them (laying flat and labeled of course)!
Soups you're making fresh also make great freezer meals. Double your regular recipe or freeze leftovers.
It's always nice to have quick and easy things you can thaw from the freezer. For pre-made soups, store cooked and cooled in large labeled freezer bags, and place them flat in the freezer (this maximizes your freezer space and helps when thawing).
An insider tip – don't add cheese until the soup is re-heated! Storing your food in freezer safe ziplocks? These Hands Free Ziplock Bag Holders are such a great investment! They prevent tipped over bags and prevent a whole lot of mess!
Pastas, Casseroles and Main Dishes
When making Easy Freezer Meal Recipes for pastas, casseroles or main dishes, I love to use these Aluminum Pans for my freezer storage containers!
Not only do they make clean-up a cinch, they stack easily to maximize your freezer space! Add your ingredients as the recipe specifies and then simply cover in foil and label (you can even use a sharpie to write on the tinfoil).
Sprinkle cheese on top just before cooking!
Can you cook these dishes from frozen? Absolutely! You'll just need to increase your baking time by roughly 30, until they're bubbly and cooked through! How to use recipes that are served over pasta? Recipes that are served over fresh pasta make great freezer meals!
Add the rest of the ingredients to a freezer ziplock bag and freeze (except the pasta obviously). When you pull it from the freezer, dump your freezer bag into your slow cooker or crock pot. Let it cook while you work, run errands or chase your kiddos! And when you get home, cook fresh pasta and serve it all together!
Sandwiches
Sandwich Freezer Meals are some of our families favorites! They're quick and easy to prep and freeze.
And when the time comes to eat them, they're just as easy to finish off and devour!
For sandwiches you're stuffing prior to freezing, wrap individually in tinfoil and pack tightly, removing all excess air from your storage container. This will ensure they're fresh when you cook them!
Breakfast Freezer Meals
At our house, we eat breakfast foods for breakfast, lunch and dinner! These Freezer Meal Recipes are a great way to maximize your freezer meals and add a little variety to your families menu!
We often make double or triple the amount of these because our kids eat them SO quickly we are always running out.
We've also included some quick bread recipes – they're a staple at our house for school box lunches, picnics and snacks! When we're short on time, these are our go-to!
We serve them with scrambled eggs and fresh fruits! And you can literally pull this meal together (with the help of your freezer quick breads) in minutes!
Freezer Friendly Desserts
Have a sweet tooth? Me too! I don't think any recipe round-up is complete without a dessert menu!
And you're in luck because Julie's Eats and Treats has an entire collection of Dessert Freezer Recipes you're definitely going to want to try!