Quick and Easy Dip Recipes!
Looking for a new dip recipe when you host a party? Watching the big game and need a new recipe to dip into? We have all the best easy dip recipes out there. Everything from Crock Pot Dips, Cold Dips, Baked Dips, Sweet Dips, Savory Dips and more!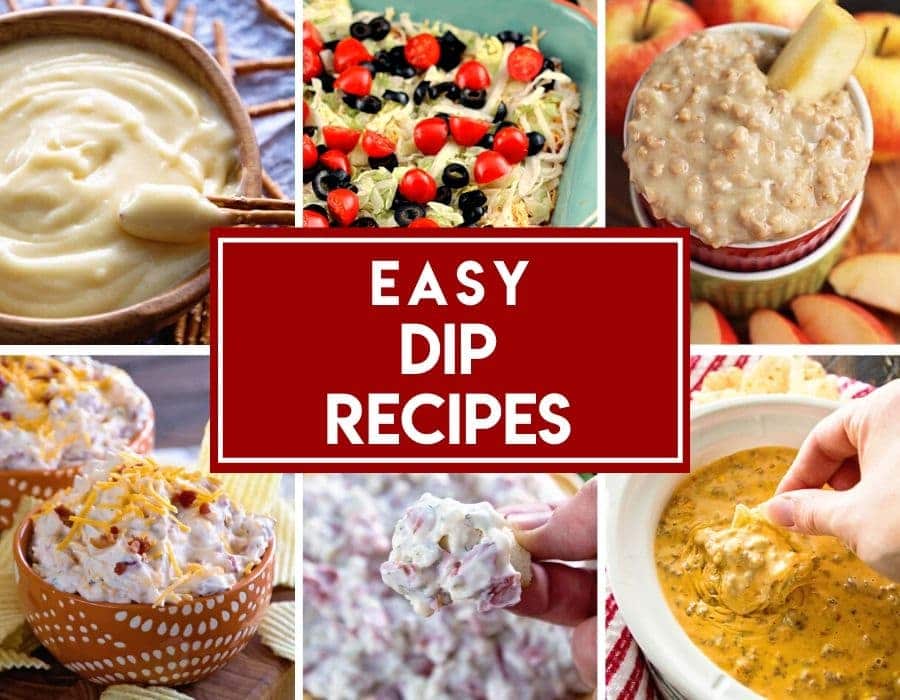 In my opinion there is no party menu that's complete without a dip on it! It's the perfect appetizer for any party and the best way to serve a large crowd. We've rounded up some of the best easy dip recipes, and there's so many to choose from!
Whether you want an easy cold dip recipe like or Crack Dip or something warm and bubbly like our famous Buffalo Chicken Dip, there's always an easy dip recipe to fit your needs!
Maybe you're more of a fan of a warm and cheesy dip? You'll be obsessed with our delicious Cheesy Hamburger Dip! It's also a great way to make some quick nachos.
People tend to forget that dessert dips are a thing, and I think it's a shame. I mean, what better way to finish off a meal or dessert table with a delicious dessert dip like Cannoli Dip. It is to-die for!
There's so many deliciously easy dips to make. Whatever dip you choose, don't forget to grab the chips, crackers, bread, cookies, or veggies you want to dip into those bowls of tasty goodness!
Dig Into these Quick and Easy Dip Recipes!
Rotel dip is basically the most classic game-day dip. Anyone can make it and you won't need store leftovers because I bet it will all be eaten! It's just too good to leave leftovers.
We've turned the traditional BLT Sandwich into a layered dip. Yep, your favorite sandwich, except now you can eat it on chips!
This Hot Spinach Dip is a dream come true! It's the perfect appetizer recipe for the big game, holidays or any party.
This cheesy dip recipe is a crowd favorite and is so easy to make at home. Pair it with your favorite salty tortilla chips for the best party appetizer ever.
Easy & cheesy, the definition of a great appetizer dip. I'll always put cheesy bruschetta dip of the list of easy dips to make. It's so simple and has amazing flavor!
Dessert dips are a game changer. This top notch dessert dip recipe is loaded with mini chocolate chips and is the perfect sweet treat that is no bake!
I like veggies and all but I usually don't get excited about a plateful of raw carrots, broccoli and cauliflower. That is, unless, this amazing dip is accompanying them.
This easy dip recipe is full of flavor from corn, tomatoes, green onions and cheese. Talk about an addictively tasty dip!
Another dessert dip that takes the cake…or should I say, cookie. This dip recipe takes your Oreos & gives them a yummy coating in a sweet cream cheese dip that is guaranteed to leave a smile on your face.
Now this corned beef bagel dip is different than your usual dip recipes! Switch things up a bit and try this delicious dip.
This cheesy bacon ranch dip will be one of your new favorite dip recipes. It's only 4 ingredients: cheese, bacon, sour cream and ranch seasoning. It's crazy addictive and it's always the first gone at any party, so grab your chips and make it now!
This quick and easy dip will be the talk of the party at your next holiday gathering. The combination of tart cranberries and the sweet cream cheese is the perfect balance of flavors! Give it a whirl, you won't regret it.
You can mix this dip up one day ahead of time, store it in the fridge and then bake it, or place in Crock Pot, when you're ready to warm it. It's the perfect dip to take stress-out of party prep!
This 4 ingredient, easy Sausage Dip, can be made in the crock pot or on the stove top. It is a delicious and easy appetizer that's perfect for parties or watching the game.
Everyone has that recipe they really hope that someone brings to the potluck or get together, right? This Easy Taco Dip is mine. What's better than all the delicious flavors of a taco in dip form?!
Football Pepperoni Pizza Dip
How cute is this easy dip recipe? If you're a fan of pepperoni pizza, you'll love this hot, bubbly, and cheesy dip recipe. Plus, it looks like a football! It's the perfect centerpiece for your appetizer table on game day. Just be sure to take a picture of your masterpiece before everyone digs in.
I adore this Healthier Chocolate Fruit Dip because it's perfect for my sweet tooth cravings, yet I don't have to feel guilty about eating it!
If you've never had the combo of pretzels and honey mustard, you're missing out. This delicious dip only takes 10 minutes to make and can be made ahead of time. Once you start dipping your pretzels in this, you won't want to stop!
Need the perfect party appetizer? Look no further than this Kickin' Ranch Corn Dip! It's loaded with flavor and so easy to make.
The creamy guacamole bottom of this dip is layered with cheese, salsa, lettuce, tomatoes and black olives on top. Scoop it up with some chips, or if you are looking for a healthy alternative, celery or carrots would be a great scooper too!
This recipe is perfect for all the upcoming parties for the holidays, watching the game, or just because. I mean, if you make a whole batch and inhale it, I won't judge. Not at all.
Looking for the perfect dip to pair with fresh fruit for a special treat? This easy Strawberry Fruit Dip is exactly what you need.
If you need a quick and easy appetizer this Jalapeno Popper Dip is your answer! This is a really easy dip to make and it's absolutely delicious.
Pumpkin Dip is the perfect sweet no-bake treat for fall! This easy dip recipe can be enjoyed with graham crackers, gingersnaps, apples, bananas and more!
We love making this dip at home because it uses simple pantry staples and doesn't contain any preservatives like the store-bought version does. There are so many options for what to dip in ranch dip, but a few of our favorites are carrots, celery, cherry tomatoes or potato chips.
This Cake Batter Funfetti Dip only requires three ingredients and is the perfect sweet dip for your graham crackers and animal crackers.
All you need to do is grab the chips or veggies and dig in to this yummy dip. Seven Layer Dip is a great recipe for entertaining and is sure to be a hit with your guests.
This dip recipe is full of chicken, ranch, buffalo sauce, cream cheese and shredded cheese. It's the best game day appetizer recipe!
Fruit dip will be a hit at any party you take it too! I love taking it to pool parties and any other summer party when fruit is in season. Pair it with fresh strawberries, pineapple, apples, grapes, oranges and more.
This Light Fluffy Peanut Butter Dip topped with Reese's Pieces is so easy and festive. The perfect dip for a basketball themed party!
You know I always love an easy dip recipe made in my slow cooker so I couldn't say no when I made this delicious Slow Cooker Bacon Cheesy BBQ Chicken Dip!
Grab your chips and dig into this hot dip recipe that's sure to be the star at any appetizer table!
What makes this easy dip recipe so good is the combination of textures and flavors. Salty bacon, creamy mayo, fresh green onions, and crunchy almonds. Add some cheese and you get an appetizer everyone will love!
This Crock Pot Chicken Enchilada Dip is one of the easiest dips to make. You can shred your own chicken and season it with taco seasoning, or make it even easier by using rotisserie chicken.
Grab your apples and make this quick and easy Apple Brickle Dip to dip them in. It's an easy cream cheese dip with tasty toffee pieces in every bite. Make a batch of this fruit dip for all your parties.