Great tips and tricks for planning, organizing and hosting Easter Dinner without the stress. Easy recipes for all of your side dishes, main dishes and desserts that anyone can make. Plus, get your free Easter Menu Plan download to help you plan everything!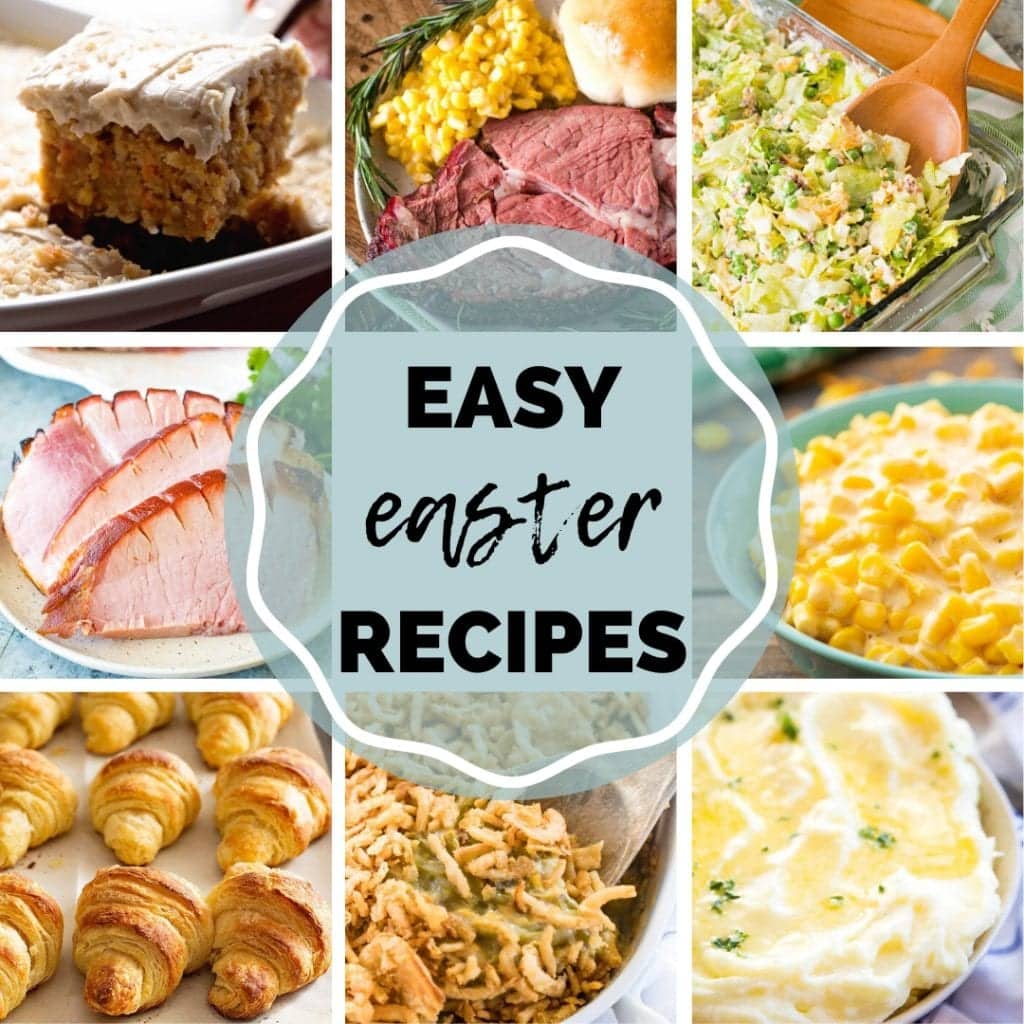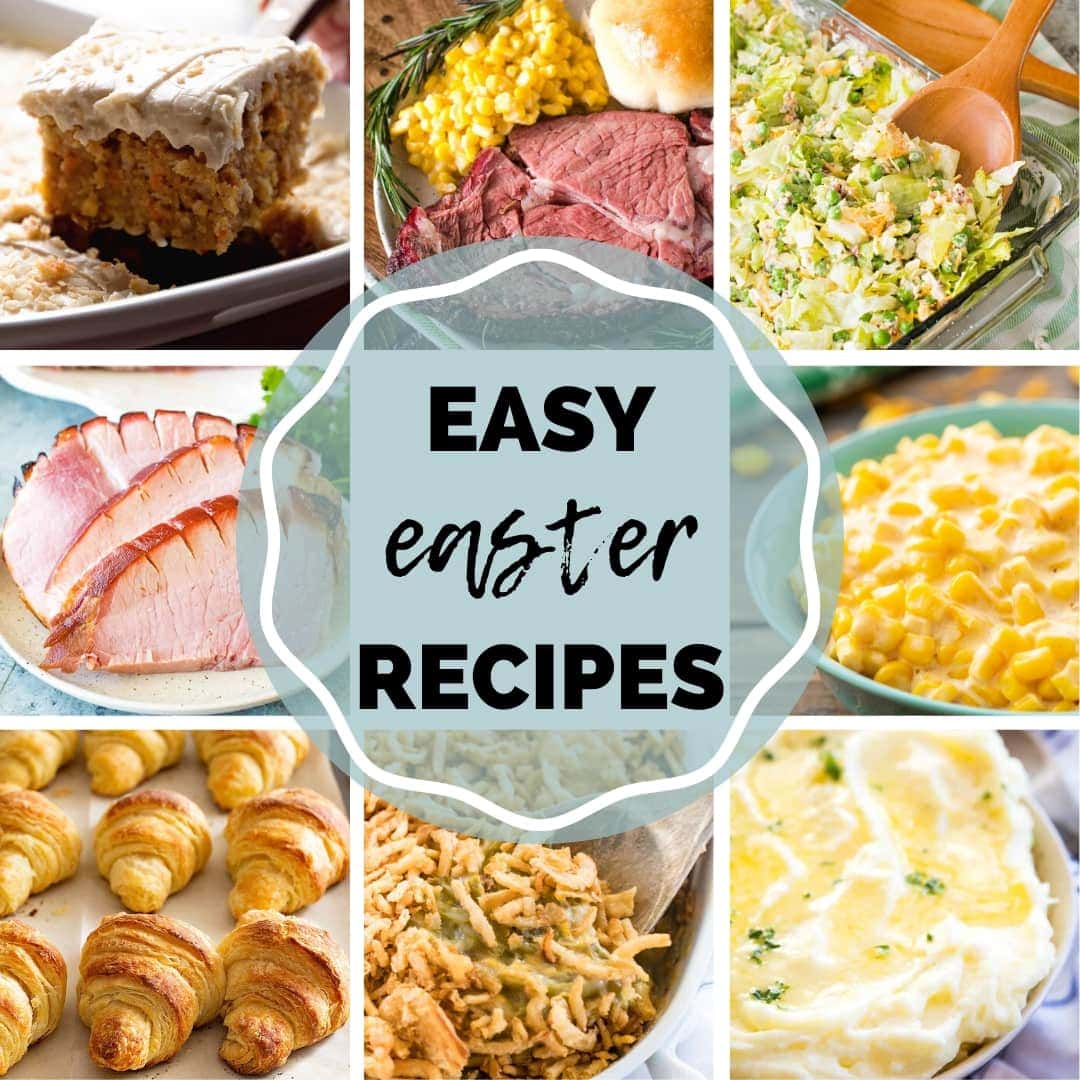 Tips for Planning your Easter Dinner!
Here are a few of my favorite ways to make Easter a little less stressful or hosting any holiday! Breaking it down by action item and having a plan makes all the difference.
1. MAKE A GUEST LIST
As you are making your list of guests, be sure to ask if there are any food allergies or sensitivities. Knowing special dietary restrictions before your plan your menu is essential. It allows you to plan an inclusive menu from the start.
Besides, guests who have dietary restrictions will be so grateful you were thoughtful and kind enough to ask! If you're overwhelmed at accommodating their food allergies or sensitivities, be honest and up front so they can plan accordingly.
2. DECIDE ON A MENU
The more work you do ahead of time, the less stress and hassle you'll have as Easter approaches. If you're hosting at your home, you'll want to start by picking out your recipes, keeping in mind you'll want a variety of cooking methods so you don't run out of cooking space and time. Think instant pot, crock pot, oven and stove top and pick a few recipes that can be made a day or two ahead of time.
Again, you'll want to keep in mind if any of your guests specified food allergies or sensitivities. Don't forget your littlest guests who will be attending and add a few child-friendly foods to the menu. If you're traveling, find recipes that will work with your travel plans and ask the host what you can bring.
3. MAKE YOUR SHOPPING LIST
From your recipes, make a grocery list of what things you need to shop for. Don't forget to include supplies you'll need like table settings, napkins and other items you'll use more of while having guests (paper products like paper towels and toilet paper).
If you're not hosting, this is a great time to think about something to bring your host as a gift, such as a bottle of wine, new dish towels, candles, etc.
4. PREPARE EASY ACTIVITIES
Aside from rounding up some of our favorite card and board games, I always try to put together a simple trivia game. We love to play Easter Bingo, everyone brings a few prizes from the dollar section and then we play Bingo. The kids, teenagers and adults all love Bingo!
Another fun thing to do is play a trivia game based on Easter, if you lose the game, well, they get dish duty after the meal!
5. CLEAN THE FRIDGE
You're going to need all the fridge space for your Thanksgiving feast! Now is a perfect time to clean out your fridge (it needed to be done anyway, right?)!
6. COOKING COUNTDOWN
One of my favorite secrets to enjoying the time I spend with family on Easter, is to make a cooking countdown.
Sit down with your menu and calculate out how long the different menu items will take to cook so you don't end up with half of your meal getting cold while the rest finishes cooking.
7. MAKE NOTES
This tip is actually for after the Easter dinner! Put together your menu, shopping lists and other various notes from planning and preparations and place them somewhere for future reference. Add notes of things that went well, things that could be done differently, etc.
This allows planning for the next Easter (or other holiday) much easier! I slip my notes into a clear sleeve and put it in the back of my recipe binder.
TIPS AND TRICKS FOR HOSTING EASTER
We all want our holidays to be stress-free and appear to have managed hosting without any stress, right? Here are some of our best tips and tricks for making that happen.
1. PLAN IT OUT
Find an Easter Menu that allows you to make some recipes a day (or two) before Easter. Whether it be the potatoes, salads, desserts or vegetables, the more you can make ahead of time, the less you have to do on that day, which means less stress!
Don't forget that your slow cooker or crock pot is your best friend for making lots of food. Anywhere there is an outlet, you can set your food and forget it allowing you to enjoy time with your guests! This is also perfect for when you go to church that morning. You can start the food before church and it will be done when you get home.
2. DOUBLE YOUR RECIPE
If time and space allows, make extra food that can be used for leftovers and appetizers later. This is one of my favorite ways to maximize the time I spend with family and minimize the total time I spend cooking and cleaning.
3. GET EVERYONE IN THE KITCHEN
Get all of your guests involved! If you have someone who loves to make dessert, ask them to do the baking. For those who love to eat but don't love to cook, ask them to stay in the kitchen after the meal and help with dishes, bring the wine or pick up fresh bread from the local bakery. Delegating tasks will make everyone feel connected and important and less stress for you, see my theme here?
4. ASK THE KIDS TO HELP
Giving our kids a part in having guests for Thanksgiving is one of my favorite tips and tricks. Our kids get involved by making personalized name cards for the table, picking the napkins and setting the table.
They help make centerpieces with Popsicle crosses, arranging flower in mason jars and more!
5. PLAN FOR LEFTOVERS!
With all the amazing food that you will be preparing and your friends and family will bring make sure you plan for leftovers. I love to get to-go boxes so we can make up a few meals to send home with them or bring to shut-ins. It's a great way to remember those you love who can't be there!
Salads and Sides
Main Dishes
Desserts