Great tips and tricks for planning, organizing and hosting Easter Dinner without the stress. Easy recipes for all of your side dishes, main dishes and desserts that anyone can make. Plus, get your free Easter Menu Plan download to help you plan everything!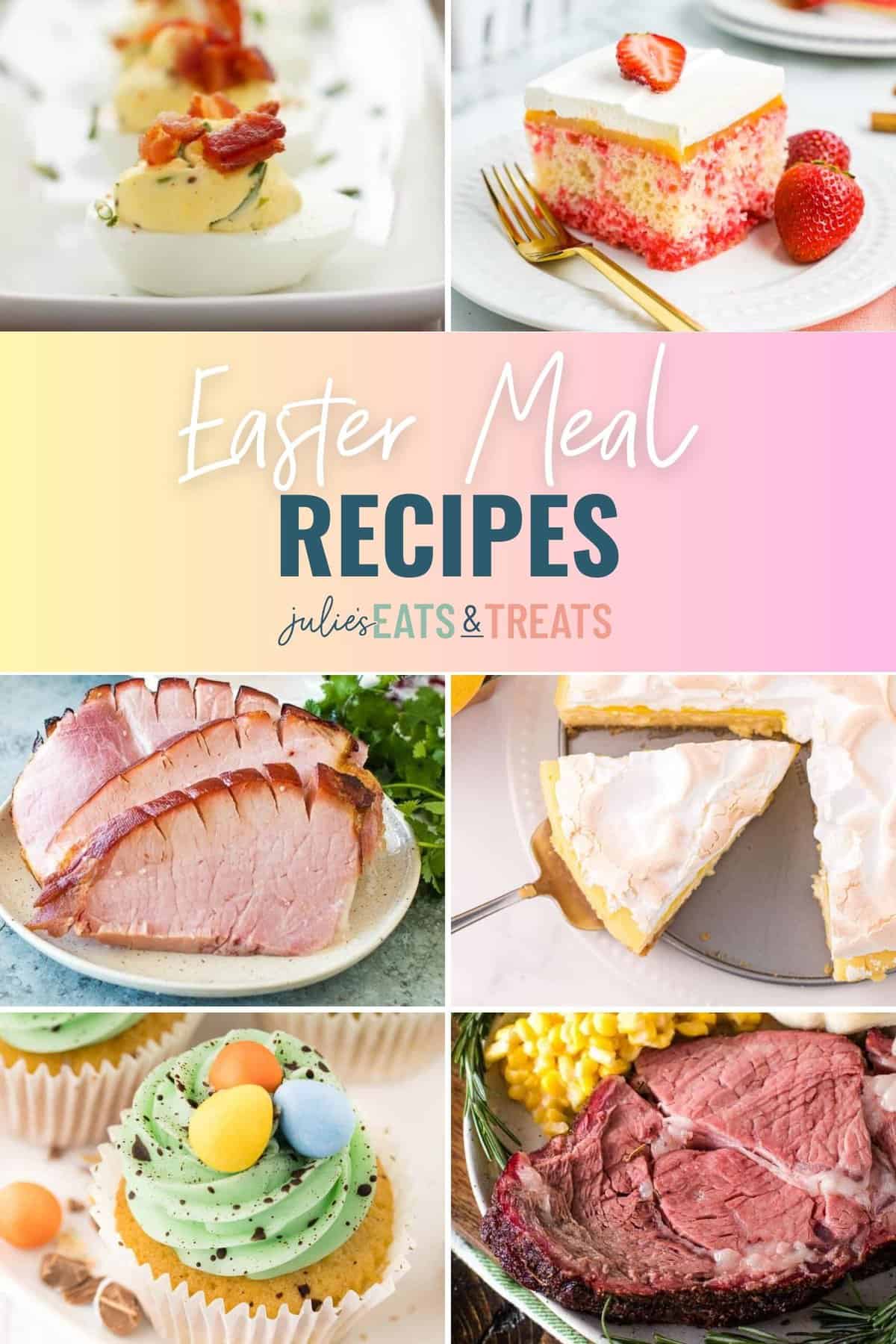 Tips For Planning Your Easter Dinner!
Here are a few of my favorite ways to make Easter a little less stressful or hosting any holiday! Breaking it down by action item and having a plan makes all the difference.
1. MAKE A GUEST LIST
As you are making your list of guests, be sure to ask if there are any food allergies or sensitivities. Knowing special dietary restrictions before your plan your menu is essential. It allows you to plan an inclusive menu from the start.
Besides, guests who have dietary restrictions will be so grateful you were thoughtful and kind enough to ask! If you're overwhelmed at accommodating their food allergies or sensitivities, be honest and up front so they can plan accordingly.
2. DECIDE ON A MENU
The more work you do ahead of time, the less stress and hassle you'll have as Easter approaches. If you're hosting at your home, you'll want to start by picking out your recipes, keeping in mind you'll want a variety of cooking methods so you don't run out of cooking space and time. Think instant pot, crock pot, oven and stove top and pick a few recipes that can be made a day or two ahead of time.
Again, you'll want to keep in mind if any of your guests specified food allergies or sensitivities. Don't forget your littlest guests who will be attending and add a few child-friendly foods to the menu. If you're traveling, find recipes that will work with your travel plans and ask the host what you can bring.
3. MAKE YOUR SHOPPING LIST
From your recipes, make a grocery list of what things you need to shop for. Don't forget to include supplies you'll need like table settings, napkins and other items you'll use more of while having guests (paper products like paper towels and toilet paper).
If you're not hosting, this is a great time to think about something to bring your host as a gift, such as a bottle of wine, new dish towels, candles, etc.
4. PREPARE EASY ACTIVITIES
Aside from rounding up some of our favorite card and board games, I always try to put together a simple trivia game. We love to play Easter Bingo, everyone brings a few prizes from the dollar section and then we play Bingo. The kids, teenagers and adults all love Bingo!
Another fun thing to do is play a trivia game based on Easter, if you lose the game, well, they get dish duty after the meal!
5. CLEAN THE FRIDGE
You're going to need all the fridge space for your Easter feast! Now is a perfect time to clean out your fridge (it needed to be done anyway, right?)!
6. COOKING COUNTDOWN
One of my favorite secrets to enjoying the time I spend with family on Easter, is to make a cooking countdown.
Sit down with your menu and calculate out how long the different menu items will take to cook so you don't end up with half of your meal getting cold while the rest finishes cooking.
7. MAKE NOTES
This tip is actually for after the Easter dinner! Put together your menu, shopping lists and other various notes from planning and preparations and place them somewhere for future reference. Add notes of things that went well, things that could be done differently, etc.
This allows planning for the next Easter (or other holiday) much easier! I slip my notes into a clear sleeve and put it in the back of my recipe binder.
TIPS AND TRICKS FOR HOSTING EASTER
We all want our holidays to be stress-free and appear to have managed hosting without any stress, right? Here are some of our best tips and tricks for making that happen.
1. PLAN IT OUT
Find an Easter Menu that allows you to make some recipes a day (or two) before Easter. Whether it be the potatoes, salads, desserts or vegetables, the more you can make ahead of time, the less you have to do on that day, which means less stress!
Don't forget that your slow cooker or crock pot is your best friend for making lots of food. Anywhere there is an outlet, you can set your food and forget it allowing you to enjoy time with your guests! This is also perfect for when you go to church that morning. You can start the food before church and it will be done when you get home.
2. DOUBLE YOUR RECIPE
If time and space allows, make extra food that can be used for leftovers and appetizers later. This is one of my favorite ways to maximize the time I spend with family and minimize the total time I spend cooking and cleaning.
3. GET EVERYONE IN THE KITCHEN
Get all of your guests involved! If you have someone who loves to make dessert, ask them to do the baking. For those who love to eat but don't love to cook, ask them to stay in the kitchen after the meal and help with dishes, bring the wine or pick up fresh bread from the local bakery. Delegating tasks will make everyone feel connected and important and less stress for you, see my theme here?
4. ASK THE KIDS TO HELP
Giving our kids a part in having guests for Thanksgiving is one of my favorite tips and tricks. Our kids get involved by making personalized name cards for the table, picking the napkins and setting the table.
They help make centerpieces with Popsicle crosses, arranging flower in mason jars and more!
5. PLAN FOR LEFTOVERS!
With all the amazing food that you will be preparing and your friends and family will bring make sure you plan for leftovers. I love to get to-go boxes so we can make up a few meals to send home with them or bring to shut-ins. It's a great way to remember those you love who can't be there!
Click any of the headings below to jump straight to that section!
Appetizers
Around Easter time, hard-boiled eggs are a dime a dozen so why not whip up something extraordinary like these sour cream, chive, and bacon deviled eggs!
Love Deviled Eggs for the holidays? This classic recipe is a must make for Easter!
This Grilled Cheesy Garlic Pull Apart Bread is grilled but you can also bake it in the oven.
Surprise your guests with this twist on an old favorite.
With a few pantry staples, you can make this easy Million Dollar Dip!
Sides and Salads
They are the perfect side dish recipe to your holiday dinners. Don't forget to buttery these warm rolls with butter!
Tender, crisp green beans that are wrapped in bacon and brushed with a simple glaze!
Perfect as a Side Dish or for Brunch!
This recipe is a basic recipe that you can build on and make your own. A creamy dressing, tender potatoes, and chopped hard-boiled eggs.
This Asparagus is so easy to make I really contemplated even posting it, but I did it anyways.
Kind of like these Easy Cheesy Scalloped Potatoes. I mean, cheese and carbs. Does it get better than that?
Mix up your traditional Green Bean Casserole by adding corn to it!
No holiday is complete without a green bean casserole and it just can't get any easier with this simple recipe!
These sweet potatoes are diced, then seasoned and roasted in the oven. The result is sweet potatoes with a caramelized outside and soft center. This is the best way to enjoy them!
The best part is that it can be prepped in under 15 minutes.
Want to know how to make light, fluffy, buttery mashed potatoes? This is the BEST Mashed Potatoes Recipe and you will love them!
If you are hosting the holidays and running out of kitchen space this delicious Crock Pot Creamed Corn is the perfect solution!
Without a doubt, you're going to love this tasty side dish! Green Beans on the grill, yup these are tasty!
If you want to impress someone, THIS is the salad you make. In fact, this could be re-named "Impress Your Mother-in-law Salad."
Whip up your mashed potatoes the day before the holidays and reheat to save time and stress.
This is the BEST Crockpot Green Bean Casserole. Creamy, easy to make and delicious.
It takes about 8-10 minutes total to grill the asparagus. Don't overcook it our it will become mushy. You want it to still have a slight bite with you eat it.
To me, the holidays are all about comfort food, and creamy = comfort, am I right?
It's light and fluffy from the Cool Whip and vanilla pudding mixture. Then it's loaded with your favorite Snickers candy bars and apples.
Looking for a way to change up your side dish for dinner? These crispy, buttery Smashed Potatoes are just when you need!
No room in the oven to cook the dinner rolls? Don't panic! Break out your Traeger, electric smoker or wood-fired grill and bake these soft pillowy dinner rolls.
No matter if you are a veteran cook in the kitchen or a beginner you will love this one.
I mean it has BACON in it so obviously it's a winner right? Tender pieces of asparagus wrapped in salty bacon. Mind blowing, honestly I can't believe it took me that long to try this!
A Tender and delicious, creamy broccoli recipe makes this Broccoli Casserole the BEST EVER!
They take only 5 ingredients and 20 minutes to make!
It uses turkey broth, but if you don't have that you can simply replace it with chicken broth. With only a few ingredients, you will have a delicious, fool-proof, lump-free, just like everyone loves.
Calico Beans
This easy recipe is great for potlucks, holidays and easy meals too!
Main Dishes
If you are entertaining this year you want this on your menu. The sweetness from the honey glaze is the perfect pair to this savory juicy ham. The final broiling step makes it amazing.
If you love a great cut of beef and want to WOW your guests, a prime rib roast is a great meal! A perfectly cooked smoked prime rib is a showstopper at any meal!
Crock Pot Turkey Breast fuss-free way to have turkey for dinner! It also is great during the holidays because it frees up oven space. The result is a tender, juicy turkey breast with homemade gravy with a ton of flavor.
Looking for a holiday ham recipe to prepare on your Traeger electric smoker? This Smoked Ham with a sweet honey glaze is so juicy and full of flavor.
Need an easy ham to serve during the holidays? It doesn't get easier than this delicious Crock Pot Pineapple Ham!
This Honey Glazed Ham recipe is so easy with minimal ingredients but yet you end up with amazing, flavorful ham!
If you are looking to relax and play a little more in life like I am I'm going to highly recommend you start this by making delicious Crock Pot BBQ Brisket for dinner.
I adore a delicious Crock Pot recipe especially when it's this amazing Balsamic Crock Pot Roast Beef with potatoes and carrots.
This way of making turkey will have everyone signing you up for bringing the turkey or hosting the holidays every year.
A perfectly seasoned and grilled Prime Rib is what your holiday meal needs!
This Slow Cooker Pork Loin Recipe is easy enough to make during the weeknight for busy nights and fancy enough to spoil dinner guests with.
I wanted to make a meal that was easy enough to serve any time but has a touch of fancy to serve to guests. This meal definitely fits the bill.
The flavor is unbeatable from a rub that is made with pantry staples.
This simple smoked turkey breast recipe is so easy to do. All you need are a few simple ingredients and you'll find that there is really very little prep work for this turkey recipe.
It's the perfect quick meal on the grill. Plus, it's healthy, just what you are looking for!
The secret ingredient of grape jelly to give you just the right amount of sweetness is in the homemade BBQ marinade too!
Desserts
If you're looking for a good go-to, easy Easter dessert, you'll love these fun cupcakes for Easter.
Tender, moist and topped with cream cheese frosting. One slice will never be enough. It's the perfect easy dessert for spring or Easter!
Skip the time-consuming layered carrot cake and make these delicious Carrot Cake Cookies instead!
This cake is quick and easy to make for a crowd. Moist, delicious and bursting with strawberry and lemon flavors.
Baking a cheesecake is an impressive feat! This lemon meringue cheesecake recipe is easy to follow and will guide you step by step.
Sweet and Salty Snack Mixes are so addicting, plus quick and easy to make!
These Easter Egg Hunt Sugar Cookie Bars are such a fun treat to make at Easter.
It's a quick and easy dessert, yet impressive. No layering or hassle so anyone can make it!
A delicious lemon cake baked in a Bundt pan! This Lemon Bundt Cake with Lemon Frosting is not only pretty but so delicious.
This No Bake Strawberry Cheesecake Icebox Cake Recipe is the perfect thing to celebrate with!
It's an easy dessert that will WOW your family and friends!
Need a quick and easy dessert that's bursting with flavor? This easy Strawberry Upside Down Cake only requires a boxed strawberry cake mix plus a few more ingredients.
Beverages
This quick and easy cocktail is perfect when you have last minute company!
It combines Moscato, lemon-lime soda, and pink lemonade for a slightly fruity, sweet, and bubbly cocktail.
The key to these Easter gatherings is EASY. Good thing this Sparkling Strawberry Lemonade is super, duper easy peasy.
It's light, fizzy and easy to sip on. Directions included for individual servings of this cocktail or a large batch to serve at your next brunch.
Cold brew coffee
Did you know it's super easy to make cold brew coffee at home? All you need are coffee beans and water.
This Strawberry Limeade would be a great drink to make for an Easter gathering, add a little Bacardi and make this an adult beverage. 🙂