Thanksgiving Desserts include more than just pumpkin pie! Although, that quintessential pie is amazing we love to mix it up with other pies like Pecan Pie or Apple Pie. If you don't like pie at all, then make a delicious and easy Pumpkin Angel Food Cake, Earthquake Pumpkin Cake, or one of the other quick and easy desserts listed below.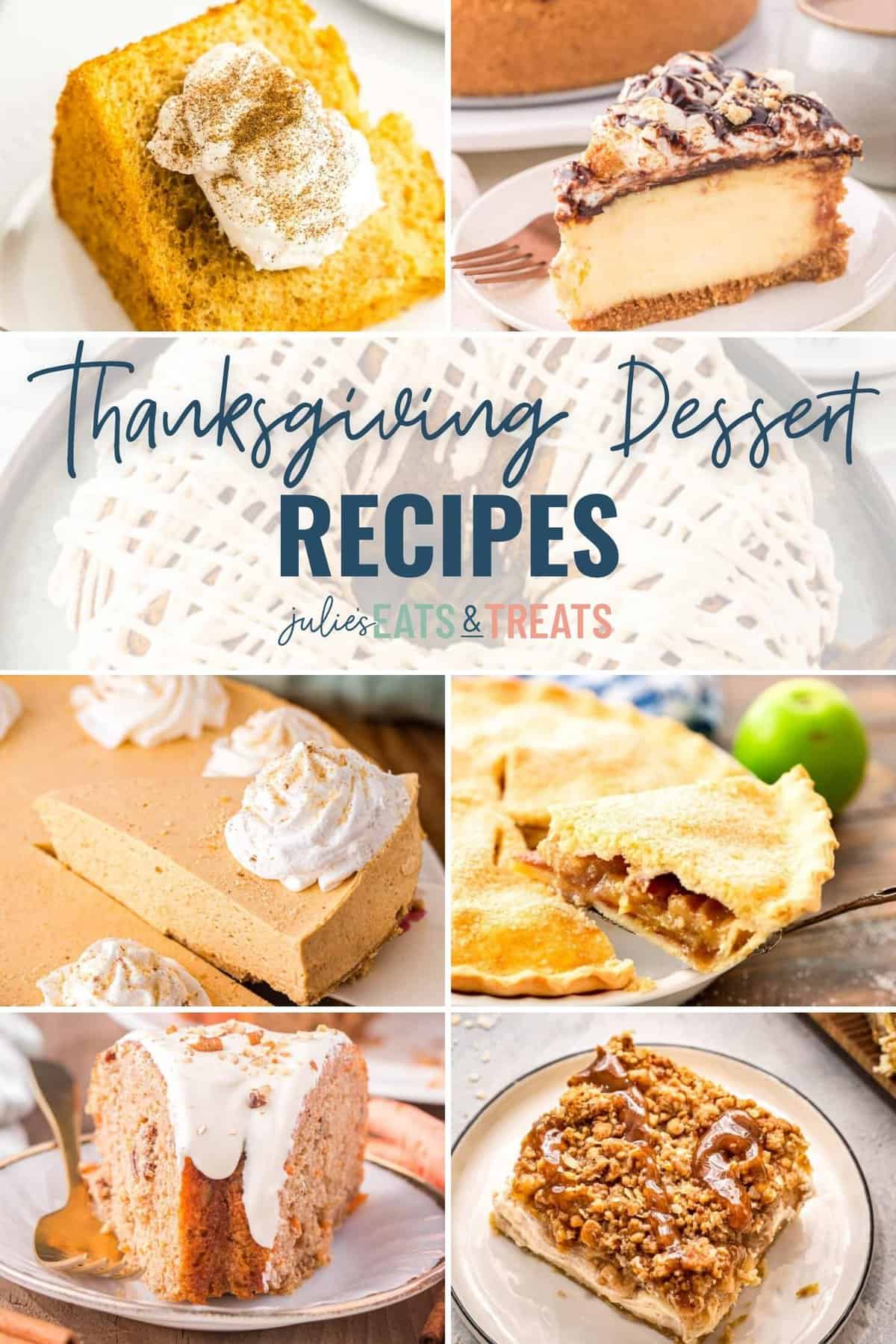 Easy Thanksgiving Desserts!
Thanksgiving is a holiday all about food in my opinion! Sure, we love the Turkey, Mashed Potatoes, Stuffing and everything that goes with it, but make sure you save room for thanksgiving desserts.
After the main event it's time to break out the desserts. Even though pies are amazing, make sure your dessert table is filled with more than just that!
Even if you go overboard on the main meal, you can set out a table filled with desserts so your friends and family can help themselves through out the day.
All the Thanksgiving dessert recipes included here are quick and easy so anyone can make them and bring them to parties or that you can place onto your sweets table for when you are hosting.
Need more Thanksgiving inspiration? Make sure to check out our easy side dishes for Thanksgiving or our Thanksgiving Menu Planner.
Pumpkin Thanksgiving Desserts
Thanksgiving is all about pumpkin so we will start with all these easy pumpkin desserts you can serve. Everything from trifles, cheesecakes, pies, cakes and more!
No Bake Pumpkin Cheesecake – the perfect sweet ending to your Thanksgiving feast! So easy to make and way easier than baking a cheesecake in a water bath.
Layers of fall flavor in every bite! This Pumpkin Lasagna Dessert is a delightful twist on a classic – perfect for satisfying your autumn sweet tooth.
Indulge in layers of autumn bliss with these Pumpkin Cream Pie Trifles. Each spoonful is a taste of seasonal delight. A unique recipe in this round up of Thanksgiving desserts! 🍂🥧
Fall for the creamy decadence of Pumpkin Cheesecake Bars – the ultimate dessert for pumpkin lovers and cheesecake lovers alike. A must try on the list of dessert recipes for Thanksgiving!
Simplify your fall baking with this scrumptious Pumpkin Dump Cake – where simplicity meets sweet, spiced perfection! Super quick and packed full of flavor.
These pumpkin snickerdoodle cookies are the perfect blend of sweet, spiced, and pumpkin goodness. They're truly the perfect Thanksgiving twist on a beloved classic cookie. So give them a try and add to your list of must bake Thanksgiving desserts!
Indulge guilt-free in the deliciousness of these skinny gluten free pumpkin cheesecake bars – a tasty treat that's kind to your waistline and perfect for fall. If you are gluten sensitive, then this recipe is just the thing for you!
These incredibly pumpkin filled bars with a creamy frosting are a delightful and seasonal dessert that combines the warm and comforting flavors of pumpkin with the rich and tangy taste of cream cheese.
Add this recipe to your must try Thanksgiving desserts! A fluffy and moist cake that is perfect for those looking for a slightly healthier or less indulgent treat.
These cookies are perfect for celebrating the fall season. They offer a delightful blend of flavors and textures and are one of the most fun Thanksgiving dessert recipes.
The combination of pumpkin with the sweet and spicy cinnamon chips makes these cookies a beloved seasonal treat. Thanksgiving desserts like these are perfect for enjoying with a warm cup of cider or your favorite fall beverage.
Everyone needs to add classic Thanksgiving desserts to their recipe list! This pumpkin pie is a beloved dessert that anyone will love.
These bars offer a wonderful shareable alternative to traditional pies. They are great to serve to a crowd or enjoying as a handheld treat.
Earthquake pumpkin cake is a delicious and impressive dessert that you can serve at any fall gathering, holiday, or any time you want to enjoy the wonderful flavors of pumpkin and cream cheese.
This Pumpkin Crisp is a wonderful dessert for the fall season, especially during Thanksgiving and other autumn gatherings. It combines the flavors of pumpkin pie with a delightful, crunchy topping, creating a comforting and satisfying treat.
These fall cupcakes loaded with cream cheese frosting are a delightful and seasonally inspired dessert that combines the warm, spicy flavors of pumpkin with the tangy, sweet goodness of cream cheese.
Not only is this cake a delicious and visually appealing dessert, but it has all of the comforting and warming flavors of pumpkin. You're going to love how tasty it turns out! Dessert recipes for Thanksgiving can be so easy!
These fall brownies are a delicious and festive treat that combines the rich, chocolatey goodness of brownies with the warm and comforting flavors of pumpkin. A unique Thanksgiving dessert recipe!
Pumpkin mousse pie is a delightful and creamy dessert that brings together the flavors of pumpkin and the lightness of mousse, all within a delicious pie crust. This is one of those Thanksgiving dessert recipes you totally have to try!
Apple and Cranberry Desserts
If you don't love pumpkin, then let's mix it up with delicious Apple and Cranberry Desserts. These are quick and easy! Everything from cranberry cake, bread pudding, to apple pie and more!
Sweet and comforting, our apple crumble recipe combines tender, cinnamon-spiced apples with a crunchy, buttery crumble topping for a warm and satisfying dessert. Thanksgiving desserts without pumpkin can be just as satisfying.
Caramel Apple Cheesecake Bars: A delightful fusion of creamy cheesecake and luscious caramel-drenched apples, all in one irresistible dessert.
A timeless classic in the world of desserts, this tasty pie is filled with sweet and tart apple slices, perfectly spiced with cinnamon, and encased in a flaky, golden crust. If you need a tried and true apple pie recipe, then use this one to add to your table of Thanksgiving desserts.
Switch things up and make is a scrumptious recipe that is a fun variation of the classic apple pie. Dessert recipe for Thanksgiving can be traditional, or just have a little twist!
This moist and sugary dessert is a comforting treat that's perfect for fall or any time you're craving a taste of pure indulgence.
These bars are a sweet and satisfying treat that perfectly captures the flavors of autumn. Make an incredible caramel frosting to drizzle on top of these flaky apple bars.
This cozy, seasonal treat is perfect for sharing with friends and family. Thanksgiving desserts with apple are just so tasty and this crisp is a classic that everyone has to try!
These delightful dumplings are the essence of homey comfort and perfect for any time you want to savor the flavors of fall. Not just great for fall, but amazing for Thanksgiving too!
These bars are a convenient and scrumptious way to enjoy the classic flavors of apple pie. Just use canned apple pie filling and then drizzle the finished product with cinnamon icing.
This timeless classic is the epitome of autumn coziness and a delightful way to enjoy the flavors of the season. If you don't have a go-to recipe for apple crips, then you need to try this Thanksgiving desserts recipe!
This warm and comforting crisp is a harmonious blend of seasonal fruits, perfect for enjoying during the fall or anytime you crave a sweet treat. Oats, pears, apples, and brown sugar — so cozy and inviting!
A mouthwatering twist on a classic dessert, featuring sweet and smoky grilled apples, topped with a caramel-infused, crunchy oat crisp. You'll live this grilled recipe!
A delectable dessert that combines the flavors of caramel and spiced apples, effortlessly prepared by 'dumping' the ingredients together and baking to perfection. A simple five ingredient dessert!
It's a perfect fusion of sweet and zesty flavors, making it an excellent choice for any occasion. Skip the regular bread pudding and make this fruity fall version instead!
A divine dessert that pairs the tart and tangy cranberries with a luscious caramel sauce, creating a sweet and tangy flavor explosion. It is such an elegant dessert and perfect for your Thanksgiving table.
This delightful combination of flavors and textures makes these cookies the perfect treat for any occasion. Cookies are so good for a sweet fall treat!
Thanksgiving Pies, Cakes and More
These desserts are a way to mix up the traditional Thanksgiving desserts. We even serve the amazing french silk pie at our Thanksgiving!
This yummy cake is a delectable way to savor the warm and comforting flavors of carrot cake. A Thanksgiving dessert recipe that is moist and delicious.
Irresistible bite-sized treats that encapsulate the flavors of classic carrot cake, with the perfect blend of sweet, spicy, and nutty elements, all packed into a portable and delightful cookie.
A cool and refreshing dessert featuring a minty and creamy filling in a chocolate cookie crust, often topped with whipped cream and chocolate shavings. This may not seem like a classic Thanksgiving dessert recipe, but it's perfect!
These mini treats offer the perfect fusion of indulgent cheesecake and classic pecan pie, making them a delightful bite-sized delight.
A heavenly dessert that combines the rich, creamy goodness of cheesecake with the campfire classic, S'mores. This homemade cheesecake is a show-stopping dessert!
Ripe peaches are simmered to perfection beneath a sweet and crunchy oat topping, creating a cozy, delicious treat that would be tasty in any season. Thanksgiving desserts without pumpkin or apples can still be comforting and warming.
This cake is 'poked' to allow a rich, creamy filling to soak in, making each bite a deliciously indulgent experience. A fluffy cake that tastes like gingerbread, what's better than that?!
This pie features a rich, mousse-like chocolate filling, topped with a layer of whipped cream and often garnished with chocolate shavings. We love to make this yummy recipe around the holidays.
A magnificent dessert that elevates the classic carrot cake to a beautifully shaped Bundt cake, complete with moist layers of spiced carrot cake, a hint of cream cheese glaze, and a lovely presentation.
These bars offer the perfect balance of nutty sweetness and a delightful texture, making them a delightful treat for almond lovers. An easily shareable treat that you can make for any holiday party!
Homemade whipped cream is a delightful and versatile topping for desserts, fruits, and beverages. Use it to top any of your most favorite Thanksgiving desserts.
Need a no-bake treat for the holidays? Then make this easy and delicious cheesecake loaded with tart berries!
Create a heavenly indulgence for peanut butter and chocolate lovers with this yummy trifle. It's a delectable treat that's sure to satisfy your sweet tooth.
This pie is a delectable combination of crunchy pecans, sweet filling, and decadent cocoa, making it the perfect treat for chocolate and pecan lovers alike.
These ooey gooey brownies are a decadent treat that marries the richness of chocolate and the sticky sweetness of caramel, creating the ultimate dessert indulgence.
A mouthwatering dessert that combines the creamy richness of cheesecake, the vibrant flavors of mixed berries, and a crumbly topping.