These are the BEST Alcoholic Summer Drinks! Everything from Sangria, Margaritas, Hard Lemonade, Iced Coffees, Cocktails and More! These drinks are perfect for beating the summer heat while staying refreshed! Make a drink at home and enjoy summer!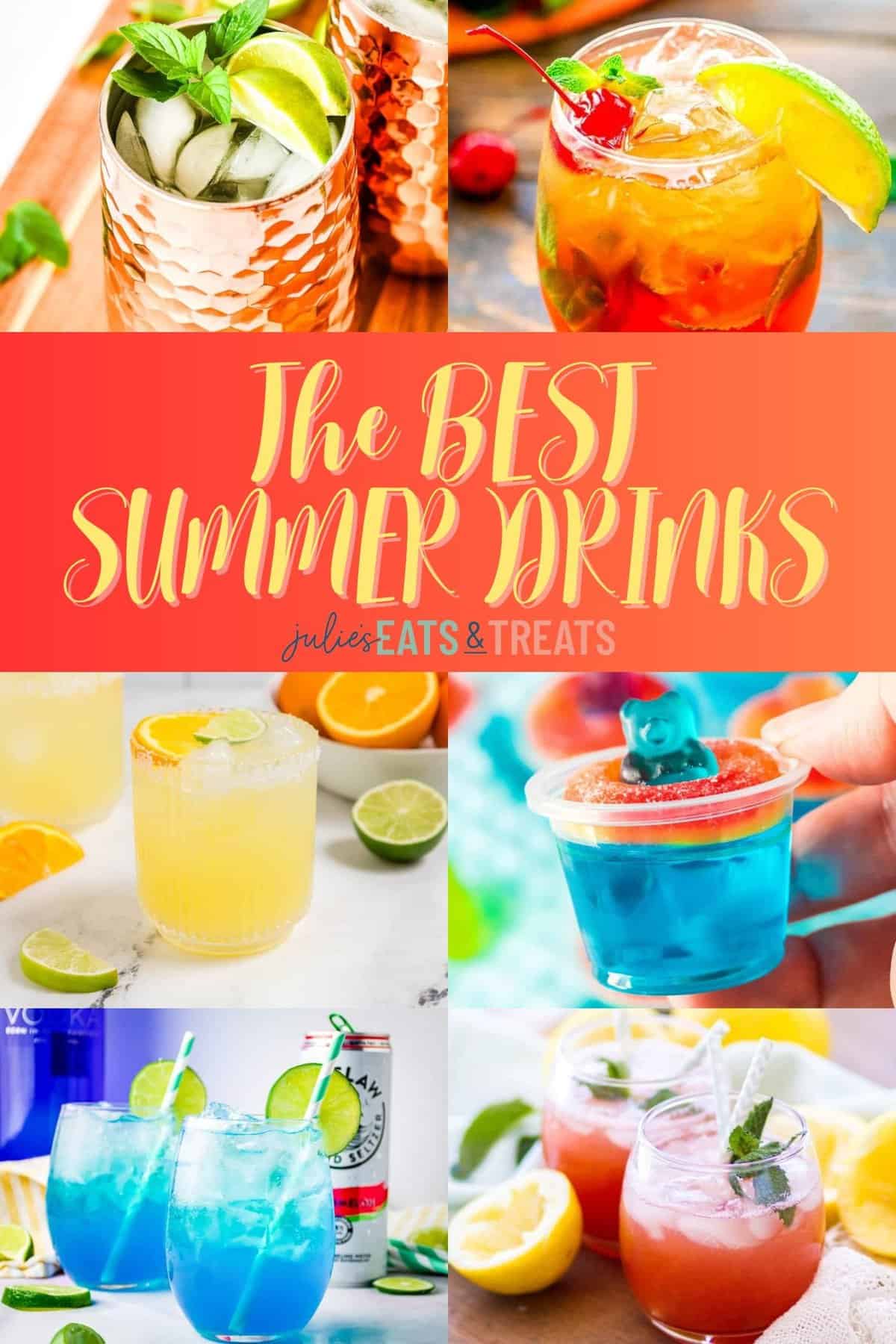 We are in the middle of hot, sweltering summer days and that means we are looking for a way to relax and cool off!
These are the BEST Summer Drinks to do that with! They are full of flavor, delicious and approachable. We have everything from margaritas, mojitos, sangrias and more.
There is something for everyone in this list of summer drinks.
The only question is which of these drinks will be the first one you try? Grab your friends, whip up a batch of your favorite alcoholic beverages, or maybe even two, kick your feet up or stick them in the sand and enjoy summer!
Click on the links below to jump to that section of summer beverages!
Easy Summer Drinks!
Non-alcoholic
Quenching Summer Vibes: Dive into Refreshment with a Burst of Mocktail Magic!
It's the perfect blend of sweet and tangy, making it a beloved choice for quenching your thirst on a hot summer day.
Combining root beer with the creamy indulgence of vanilla ice cream creates a match made in dessert heaven.
Indulge in Java Chip Bliss: A Chocolaty Coffee Escape in Every Sip!
Refreshing Skinny Vanilla Iced Coffee, Delightfully Light and Flavorsome!
Add some flavor to your cola!
Enjoy the sweetness of a Shirley Temple Mocktail, a Festive Treat for All Ages.
Quench your thirst and invigorate your senses with our sparkling mint lemonade.
Bursting with Summer Sparkle: Sip on the Bliss of Sparkling Strawberry Lemonade!
A zesty twist on a summertime favorite.
Explosively flavorful – a fusion of sweet and tangy!
Because strawberries just make everything better, plus it's Strawberry season so why not!
This Iced Peach Green Tea is refreshing on a hot summer day. It's naturally sweetened with a homemade simple syrup and by making it with the sweetest fresh peaches you can find.
Dive into the Cool and Tangy Delight of Blueberry Lemonade, a Burst of Summer in Every Sip!
Alcohol Beverages
As the sun shines brightly and the temperature rises, there's no better way to embrace the spirit of summer than with a refreshing assortment of alcoholic beverages.
You don't have to be a bartender to make fun drinks! Just follow this recipe step by step and you will have some pretty drinks made in no time.
Minty Fresh Escape: Discover the Irresistible Charm of a Refreshing Mojito.
Blackberry Mojito, a Burst of Sweetness and Minty Freshness!
Sip on this Irresistible Strawberry Mojito.
Delight in the Refreshing Twist of a Skinny Margarita, Guilt-Free!
Instead of using triple sec, this skinny marg has fresh orange juice and lime plus a touch of honey for sweetness. It's definitely lightened up!
A Perfect Harmony of Sweet Amaretto and Tangy Citrus.
You don't have to be Irish to enjoy this beverage!
This easy summer drink recipe only requires a few ingredients and will transport you right back to the tropics
Whiskey's Zesty Companion…Lemonade!
Tart and frosty delight.
Dive into the Fun with these Delicious Beach Pudding Shots!
Sip on the Temptation of a Dirty Shirley, a Twisted Twist on the Classic Shirley Temple Mocktail.
They are a cool, refreshing treat on a hot summer day.
Simply combine the ingredients, shake and serve over ice.
This Malibu sunset drink is about to be your new favorite cocktail!
Garnished with a slice of lime or a twist of citrus peel, a gin and tonic is a versatile drink that can be enjoyed on any occasion.
Making this Gin Fizz is a perfect choice for those who appreciate a light and uplifting cocktail.
You will be sipping this Red Sangria all summer long!
This Bay Breeze is a refreshing combination of vodka, pineapple and cranberry juice.
It's a refreshing boozy summer drink you can make for a crowd or scale-down and just make for you.
A cocktail that is whipped up in 3 minutes is always a hit at the cabin, lake, or by the pool so you can get back to enjoying yourself as soon as possible.
Tropical mimosas are perfect for brunches, summer gatherings, or any occasion where you want to add a touch of tropical flair.
Mimosas are perfect for brunches, bridal showers, and any occasion where you want to add a touch of sophistication and celebration.
Rainbow Sangria is perfect for summer parties, gatherings, or simply as a refreshing and delightful drink to enjoy on a sunny day. Raise a glass to the colorful joys of life with a glass of Rainbow Sangria in hand. Cheers!
Mix up a batch for girls night, afternoons at the pool or lake, or just because you're craving a boozy refreshing drink.
This cocktail is perfect for beach parties, summer gatherings, or anytime you want to transport yourself to a tropical paradise.
Because it's cold and fruity, it's a great beach drink, but the color is perfect for the holiday season, too! I think once you try it, you'll find all kinds of reasons to make it throughout the year.
Serve these up in a chilled copper mug for a refreshing summer drink.
If you need a drink to help you cool off as summer winds down, this is it. It's delicious, easy, and beautiful!
Raise a glass and enjoy the invigorating and citrusy flavors of a Paloma, transporting yourself to the vibrant streets of Mexico with each sip. Cheers!
It's a super beachy cocktail that has a gorgeous color that reminds me of the sunset. Plus, it's so fruity and refreshing you can't help but think you're on vacation even if you're just sipping on one at home.
Kick your feet up and relax with this bright and fruity drink!
Sip and savor the delightful flavors of a John Daly, combining the classic combination of tea and lemonade with a splash of vodka, for a drink that's perfect for any leisurely occasion.
It's the perfect cocktail recipe for a refreshing drink on a hot summer day and needs to appear at all of your backyard parties and BBQs this summer. If you need me I'll be sipping this at the lake!
The Aperol Spritz is not only a delight for the taste buds but also a feast for the eyes, with its vibrant orange hue and captivating presentation.
The combination of ingredients creates a smooth and velvety texture that is as satisfying as it is indulgent.
Whether enjoyed on a sunny patio, at a social gathering, or as a classic choice at a cocktail bar, the Tom Collins is a timeless and refreshing drink that never fails to delight.
White Russians are typically enjoyed as an after-dinner drink or as a decadent treat on special occasions.
Blueberry Sangria is a perfect choice for summer gatherings, picnics, or simply enjoying a relaxing evening with friends.
It's the perfect summertime drink. It's cool, refreshing, and perfect for a crowd.
Whatever parties you have this summer Sangria is a must have as it seems everyone always enjoys it.
This pineapple fruit cocktail is extremely easy to make and contains nothing fancy.
The combination of creamy rum and the energizing kick of coffee creates a balance of flavors, offering a delightful escape on warm summer days or whenever you crave a pick-me-up with a twist.