Love Crock Pot Dinners? They are easy, delicious and stress-free, so what's not to love? Here are our favorite quick and easy dinners that use your slow cooker to prepare them. They are family friendly, easy to make and delicious. Everything from pasta, soup, stew, roasts and more!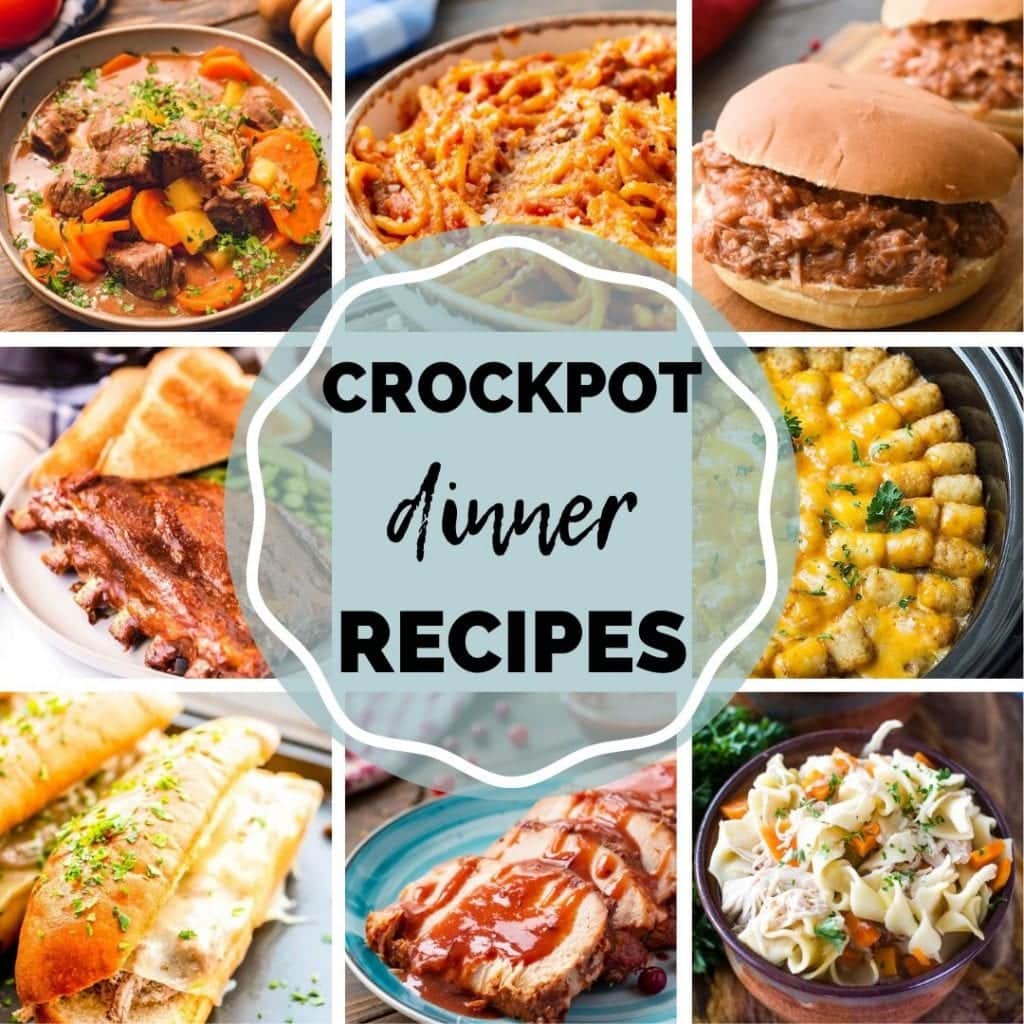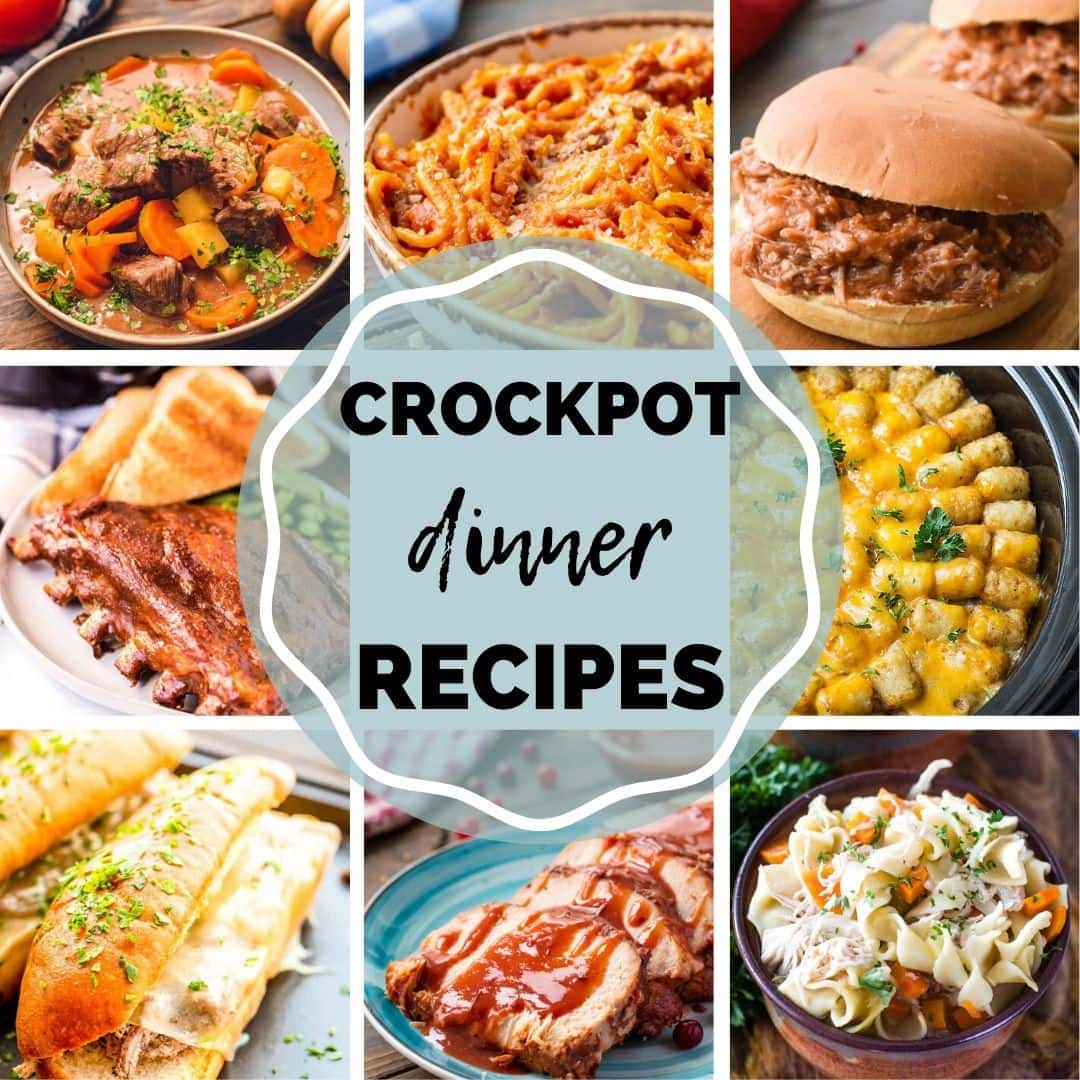 Need to make your weeknights easier? I have the answer for you today! Prepare you meals in your slow cooker for stress-free dinners.
The Crock Pot should be a kitchen staple in everyone's house because it's quick and easy to use to prepare your favorite dinners in which is perfect for busy weeknights.
Basically, all you need to do is gather a few ingredients, toss them in the slow cooker and let it cook all day. You come home to a home cooked meal ready for your family to enjoy.
Tips for using your Crock Pot for Dinner!
My number one tip is know your Crock Pot. Newer ones tend to heat at a higher temperature than old ones which prepares your food quicker. Typically the larger the slow cooker, the longer it will take to heat and cook. Please keep this in mind when using it.
Use the right size of slow cooker! A good rule of thumb is that a slow cooker liner should be 1/2 – 2/3 full when using.
Prep your crock pot liner by either spraying it with non-stick spray or using a disposable liner. This makes for super quick and easy clean up.
Prep ahead of time! I have been known to mix up the dinner the night before, pop it in the refrigerator and then just pull it out and turn it on the next day. If you can't do that, chopping vegetables, searing meat etc. can make the morning prep a lot easier.
Typically cooking on low for 2 hours roughly translates to cooking on high for 1 hour.
Place hard vegetables (potatoes, carrots or any root vegetable) at the bottom of your crock pot. They will have more moisture and cook more quickly.
Finish your meal with a few fresh herbs, a drizzle of lemon, balsamic etc. After a meal has cooked all day sometimes a fresh flavor can really make it!
Find your Favorite New Crock Pot Dinner Below!
We have rounded up a few of our favorite dinners using your Crock Pot. Our favorites are this hearty Beef and Noodle Soup to enjoy on cold nights, Pizza Casserole that my kids gobble up (win!!), and you can't beat our favorite Tater Tot Casserole with bacon in it!
Grab your menu for next week and plan out a few of these favorites to try!
Grab our meal planner above to make your life even easier when planning your meals for next week!
This stew is rich, chunky, and hearty. Throw it in your slow cooker for a quick and easy dinner today!
Crock Pot Beef Stroganoff is the ultimate comfort dinner! Tender stew meat with a rich gravy with onions and mushrooms. It's one of our go-to crock pot dinners.
French Dip Sandwiches are a delicious and easy dinner when you are busy! The roast beef is slow cooked all day in your crock pot so it's falling apart tender when you pile it high in your toasted hoagie roll with melted provolone cheese. Don't forget to dunk it in the salty au jus to finish it off.
Crock Pot Dinner recipes are so easy and delicious. This Mississippi Pot Roast is cooked in your slow cooker. Simply season a chuck roast, place it in your crock pot with pepperoncinis and beef broth on low. The result is a tender, fall apart roast to serve over mashed potatoes. Perfect for busy nights!
These Crock Pot Hot Ham & Cheese Sandwiches are a family favorite! They are perfect for an easy lunch or dinner recipe. I especially love making them when we are having friends and family over. They are ready whenever I need them and I can do all the prep work before hand.
These Crock Pot Chicken Legs start with an easy homemade rub are brushed with BBQ sauce and then broiled at the end. The result is tender, juicy chicken drumsticks that are finger-lickin' good! Such an kid-friendly crock pot dinner recipe!
Looking for a delicious Crock Pot recipe for dinner This Cranberry Crock Pot Pork Loin is amazing! This Slow Cooker Pork Loin Recipe is easy enough to make during the weeknight for busy nights and fancy enough to spoil dinner guests with.
Serve it over a bed of egg noodles or mashed potatoes for a hearty, filling slow cooker dinner recipe that everyone will request seconds.
Tender macaroni noodles smothered in a cheese sauce. It's the ultimate, classic comfort food. It's perfect for a holiday side dish, potluck or weeknight dinner. It's the most request crock pot dinner recipe from my kids.
This Crock Pot Pulled Pork recipe makes the best Pulled Pork Sandwiches! Delicious, smoky pulled pork that simmers in the slow cooker all day while you are busy and comes together in a couple minutes.
Crockpot Swedish Meatballs is a quick and easy dinner recipe that the entire family will love! It uses frozen meatballs to make it quick and easy. A quick gravy of cream of mushroom soup, beef broth and brown gravy mix gives it tons of flavor.
I adore a delicious Crock Pot recipe especially when it's this amazing Balsamic Crock Pot Roast Beef with potatoes and carrots. The result is a melt in your mouth roast that is tender and falls apart, plus carrots and potatoes.
This is a true Minnesotan Hot Dish recipe! An easy Hamburger Wild Rice Casserole that's made in your Crock Pot for an easy dinner. A mixture of ground beef, celery, Uncle Ben's Wild Rice, soy sauce, mushrooms and more. It's comforting, full of flavor and delicious.
This is hands down my favorite crock pot dinner and go-to meal repeatedly going on my menu.
our favorite family dinner can now be made easily in your slow cooker! This Crock Pot Spaghetti is so easy with tons of flavor. It's our favorite way to enjoy spaghetti. Plus, it's quick and easy for busy nights.
If you are looking for a quick and easy supper, because who are we kidding we all are, this is your meal ticket! You don't even have to thaw the meatballs!
An easy slow cooker dinner idea. This Crock Pot Chicken Bacon Ranch Pasta is a creamy mixture of shredded chicken, cream cheese, ranch dressing mix and bacon that's served with pasta. A family favorite, comfort food recipe everyone will request again and again.
Looking for an easy Crock Pot Dinner that's comforting, delicious and your family will love? This Crock Pot Chicken Pot Pie recipe checks all those boxes! It's an easy crock pot dinner that's ready when you get home.
With only three ingredients these Crockpot Chicken Tacos are the perfect quick and easy dinner recipe for a busy weeknight! Simply combine the chicken breasts, taco seasoning and salsa in your crock pot and let them cook. Shred the chicken, mix together and pile it on your tortilla and top with your favorite taco toppings!
Tender, fall-off-the-bone pork ribs that are packed with flavor! These quick and easy, but yet delicious crock pot ribs are going to be a family favorite. You simply rub a little mustard on your ribs, season them and then place them in your slow cooker.
Crock Pot Chicken Parmesan is a quick and easy take on traditional Chicken Parmesan! Tender, juicy chicken breasts that are seasoned with Italian Breadcrumbs, Parmesan cheese and seasonings. Then they are cooked in your slow cooker with Mozzarella cheese and spaghetti sauce. Serve these over spaghetti noodles for a quick and easy dinner recipe!
Crock Pot Turkey Breast fuss-free way to having turkey for dinner! It also is great during the holidays because it frees up oven space. The end result is a tender, juicy turkey breast with homemade gravy that has a ton of flavor.
With only three ingredients this recipe is perfect for busy weeknights when you need a grab and go meal for everyone. Pile it on buns, potatoes or whatever you'd like!
This easy crock pot dinner recipe is an amazing one that the whole family will love. Plus, it makes a delicious thick gravy to serve with it. If you are looking for another crock pot dinner recipe this is it!
The slow cooker does all the work making this appetizer stress-free especially when hosting a party. Give them a few minutes under the broiler to get that sticky BBQ sauce that's finger lickin' good!
Whole Chicken and Rice in the Slow Cooker Flavored with Onions and Spices! This Crock Pot Chicken and Rice Dinner is a win! You can't Go Wrong with this Meal in the Crock Pot!
Cold winter nights got you down? Make this delicious Crock Pot Chili Mac! It's a great weeknight dinner night without much fuss that the entire family will enjoy.
It's super easy to make and made completely from scratch with no canned soups! Don't worry though you can still substitute in a can of cream soup of your choice if you prefer.
Throw this delicious meatloaf in your slow cooker this week for an easy dinner recipe that the entire family will love.
Try this amazing Crock Pot Chicken Teriyaki for dinner!
Simply toss the chicken, rice, onions, green chilies and enchilada sauce into the Crock Pot before you leave for work, and when you get home, top it with some pico de gallo, avocado and queso fresco for a healthy but hearty meal that will satisfy your whole family!
This recipe will fill up the entire slow cooker, so don't be alarmed. This recipe does make a ton, so make it on a night you have company over or plan on having some yummy leftovers. Either way, I think you'll love this soup this winter.
Need a healthy, weeknight recipe the entire family will love? Make this easy Crock Pot Chicken Cacciatore for dinner tonight.
Craving a big bowl of soup? Dig into this Crock Pot Zuppa Toscana that's just you like your favorite restaurants!
Eating healthy does not have to be boring and taste like cardboard you guys! This chili has a kick with it so be prepared for that! If you like chili that's a bit spicy you are going to love this.
When you are craving lasagna and need a quick and easy version make this Crock Pot Lasagna recipe! Made in your slow cooker for a quick and easy family-friendly dinner. Pair it with a tossed salad and breadsticks for an easy meal.
If you are looking to relax and play a little more in life like I am I'm going to highly recommend you start this by making delicious Crock Pot BBQ Brisket for dinner.
Prep all the ingredients the night before, throw the steak in the seasoning, and in the morning throw everything in the crock pot.
A recipe that requires no work at all. Grab a bag of frozen meatballs and fire up the crock pot. The perfect comfort food!
Every bite of this Crock Pot White Chicken Chili is bursting with flavor. It's creamy and so delicious to warm up with!
It's a wonderful recipe and it's another recipe you can prepare in the Crock-Pot because what beats coming home on a cold winter evening to soup??
Crockpot Chicken and Stuffing is a delicious comforting dinner for busy nights! Layers of chicken breasts topped with a creamy soup mixture, cheese and stuffing! This is the ultimate comfort food that your entire family will love. Pair it with roasted vegetables or steamed vegetables and you have an entire meal.
Crockpot Pizza Casserole is an easy dinner recipe in your slow cooker! It's your favorite casserole that is ready when you come home after a busy day.
Crock Pot Chili is an easy slow cooker recipe that is one of my favorite comfort food recipes! There's nothing like sitting down to a big bowl of chili on a cold winter night.
A delicious, hearty, comforting Crockpot Chicken Noodle Soup! Once you make this easy homemade soup recipe you won't go back to a can of soup. I love warming up with a big bowl of chicken noodle soup on cold winter day or when I'm feeling under the weather. This slow cooker chicken noodle soup is amazing and a family favorite. It's the BEST!
This Crock Pot Garlic Chicken Alfredo Lasagna is loaded with garlic and cheese!
A soup that was easily classed as delicious has been a hands down favorite! Slow cooking this recipe means richer notes of flavor on every count, and you can step away while everything is coming together beautifully.
This Cheesy Bacon Potato Soup Recipe makes a huge pot so you can enjoy it with friends and family during the winter months. It's full of potatoes, bacon and cheese.
Serve with crushed tortilla chips, extra cheese and cilantro. It is the perfect, comforting soup with just the right amount of spice!
This Crock Pot Beef and Noodle Soup is a great alternative for all of you that may be tired of chicken and noodle soup. I love that you throw stew meat, carrots, celery, mushrooms and a few spices in the crock pot and let it cook all day long then add noodles right before serving! A total winner when you have a busy night ahead.
This Slow Cooker Mexican Quinoa Bake takes only 10 minutes of prep work and is made with quinoa and all your favorite Mexican ingredients for a thick, filling and delicious slow cooker weeknight meal!