Delicious Leftover Chicken Recipes!
Got leftover chicken and need a recipe to use it in? Then we have you covered. Here are easy, delicious recipes to use that leftover rotisserie chicken or any type of leftover chicken that you have! Everything from soup, casserole, dips and more.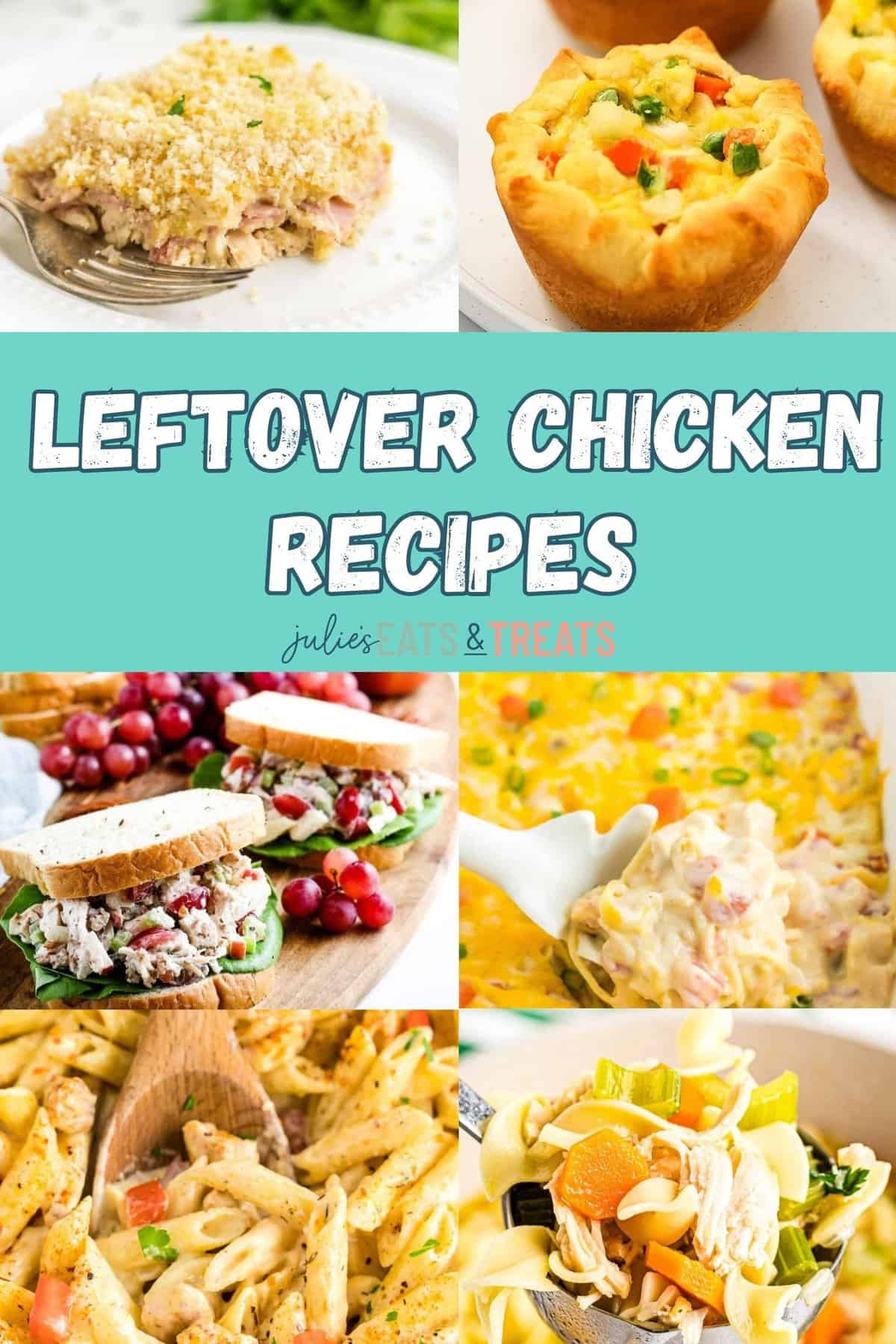 Do you have some shredded chicken or leftover chicken breast sitting in the refrigerator? It can be difficult to figure out what to do with leftovers sometimes. So I've rounded up all of my most delicious leftover chicken recipes to make things easier on you.
Whether you're feeling like having soup for dinner, or would rather a cold chicken sandwich, there is a recipe here for you. Leftover chicken can be used in anything from casseroles and pasta salads, to enchiladas and noodle bakes.
There are some many leftover recipes for chicken, it's easy to find something you'll love. Don't let leftovers go to waste any more. That chicken can have a new purpose! Choose any of these amazing recipes and eat up!
Transforming last night's chicken into today's masterpiece: Chicken Bacon Ranch Casserole! 😋🍗🥓🧀 One of those leftover chicken recipes that you've just gotta try out.
If you're feeling under the weather, make a steaming hot chicken noodle soup. It is a comforting bowl of goodness, perfect for a chilly day. 🍲❤️
Soup may seem like boring leftover recipes for chicken, but it totally isn't! This Chicken and Rice soup is brimming with tender chicken, wholesome rice, and a flavorful broth.
Chicken noodle soup, but make it creamy. This is one of the easiest leftover chicken recipes. The best part is it's made in one pot!
Slow cooker King Ranch Chicken Soup is the perfect, comforting soup with just the right amount of spice! Such a great way to use leftover chicken.
This slow cooker chicken noodle soup is amazing and a family favorite. It's one of the best leftover chicken recipes!
Ever get that craving for pot pie, yet you don't want to go through all the effort to make it? This soup recipe is a retake on the classic pot pie except so much easier to put together, and it lacks absolutely nothing in flavor!
Warm up with a big bowl of chicken wild rice soup tonight. It's perfect for an easy dinner recipe, one of the easiest leftover chicken recipes.
Easy 30 minute, one pot Chicken Tortilla Soup is the best soup! Switch up taco night on a cold evening and make this Mexican inspired soup instead.
Every bite of this Crock Pot White Chicken Chili is bursting with flavor! Use your leftover chicken and make a hearty "stick-to-your-ribs" soup.
This is not your Grandma's Chicken Salad peeps. It's loaded with incredible flavors and is a low carb twist on a classic recipe. You'll love this super easy leftover chicken recipe.
This super easy recipe is great to pack in lunches or eat on-the-go. It's so loaded with flavors and is anything but boring.
I love that this dinner recipe has the veggies right in the main dish so I only have to make one dish and I'm D-O-N-E! Skip the takeout and make this stir fry right at home.
Cheesy hash brown chicken casserole is great for weeknight meals when you are in a hurry. This recipe makes a wonderful dish to bring to potlucks too!
Cheesy chicken noodle casserole is a great all-in-one meal to make for dinner. Repurpose that leftover chicken and make a hearty noodle casserole.
These "Chicken Bacon Ranch Bubble Biscuits, are also known as "Crack Bubble Biscuits". Whatever you want to call them, with your leftover chicken, this recipe will be ready for your family in no time at all.
Craving a hearty homemade dinner recipe that screams comfort food? This recipe for Chicken Cordon Bleu Skillet Noodles is just what you want! It's the best for chilly evenings too.
Chicken ranch enchiladas are such a fun leftover chicken recipe. They are a super great twist on regular enchiladas and are always a hit with the family.
How cute are these mini chicken pot pies?! Quick, easy, and super tasty, this dinner recipe has all the flavor of pot pie packed into fun little bite sized pies.
Poppy seed chicken casserole is a hearty dinner recipe that will have you reaching for more. Add it to the ongoing list of top tier leftover recipes for chicken.
This easy twist on on chicken cordon blue is a comforting casserole, both delicious and simple! It's quickly become a favorite in our home.
Crescent chicken taco pinwheels are made with ingredients I almost always have on hand. I love to make these for dinner and send the leftovers in lunches during the week.
Save a step and make this yummy casserole with leftover chicken instead. One of the most simple leftover chicken recipes, and a great way to sneak in veggies for picky eaters.
Looking for a delicious dinner recipe? These creamy chicken enchiladas are amazing! You don't have to go to a Mexican restaurant to have some amazing enchiladas. You can make them right at home!
Chicken Alfredo Roll Ups make for a quick and delicious dinner that the entire family will love! Such a fun way to use leftover chicken.
A creamy sauce, penne noodles, chicken with the perfect amount of Cajun spice. Sound like something you wanna try? Then grab that leftover chicken and make this incredible cajun chicken pasta!
These chicken Alfredo stuffed shells are to die for. All the goodness of stuffed shells and all the creaminess of Chicken Alfredo in one happy dish.
Looking for a few healthy leftover recipes for chicken? Here is a quick and easy recipe for classic chicken salad. And, as an added bonus, it's a low-calorie version!
Cheesy southwest chicken soup has those wonderful Southwestern flavors all packed in a cozy bowl. Add your favorite tortilla chips and voila, perfection!
A copycat recipe of the famous Chicken Gnocchi Soup that you can make at home! Dare I say, it may be even better than what you can get in the restaurant.
Creamy Crock Pot Olive Garden Chicken served with pasta is an easy dinner recipe the entire family will want seconds of! It's a great dump and go recipe when you don't know what to make for dinner and need something that is no fuss.
Looking for an easy Crock Pot Dinner that's comforting, delicious and your family will love? Make crock pot chicken pot pie! It is definitely a favorite during the winter months.
This cold sandwich is great for an easy or make ahead lunch, dinner during the summer, or potlucks and BBQs. Not to mention, it's a great way to repurpose leftover chicken and give it new life!
Buttery pie crust, creamy filling, and tons of tasty chicken and veggies, what's not to love? Even better, this recipe is no-fuss and comes together in only an hour.
Chicken fried rice that is wildly easy and full of flavor, making it even better than takeout. Save some money and make chicken fried rice at home with the leftover chicken in your refrigerator.
You can't beat a classic like this creamy, cheesy and delicious Chicken Tetrazzini! And using leftover chicken will save you some time too.
This creamy Buffalo Chicken Dip is everyone's favorite for parties. Make it in the slow cooker or pop it in the oven. Either way, it's loaded with flavor and always a crowd-pleaser.
These kickin' bacon wrapped chicken bite are quick, easy and only have a few ingredients. A great appetizer and a really fun dinner recipe too!
It uses premade biscuits and all you had to do is cook some chicken and throw it together with a few seasonings, biscuits and a jar of Alfredo sauce.
This easy leftover chicken recipe will come together in 30 minutes. This family favorite dish will allow you to get dinner on the table quickly on busy evenings.
This yummy chicken salad crescent braid is not only delicious, but it looks so pretty too! Such a fun way to use up that leftover chicken you have in the fridge.
Cheesy chicken sandwiches make a great option for a quick weeknight meal when everyone is on the go. These are super hearty and absolutely tasty. A great meal for those picky eaters too!
Looking for some gluten free leftover chicken recipes? This zucchini noodle casserole is all you need! Classic comfort food in a healthy and gluten free package.
Chicken alfredo, loaded with extra amazing flavor and baked in the oven. So cheesy, creamy and a great way to use up any leftover chicken.
Change things up on Friday night pizza night. Make a buffalo ranch chicken pizza and you'll never want to order pizza out again!
Instead of taking a whopping scoop of Buffalo Dip and a mound of tortilla chips which could equal sooo many calories…you have built in portion control with these babies. The cutest little appetizers!
Need a dinner recipe with only 10 minutes of prep time? This chicken and wild rice casserole is the way to go!
Chicken spaghetti is one of those classic dishes that just doesn't get enough attention. My tried and true recipe is a family favorite that always turns out so good. Comfort food that really speaks to the soul…and the stomach!
This fun pasta salad is loaded with tasty chicken and other flavorful ingredients. Make it for your summer BBQ's and cookouts! It'll pair well alongside so many different dishes.