Back to School Breakfast Recipes
Kickstart the school year with a delicious and nutritious morning routine! As we gear up for the back-to-school season, we've curated a collection of wholesome and delightful breakfast recipes that will fuel young minds and energize the entire family for a successful day ahead.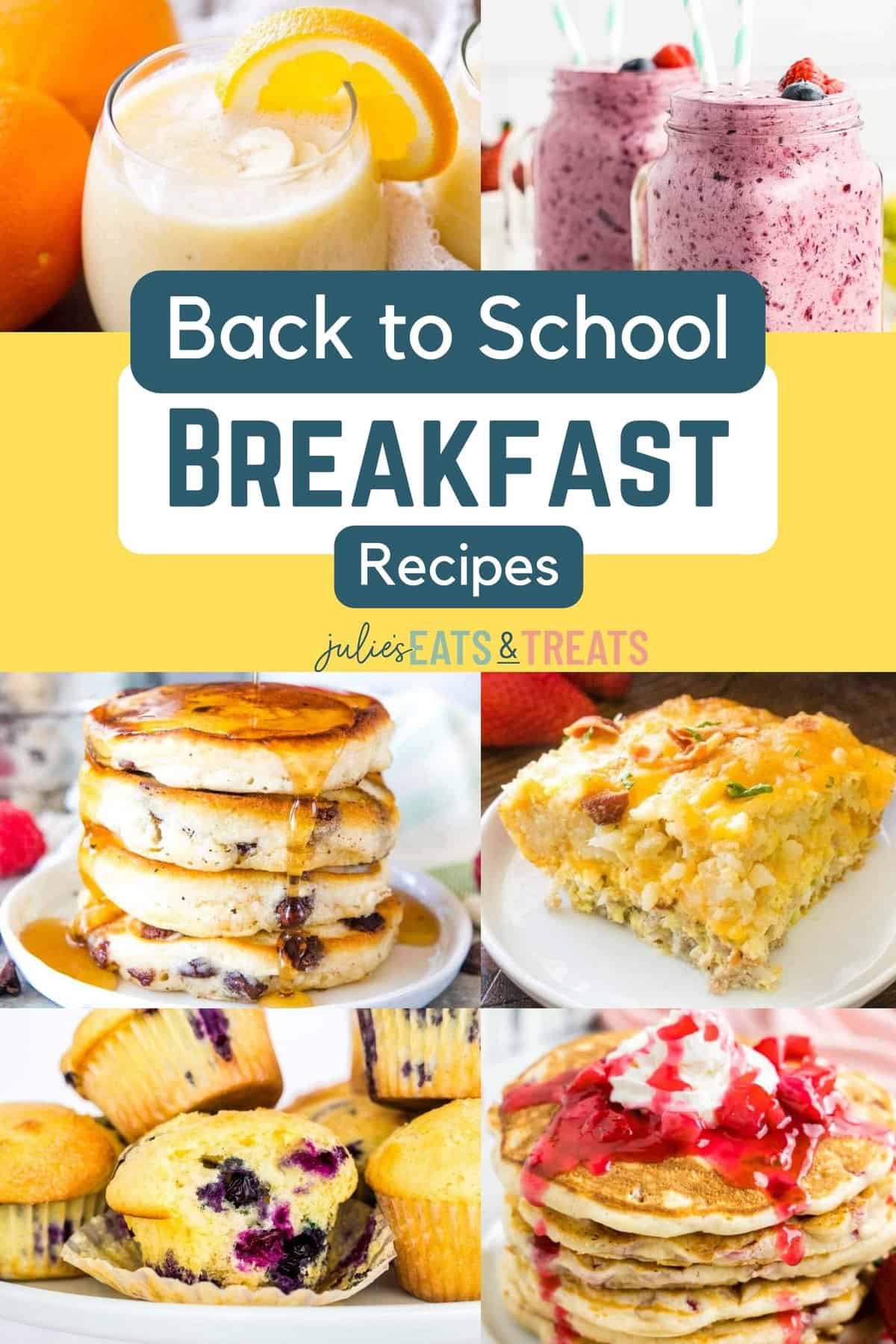 From easy grab-and-go options to comforting sit-down meals, these breakfast ideas will not only make mornings easier but also bring joy to the breakfast table.
Let's embrace the new academic year with a variety of flavors, fresh ingredients, and hearty dishes that will keep everyone excited and ready to conquer the day! 🌟💪
Click any of the headings below to jump straight to that section!
Muffins
Refrigerator bran muffins are a delicious and convenient breakfast option that can be prepared in advance and stored in the refrigerator until ready to bake and serve.
Bursting with Juicy Raspberries and Irresistible White Chocolate Chips, these Heavenly Treats are the Perfect Morning Indulgence or Afternoon Pick-Me-Up! 😋🌞
Irresistibly Moist, Rich, and Packed with Peanut Butter Flavor, These Delights Will Have Everyone Asking for Seconds! 😋
Deliciously Sneaky Greens 🥒💚
A Bite-Sized Cinnamony Delight 🍂🐵
Start Your Day with a Smile and a Yummy Blueberry Surprise!
Filled with Fresh Chunks of Apples and Cinnamon, These Muffins are a Cozy Taste of Fall in Every Bite!
Moist, Fluffy, and Loaded with Melted Chocolate Chips, These Muffins Will Steal Your Heart in One Bite!
Rich, Spiced Pumpkin Flavor Meets Decadent Chocolate Chips – A Match Made in Muffin Heaven!
All the Goodness of Cinnamon Rolls in Convenient Muffin Form! 😍
A Perfect Blend of Moist Banana Goodness and Buttery Crumb Topping! 😍
Scones and Quick Breads
A Delightful Teatime Tradition! 😍
Moist, Rich, and Packed with Chocolate Flavor, Sneakily Enhanced with Fresh Zucchini!
A Heavenly Combination! 😍
Elevate Your Morning or Afternoon with this Scrumptious Delight! 😋
A Campfire Classic, Reinvented 🍩
A Wholesome and Tasty Treat for Any Time of the Day!
Moist Banana Bread Infused with Irresistible Cinnamon Swirls, a Perfect Marriage of Flavors.
Sticky, Gooey, and Oh-So-Delicious.
Pancakes, Waffles and French Toast
Dive into a stack of heavenly Strawberry Pancakes.
Indulge in a Stack of Happiness!
A Burst of Juicy Blueberries in Every Fluffy Pancake!
Light, Fluffy Pancakes Loaded with Rich Chocolate Chips – A Decadent Twist to the Classic Breakfast!
Perfectly Paired with Your Favorite Syrup or Fresh Fruits.
A Breakfast Treat That'll Make Your Day Shine! 😍
Fall Flavors in Every Stack 🥞
Crispy Waffles Packed with Scrambled Eggs, Crispy Bacon, and a Generous Sprinkle of Melted Cheese. A Mouthwatering Way to Kickstart Your Day! 🥓🧀
Slices of Bread Soaked in a Rich Egg Mixture, Cooked to Golden Perfection, and Dusted with Powdered Sugar.
Fluffy Pancakes Infused with Shredded Zucchini and Warm Spices. A Wholesome and Tasty Way to Start Your Day! 🍴
Egg Recipes
Protein-Packed Morning Bites 🍳
Bite-sized bursts of flavor! 🥧🍳
Toasted English Muffins Topped with Melty Cheese, Savory Ham, and Crispy Bacon. A Perfectly Satisfying Start to Your Day! 🍴🥓🧀
Fluffy Buns Stuffed with Scrambled Eggs, Crispy Bacon, and Melted Cheese. The Ultimate Combination of Savory Goodness!
Rise and shine with convenience! 🌞🍳🥪
A Hole Lot of Deliciousness 🍳
A Flavorful Combination of Crispy Tater Tots, Savory Bacon, Whisked Eggs, and Melted Cheese. Perfect for Feeding a Hungry Group or Treating Yourself to Comforting Goodness!
A Fiesta for Your Taste Buds!
Wake Up Your Taste Buds with this Delicious Mexican Twist! 🍴🌶️🍳
Spice Up Your Breakfast with this Flavorful Dish! 🍴
A Flaky and Savory Start 🥐
Crispy Hash Browns Cooked to Perfection, Topped with Scrambled Eggs, Crispy Bacon, and Melted Cheese. A Hearty and Cheesy Start to Your Day! 🍴
Oats and Yogurt Recipes
These Frozen Yogurt Bites are the perfect guilt-free indulgence, bursting with refreshing flavors and a delightful texture that will satisfy your sweet cravings, one bite at a time!
Berrylicious bliss in a glass! 🍓🥤
Creamy Yogurt Layered with Sweet Berries and Crunchy Granola. A Wholesome Start to Your Day!
Toasted Granola Infused with Warm Pumpkin Spice, Pecans, and Dried Cranberries. Sprinkle it on Yogurt or Enjoy by the Handful for a Tasty Autumn Treat!
Prep Ahead, Savor Later! 😍
A Taste of the Tropics! 😍
A Nutella Lover's Dream 🍫
A Delightful and Nutritious Way to Jumpstart Your Day! 🍴🍒
Wholesome Blend of Fresh Fruits, Chia Seeds, Flaxseeds, and Creamy Yogurt. A Refreshing and Nourishing Way to Fuel Your Day!
Sunshine in a Glass 🍊🥤
Wake Up to a Delicious and Nutritious Start! 🍴🌟🥜
A Tasty Protein Boost! 😍
A Comforting and Nutritious Breakfast Treat! 🍴
Energy Balls and Granola Bars
Perfect for a Quick Snack or On-the-Go Energy Boost!
Wholesome and Irresistible!
Perfect for Satisfying Sweet Cravings and Boosting Your Energy! 🍴🌟🍌
Perfect for a Wholesome Snack or Breakfast on the Go!
Nutty, Sweet, and No-Bake Treats 🥜🍯
These scrumptious White Chocolate Macadamia Nut Energy Balls are the perfect blend of sweetness and power, giving you the boost you need to conquer your day
Zest up your day with a burst of flavor! 🍊💥