Easy Christmas Breakfast & Brunch Recipes!
Whether you host a big Christmas Breakfast or Brunch we have you covered with a ton of delicious, yet easy recipes that everyone is sure to enjoy. They include French Toast, Cinnamon Rolls, Scrambled Eggs, and more. Many of our recipes are make-ahead so you can prep them the night before and just bake on Christmas morning. That way you can enjoy the festivities and the frenzy of wrapping paper on Christmas morning!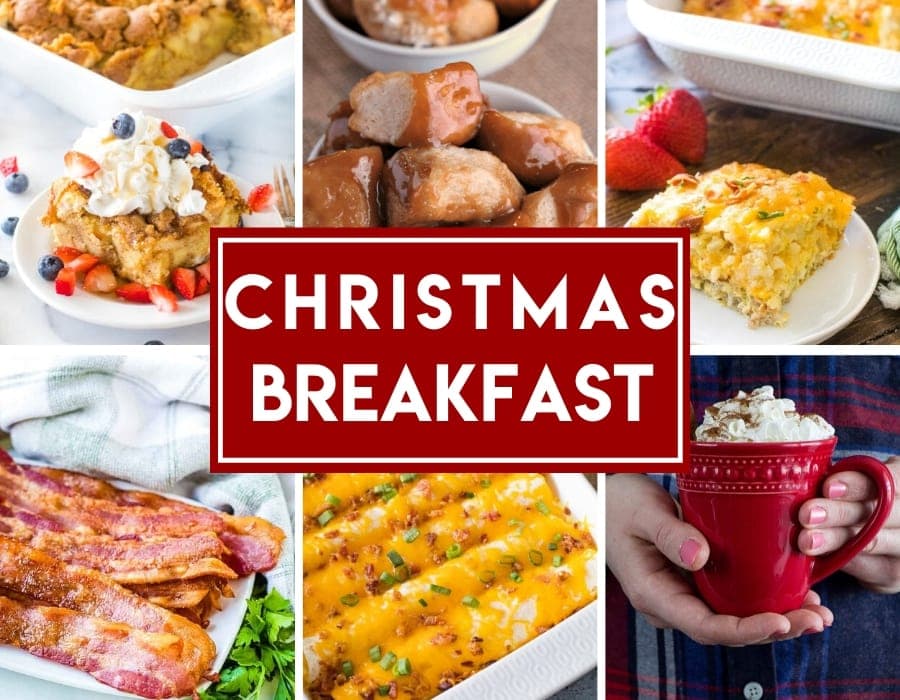 Our FAVE Christmas Morning Breakfast Recipes!
There's nothing like waking up on Christmas morning to the anticipation of opening gifts and knowing there's going to be an amazing breakfast or brunch! Whether you are a fan of sweet breakfasts or are team savory we have something for you.
This Christmas breakfast menu includes many different takes on French Toast, Coffee Cakes, Eggs, Muffins, Cinnamon Rolls and more.
Tips to Make Christmas Morning Stress-Free!
To ensure that you can partake in the gift opening and not be stuck in the kitchen we have many overnight options like my favorite breakfast casserole so you can prep the dish the night before and then simply stick it in the oven on Christmas morning and enjoy the morning with your family.
Another great tip to making sure you can enjoy the morning with your family is to set the table the night before. This is always something that is nice to have done the night before.
Use festive paper plates and napkins. Trust me, the last thing you want to do is slave over a pile of dirty dishes after breakfast while everyone else sips on coffee watching the kids play with their new toys. There's nothing wrong with use paper products. Embrace it!
Serve your breakfast or brunch buffet style for a quick and efficient way to enjoy it. People can pile their plates with what they want and then go back for more whenever they would like. You aren't stuck passing and dishing for everyone so you can enjoy eating at the same time.
[et_bloom_inline optin_id=optin_9]
Don't forget to grab our free printable for a cute letter to Santa that your kids can use for Christmas!