The BEST Christmas Breakfast Ideas
Whether you host a big Christmas Breakfast or Brunch we have you covered with a ton of delicious, yet easy recipes that everyone is sure to enjoy. They include French Toast, Cinnamon Rolls, Scrambled Eggs, and more. Many of our recipes are make-ahead so you can prep them the night before and just bake on Christmas morning. That way you can enjoy the festivities and the frenzy of wrapping paper on Christmas morning!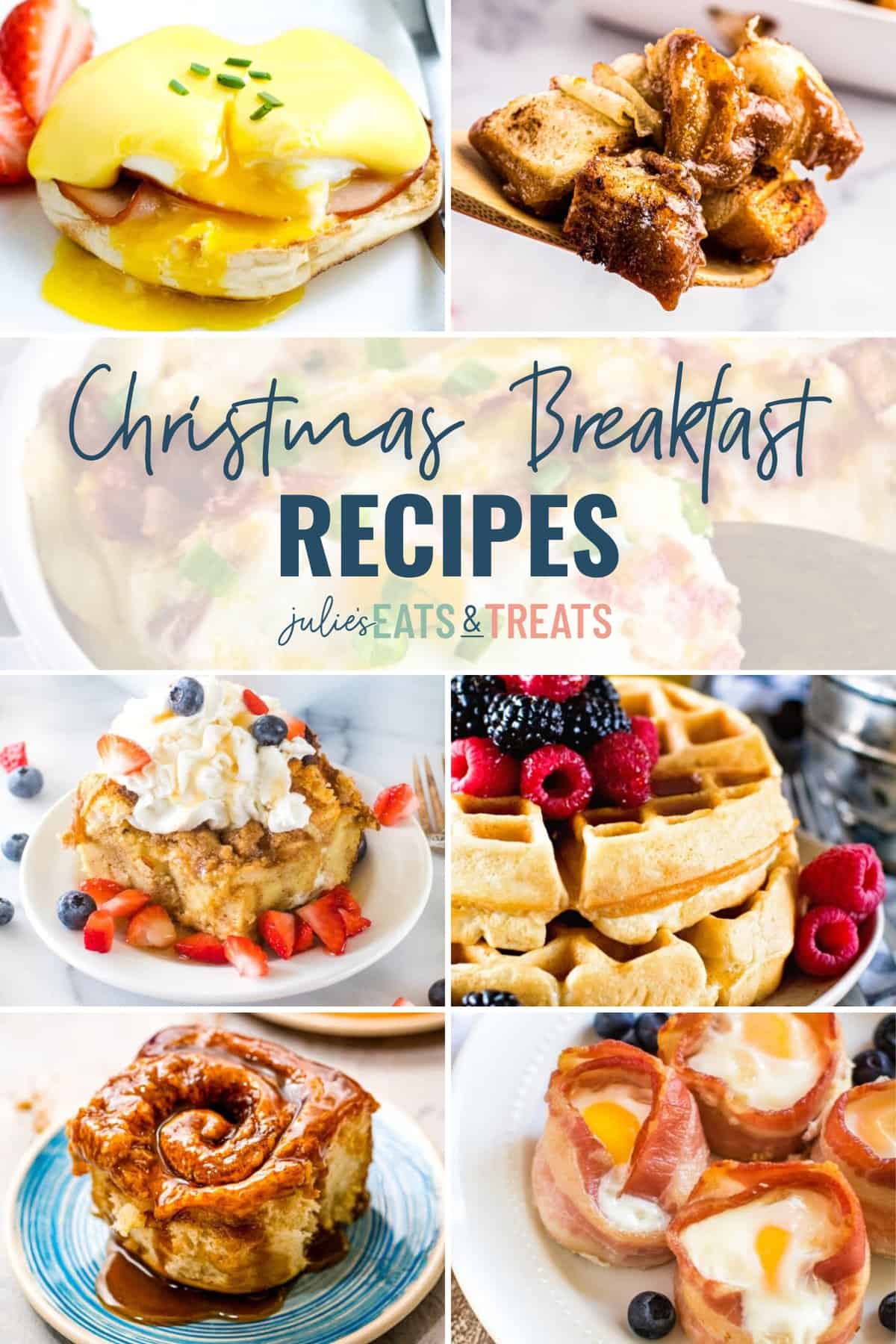 Christmas Breakfast Ideas!
There's nothing like waking up on Christmas morning to the anticipation of opening gifts…and knowing there's going to be an amazing breakfast or brunch! Whether you are a fan of sweet breakfasts or are team savory we have something for you to for your delicious Christmas breakfast.
This Christmas breakfast menu includes many different takes on french toast, coffee cakes, tasty eggs, warm and fluffy muffins, gooey cinnamon rolls and more. You are sure to find something that you'll love!
Tips to Make Christmas Morning Stress-Free!
To ensure that you can partake in the gift opening, and not be stuck in the kitchen, we have many overnight options like my favorite breakfast casserole. Just you can prep the dish the night before and then simply stick it in the oven on Christmas morning. Then relax and enjoy the morning with your family.
It is also super helpful to set the table the night before. Then you can spend more time making sure you can enjoy the morning with your family.
But I think my favorite tip is to use festive paper plates and napkins. Trust me, the last thing you want to do is wash a pile of dirty dishes after breakfast. There's nothing wrong with use paper products. Embrace it!
Serve your breakfast or brunch buffet style for a quick and efficient way to enjoy it. People can pile their plates with what they want and then go back for more whenever they would like. This way, you aren't stuck plating meals for everyone and instead can enjoy eating at the same time.
Don't forget to grab our free printable for a cute letter to Santa that your kids can use for Christmas!
Indulge in the magic of Christmas morning with this heavenly stuffed French toast! Just the best Christmas breakfast addition.
Embrace the holiday spirit with this delightful french toast casserole. It's like a warm hug on a Christmas morning and is easily shareable if you're hosting a lot of people.
Savor the flavors of the season with this overnight pecan banana french toast. It's a festive delight that is perfect for a merry Christmas breakfast!
This delightful dish brings together the sweetness of bananas, the crunch of pecans, and the comforting warmth of French toast. It's perfect for a special breakfast or brunch treat for Christmas morning breakfast!
This overnight caramel apple french toast casserole is a wonderful combination of gooey caramel, tender apples, and soft French toast. It's perfect for a special breakfast or brunch, especially during the fall season.
Cranberry orange bread pudding is a delightful sweet treat perfect for Christmas breakfast. It artfully combines the zesty, citrusy flavors of oranges with the tartness of cranberries, nestled within a bed of rich, custardy bread.
This cinnamon crumb coffee cake is moist, tender, and fill of flavor. And the delightful cinnamon-infused streusel topping makes it one of the best Christmas breakfast ideas!
There's nothing quite as delightful as the aroma of fresh, homemade pancakes sizzling on a griddle. Even Christmas morning, they're the perfect breakfast.
"Stupid Easy Caramel Rolls" — a straightforward and effortless way to make delightful caramel rolls. If you like cinnamon rolls, then you'll love caramel rolls!
This recipe provides a convenient and adorable twist on the classic. Gooey caramel goodness wrapped in petite portions that are perfect for satisfying sweet cravings, brunches, or delightful snacking moments.
This convenient and fuss-free method allows the slow cooker to work its magic. Crockpot breakfast is one of the best Christmas breakfast ideas you could have!
The beauty of these pull-aparts lies in their gooey, sweet caramel goodness that makes them ideal for indulging with family and friends. Just so yummy and comforting!
Satisfy your sweet tooth with these easy caramel pecan sticky buns. They are a heavenly combination of soft and fluffy dough, indulgent caramel, and crunchy pecans. A melt in your mouth Christmas breakfast that you will love!
These sugar cookie cinnamon rolls are a delightful twist on traditional cinnamon rolls. It's like Christmas cookies and cinnamon rolls all rolled into one! Talk about the perfect Christmas breakfast.
This recipe offers a mouthwatering twist on traditional monkey bread by incorporating the delightful combination of caramel and apples. It a Christmas breakfast treat that everyone would enjoy.
This cinnamon roll monkey bread is drool-worthy. So yummy and one of my favorite recipes to use during the Christmas season!
Cinnamon roll monkey bread muffins offer a delightful twist on traditional monkey bread in a convenient individual serving. Easily shareable and great for a large group setting!
Perfect for breakfast or as a satisfying snack, these muffins combine the nutty essence of peanut butter with the natural sweetness of bananas to create a moist, flavorful treat.
Let the sweet aroma of cinnamon and baked apples fill air on Christmas morning. It's an ideal treat for breakfast, brunch, or a cozy afternoon snack.
Oven-baked bacon is a simple and hands-off method to achieve perfectly cooked, crispy bacon. A great way to make this crispy breakfast favorite on Christmas morning!
Perfect for special breakfasts like Christmas and New Year's Day. This is soft and crispy and oh so sweet!
This waffle recipe presents a delightful way to start your day. How much fun would it be to have a waffle bar for Christmas morning?!
These waffles boast the irresistible taste of cinnamon rolls with the convenience of a waffle iron. If you haven't tried cinnamon roll waffles, then you've gotta check out this recipe!
Perfect for a make-ahead breakfast or a comforting treat, this dish offers a delightful way to start the day with its warm and fruity flavors. It's a great healthy Christmas breakfast so you can fill up on Christmas cookies later in the day.
A sheet pan breakfast is a convenient and versatile way to prepare a hearty morning meal for a group. So much protein and the most amazing flavor!
The sausage & cheese hashbrown breakfast casserole is a hearty and satisfying morning dish, perfect for feeding a crowd or for a comforting family breakfast.
This combination creates a rich, savory, and indulgent flavor that's perfect for a special breakfast or brunch. Whether it's for Christmas morning breakfast or brunch, this is a great recipe to add to your menu.
These versatile potatoes complement many breakfast dishes and are often served alongside eggs, bacon, sausage, or as part of a hearty breakfast skillet.
Perfect for lazy mornings or brunch gatherings, this dish provides a warm and comforting start to the day, with the convenience of a slow-cooked, easy-to-prepare meal.
The tater tots in this yummy casserole form a crispy, golden crust while the eggs and other ingredients create the most comforting flavors. Casseroles are just the best Christmas morning breakfast recipes!
Slow-cooked to perfection, this casserole yields a comforting and flavorful breakfast. All the gooey melted cheese and savory ham make a satisfying all-in-one breakfast option.
Biscuits and gravy casserole is a classic, comforting dish. Bring together the beloved flavors of traditional biscuits and sausage gravy in a convenient casserole format.
This dish is perfect for a cozy breakfast or brunch, providing a comforting and satisfying start to the day with its delicious combination of flavors.
Breakfast enchiladas are a delightful and flavorful morning dish that brings the zest of traditional enchiladas to the breakfast table. A great shareable breakfast if you need to feed a lot of people!
Prepare this breakfast lasagna the night before and refrigerate it to get the flavors to meld together. In the morning, it's baked until the layers are cooked through and the cheese is bubbly and golden. So yummy!
The flavors of bacon, cheese, and eggs nestled within warm buns create a mouthwatering combination that's sure to please. Sliders are always a hit, so why not make them for breakfast!
These muffins can be easily customized with added ingredients like cheese, vegetables, or seasonings to suit personal taste preferences, making them a versatile and appealing breakfast choice. So yummy for a Christmas morning breakfast!
Their individual portion sizes and the ability to personalize them to individual tastes make these muffins a popular choice for meal prep, busy mornings, or as a protein-rich snack.
Celebrate Christmas morning with this delightful baked omelette, a hassle-free and scrumptious way to start the holiday festivities.
Small bites, big flavors! These delightful mini quiche cups are the perfect addition to any gathering. One of the easiest shareable Christmas breakfast ideas.
Boston cream donuts are a beloved treat known for their delightful combination of soft, fluffy donuts filled with a creamy custard and topped with a chocolate glaze. When the donut shop is closed for Christmas, you can still make your favorites.
These delightful pastries offer a perfect balance of sweetness and tanginess, making them a delightful addition to breakfast. Such a festive treat for Christmas morning!
Enjoy the warm, comforting flavors of cinnamon and sugar swirled into fluffy, single-serving muffins. A great recipe to easily share!
These pancakes are made by adding chocolate chips into the pancake batter, infusing each fluffy pancake with pockets of melty, sweet chocolate.
A stunning and flavorful treat perfect for any occasion, whether as a show-stopping dessert or a delightful sweet breakfast to share with loved ones. Such a yummy breakfast for Christmas morning!
Whether it's a delightful addition to your weekend brunch or a convenient breakfast option for a busy morning, this crescent ring offers a delicious and visually appealing way to start your day on a high note.
This fresh orange smoothie is a delightful and healthy way to enjoy the natural sweetness and tang of fresh oranges. A burst of citrus flavor to kickstart your day or make it as a refreshing beverage option.
Irish coffee is a delightful and classic cocktail that combines the rich flavors of coffee, Irish whiskey, sugar, and a topping of whipped cream. A boozy drink for Christmas breakfast.
With its velvety texture and luscious white chocolate flavor, it's the perfect treat to savor on a leisurely morning or as an afternoon pick-me-up. The best Christmas morning beverage!
Indulge in the cozy flavors of the season with this easy eggnog latte, a delightful and festive beverage perfect for the holidays. No need for coffee shops when you can make this right at home!
This soothing and luxurious drink is perfect for sipping on a chilly day or as a delightful treat to enjoy during the holiday season. A creamy hot chocolate for the whole family!
Celebrate the holiday season with a festive and refreshing red Christmas sangria, a delightful concoction that's perfect for gatherings and celebrations. A yummy Christmas brunch treat.
The drink is created by layering steamed milk and foam over a shot of espresso, and then finishing it with a caramel syrup drizzle.