Manly Father's Day Recipes
It's all about Dad and it's time to make his favorite recipes for the ultimate breakfast, lunch or dinner. We have gathered together something for everyone. Tons of great ideas like kabobs, ribs, shrimp, steak, potato salad, pancakes, bacon and more. Don't forget dessert like Chocolate Lasagna, Peanut Butter Cup Cheesecake or Strawberry Pie!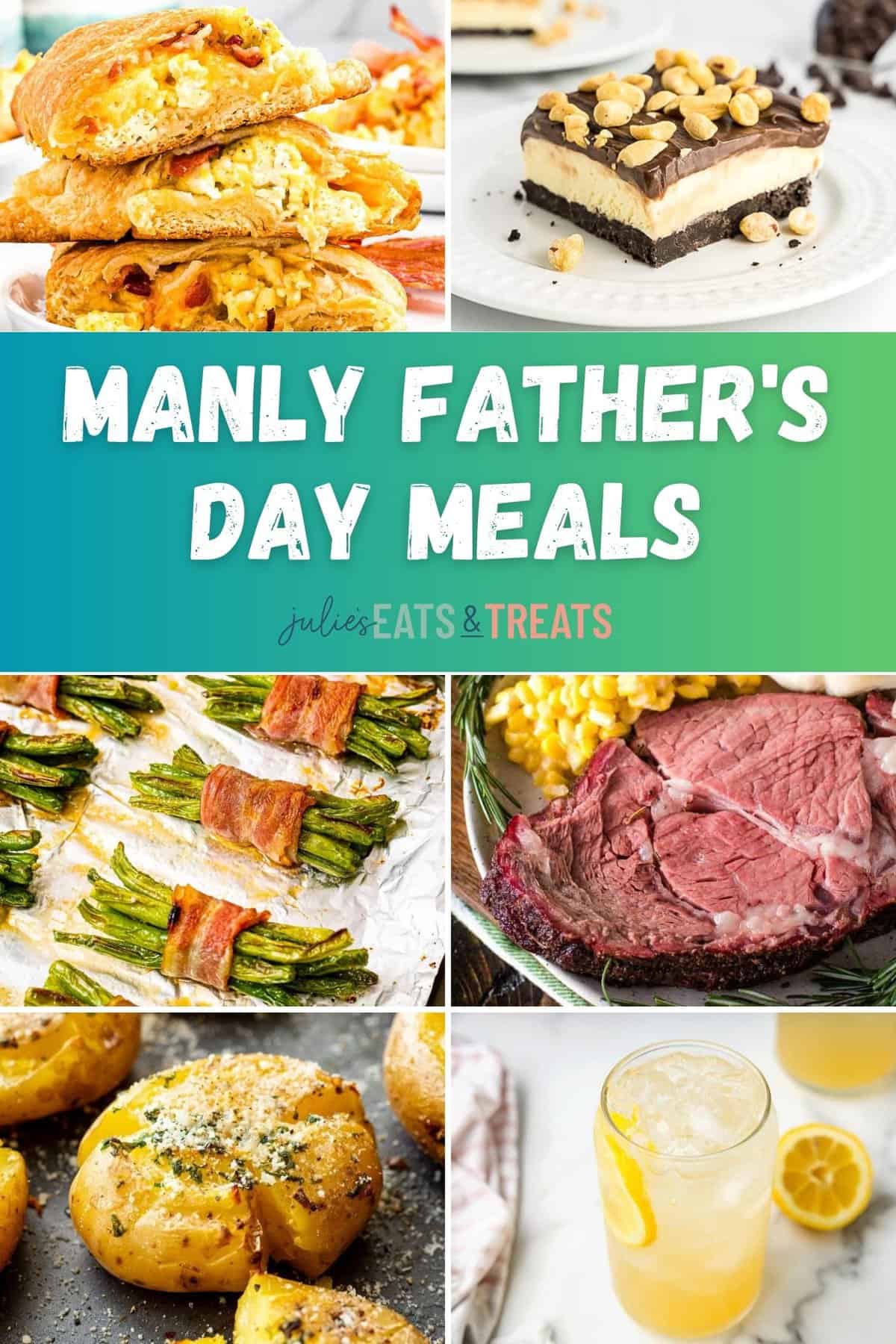 Hey there, food-loving friends! With Father's Day just around the corner, it's time to start planning a special celebration for the awesome dads in our lives. And what better way to show our appreciation than through the power of delicious food?
We've rounded up a fantastic collection of mouthwatering recipes that are sure to make Father's Day unforgettable. Whether your dad is a meat lover, a grill master, or has a sweet tooth, we've got you covered. These recipes are not only packed with flavor but are also easy to make, so you can spend less time stressing in the kitchen and more time enjoying the festivities.
For the dads who crave smoky goodness and melt-in-your-mouth meats, we've got some BBQ classics that will make their taste buds dance. From succulent ribs with a finger-lickin' homemade sauce to tender pulled pork sandwiches with all the fixings, these recipes will transport your backyard into a full-on BBQ paradise. Fire up the grill, grab your favorite marinades, and get ready to impress with your grilling skills.
Of course, we can't forget about the most important part of any celebration—the desserts! Treat your dad to something sweet and indulgent that will make his heart skip a beat. How about a luscious chocolate lava cake that oozes with rich, gooey goodness? Or perhaps a classic apple pie with a flaky crust and a scoop of vanilla ice cream on top? These desserts are pure bliss and will make your dad feel like the luckiest person in the world.
So, gather your ingredients, put on your apron, and let's make this Father's Day an unforgettable culinary adventure. Our roundup of recipes is here to inspire and guide you every step of the way. From the first bite to the last, you'll be creating memories that your dad will cherish for years to come.
Remember, it's not just about the food—it's about the love, appreciation, and laughter shared around the table. So, take this opportunity to celebrate your dad, shower him with affection, and enjoy the delicious creations that you whip up together. Happy Father's Day, and let the culinary festivities begin!
Click any of the headings below to jump straight to that section!
Breakfast
Start the day off with a hearty breakfast featuring one of these recipes. We have everything from perfect light and fluffy scrambled eggs, crispy bacon, breakfast enchiladas (<— try these) and more!
Slice it up and serve. So easy and delicious!
Grab this easy breakfast casserole recipe and treat your family and friends!
So tasty, everyone will be begging you to make these breakfast quesadillas again!
Perfect for an easy weekend morning or during the holidays! My kids LOVE this easy Breakfast Crescent ring recipe.
There's nothing like homemade sausage gravy for a comforting, hearty breakfast. Best paired with our homemade biscuits below!
Don't be intimidated by making homemade biscuits from scratch. We have step by step instructions. Pair them with the sausage gravy recipe above!
They are perfect for the holidays, but great all year long as a sweet breakfast or brunch treats. This recipe is fail-proof so everyone can enjoy a warm ooey, gooey cinnamon roll.
Make ahead breakfast?! No need to be awake extra early? Yes, please! A great twist on a classic egg bake and it will get rave reviews.
Minimal mess way to cook bacon! No grease, splatter or mess, yet the bacon is crispy and delicious!
This is a fail-proof pancake recipe that's simple to make and the pancakes turn out fluffy and delicious every time.
waffles
If you have been looking for a waffle recipe that is fluffy and delicious these are it.
With helpful tips and tricks, you will get the perfect fluffy batch every single time!
These Breakfast Sliders are super quick and easy which is perfect for a brunch.
Easy, cheesy, and has bacon. Sure to be your man's favorite breakfast! There's just something "manly" about a breakfast skillet!
Skip the bread with these delicious bacon egg muffins. If your man is eating low carb this is the breakfast for him!
This quick and easy Stuffed French Toast that takes breakfast to a whole new level!
We couldn't get enough of this delicious egg bake! It combines our favorite sausage and biscuits in a breakfast casserole.
No need to go to the restaurant to get those delicious breakfast potatoes, make them at home!
Appetizers
Planning a big meal? Start it off with a few appetizers to munch on before the "main event". This will keep everyone happy before it's time to dig into the main course!
It's an easy appetizer that's always gone. Grab the chips and dig into this easy Taco Dip.
Minnesota sushi! There's so many names for this delicacy, but no matter what you call it I assure you it will be gone!
The perfect finger food for any occasion! Stuffed mushrooms are a classic appetizer bursting with flavor.
Make these 2-ingredient Air Fryer Pigs in a Blanket. A finger food that's fun to eat!
Grilled shrimp with a twist… the best!
Aren't these everyone's favorite appetizer? Make them at home!
Dip your chips, crackers or vegetables into this gooey, cheese dip loaded with jalapenos.
They are quick, easy and only have a few ingredients.
It's so fun to make and has the taste of a pepperoni pizza – minus the hassle of making it.
The famous crack dip…IYKYK. Jimmy Fallon even gave this one rave reviews when he made it!
Throw simple ingredients in the crock pot and it's everyone's favorite. It's not a party unless this easy crock pot dip is there.
Drinks
Serve a few cocktails with your appetizers. Here's a few quick and easy ones that won't take long to make and don't require to many ingredients!
If your Dad likes elevated cocktails this classic Old Fashion will be the one to serve him.
A whiskey sour is tangy, smooth, and perfect for sipping on a relaxing evening. Cheers!
Indulge in the refreshing goodness of blackberry mojitos! Packed with juicy blackberries, mint leaves, lime juice, and a splash of rum, it's a fruity twist that'll make your taste buds dance. Enjoy!
Quench your thirst with a whiskey lemonade! Combining the zesty goodness of lemonade with the warmth of whiskey, it's a sweet and tangy treat that hits all the right notes. Cheers to a delightful sip!
Meet the Arnold Palmer cocktail, a delightful blend of iced tea and lemonade. It's the perfect balance of refreshing tea and tangy lemon, creating a cool, thirst-quenching beverage for any occasion. Sip and savor!
Introducing the Tom Collins cocktail, a sparkling citrus delight! Combining gin, lemon juice, simple syrup, and fizzy soda water, it's a refreshing classic that brings a burst of joy to your taste buds. Cheers to good times!
Get ready to spice up your life with a BBQ Bloody Mary! This cocktail with a kick of hot sauce makes it a bold, savory sip. Cheers to flavor-packed festivities.
Main Dishes
It's time for the big event! Fire up the smoker and make some ribs, grill some kabobs or stay inside with our delicious French Dips or Pork Tenderloin recipes!
Steak & potatoes… every man's favorite food combo. Thread them on a skewers and grill them for the ultimate flavor.
Mix up your burger with this quick and easy Italian Burger that is bursting with flavor. So much deliciousness from Italian seasonings, a juicy burger and ooey melty Mozzarella cheese and marinara.
This recipe for Garlic Butter Steak and Potatoes is full of tender, juicy pieces of steak with crispy potatoes tossed in garlic butter.
For the pasta lover in your life! So easy to make in 20 minutes in case you don't have a ton of time to treat Dad!
You'll have no problem impressing your man with these ribs. So easy with step by step instructions using the 3-2-1 Ribs method on the smoker.
Add a little favor to your steak bites! These steak kabobs are so easy to make with a delicious Asian marinade.
Ribs you can make in the oven! If you don't have a smoker making ribs in the oven is the perfect alternative.
These bone-in chicken thighs are juicy and perfect for a quick dinner recipe. A mouthwatering rub gives these grilled chicken thighs so much flavor.
If you love a great cut of beef and want to WOW your guests, a prime rib roast is a great meal!
Add these as a side or a use as a main course! It's simple and delicious to broil shrimp with seasoning.
Because who doesn't love a good burger? This will be a new favorite! If Dad loves whisky this is the perfect burger for him.
These chicken bacon kabobs are so delicious with just the right amount of ranch seasoning.
Three easy ingredients that will have you asking for more. Once again, steak, it's a man's favorite food group!
What's not to love about a buttered and toasted bun piled high with fall-apart tender roast beef and that melted Provolone cheese?
Now does this look tasty or what? Let me tell you we LOVE Beer Can Chicken on the grill!
The ultimate cheeseburger– SO MUCH CHEESE! 🤤 There's nothing like melty cheese pouring out of your stuffed burger.
Give this a try for the pork chop lovers in your life! A little sweet and a lot savory.
Not your average tator tot casserole. You might never make the classic casserole again!
So many options of what to use this pulled pork for and even the leftovers are great! The flavor of this Smoked Pork Putt is so amazing from a delicious homemade rub.
For some reason eating food off a stick is always better than with your fork, am I right?
This pork loin has a little kick to it from the taco seasoning and I loved it.
Pair it with a veggie and potatoes and you have a delcious meal!
The addition of BBQ Seasoning on these Shrimp Kabobs provides just the right amount of zest.
Side Dishes
The side dishes are sometimes even better than the main course when you make our famous potato salad or pepperoni salad! Maybe your guy has a sweet tooth and loves Cookie Salad!
You need this easy Baked Beans recipe that starts with canned pork and beans then adds in a few ingredients to make them AMAZING!
Sign me up to eat vegetables wrapped in bacon! 😍
A healthier side dish!
Everyone will be begging for seconds!
Perfect addition to any grilled meal!
Your favorite potato salad recipe with a twist.
America's favorite side for any bbq.
Pair it withe the pulled pork above or use it as a side for any meal!
The BEST mashed potatoes.
For the man with a sweet tooth in your life.
Cold Pasta Salads are my go-to dish for potlucks because it seems like everyone loves them and you can make them ahead of time!
The finishing touch on this Hash Brown Casserole is the buttery Rice Krispies that make it the BEST ever!
Desserts
It's time to treat them right with a fabulous dessert.The most important course! 😉
Each bite is a rich indulgence that is a treat!
It's inspired by your favorite Dairy Queen desserts like Buster Bars and Peanut Buster Parfait. It has the same yummy vanilla ice cream, peanuts and chocolate!
A delicious mixture of three different types of berries make this easy Berry Cobbler recipe a hit all the time.
Hello summer goodness! 😍
So many delicious layers in this dessert. 😋
It reminds me of my favorite dump cake but it's made with real ingredients. No canned pie filling here.
It's a quick and easy dessert recipe that is perfect for entertaining guests.