The BEST Casserole Recipes!
You just can't beat a traditional casserole recipe! There's something so comforting about diving into a hearty casserole for dinner. We have gathered the best of the best casserole recipes for you to try! Whether you want some Mexican inspired dishes, pasta dishes, chicken casseroles, or anything in between, there's a tasty and comforting casserole for any occasion.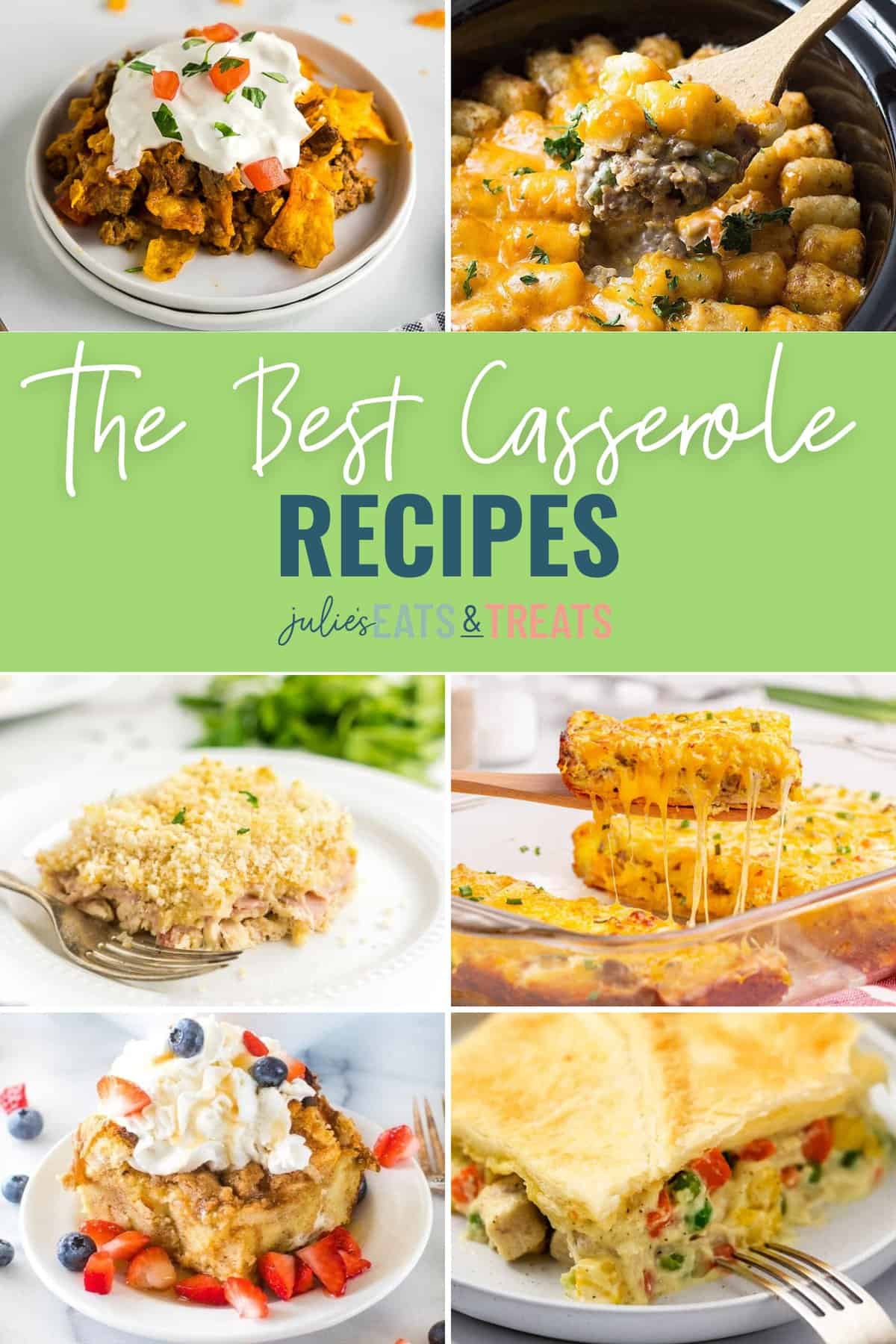 There's really never a time where you could go wrong making a casserole. They're always warm, delicious, and easy to serve. And best of all, many casserole recipes work well as leftovers or freezer meals.
Can we get a "heck, yes!" for leftovers? In my opinion, there's nothing better than leftovers. They mean that I either don't have to cook another night, or I've got a lunch all ready to eat!
Casseroles can be great for small families too! You can make the recipe for a larger casserole and divide it into two 8" x 8" dishes. Eat one for dinner and cover the other with foil and put in a resealable freezer bag and pop it in the freezer for another night.
We've rounded up some of the best casserole recipes and put them all in one post just for you to browse. My family loves a good dinner with a "hot dish" since that's what we call them here in Minnesota!
My daughter's favorite one is Pizza Casserole, closely followed by Chicken Wild Rice Casserole!
So which easy casserole recipe are you going to try first?
Casserole Recipes!
Click the words below to jump to that section!
Breakfast Casseroles
There's nothing quite like waking up to a hearty breakfast. I love making casseroles for breakfast because many recipes can be made the night before, thne popped into the oven the next morning. I've linked a few of my favorite overnight breakfast casserole recipes below. My ultimate favorite is this delicious Tater Tot Breakfast Casserole! I think you'll find a favorite in these recipes too!
You can prepare this delicious breakfast casserole the night before, then bake it when you wake up. You'll love this comforting casserole with crescent roll crust, loaded with sausage, eggs, and cheese.
I love serving this casserole for breakfast when I'm entertaining guests! It's like all the best breakfast foods combined into one casserole.
This simple casserole is such an easy overnight recipe. You'll wake up to something you can just pop in the oven in order to have a tasty and filling breakfast.
Enchiladas aren't just for lunch or dinner! These delicious overnight breakfast enchiladas are the perfect, easy casserole recipe that you can make the night before!
Tater tot casserole is already a popular recipe, so how about turning it into breakfast food? You'll love this cheesy tater tot breakfast casserole. So delicious and easy!
Need an easy breakfast recipe that won't take up your oven space? This cheesy breakfast casserole is made right in your crockpot. It's packed full of protein and is super filling.
If you need to steer clear of bacon and breakfast sausage, you'll love this turkey crockpot breakfast casserole. Let it cook slowly overnight in the crockpot, and you've got the easiest and most tasty breakfast the next morning!
Biscuit and gravy, but make it extra easy. This is your favorite, classic, breakfast food in casserole form!
This breakfast recipe is another great way to turn Mexican food into breakfast food. I love the delicious flavor of these green chile breakfast enchiladas.
This incredible recipe is always a hit at breakfast or brunch. It's truly one of the best casserole recipes out there! So hearty and delicious.
Yes, this is caramel apples in french toast casserole form! Can you say, mouthwateringly tasty? I love this gooey and sweet breakfast casserole.
If you're looking for a great fall breakfast casserole (or really, anytime casserole), you'll love this overnight pumpkin cheesecake french toast. The flavors are insanely good and the recipe is so easy!
Pasta Casseroles
A hearty pasta casserole is the perfect thing to serve for a weeknight dinner. We have twists on your favorite spaghetti casseroles, alfredo casseroles, and more. My family always loves this Spaghetti Pie Casserole. It's a favorite from my childhood.
One of my favorite casseroles ever! It's a twist on the normal baked spaghetti because it has a layer of noodles with alfredo sauce that makes it over-the-top delicious.
This comforting chicken noodle casserole is so delicious. It's one of my favorite meals to make on a busy weeknight because it's so easy!
This is probably one of the easiest pasta casserole recipes out there. It's perfectly creamy and absolutely delicious. Plus, the leftovers store really well!
Lasagna casserole is the perfect freezer meal or quick dinner-time recipe. Every bite of this easy casserole recipe is so delicious. You're family will rave over it!
There's no need to go out to eat to have tasty three cheese ravioli. This super easy casserole recipe is loaded with cheese and sausage. It's such a great hearty meal!
This warm and cozy casserole recipe only take 15 minutes to prep and turns out drool worthy. So good for a busy weeknight, especially on a cold day!
This leftover ham and spinach casserole is hearty, comforting and delicious! In fact, it's pretty one of the best casserole recipes there is.
So, when you guys all went crazy over this delicious Chicken Alfredo Stuffed Shells recipe, naturally, I looked for a way to make it easier. Enter, unstuffed chicken alfredo shells. The perfect easy casserole!
You probably had a version of this classic casserole growing up. And now, you can make it in your own kitchen! It's an affordable and easy dinner recipe that the whole family will love.
If you love chicken alfredo and you love lasagna, then this casserole recipe is just for you. Crockpot casseroles are truly the best! Let them cook during the day and you've got an easy dinner ready to go that evening.
Looking for something a little lighter? Try this casserole with a pasta sauce made with greek yogurt. A little healthier, but just as delicious!
Craving lasagna but have no time to make it? Make this super easy Crock Pot lasagna for dinner instead!
I love making spaghetti pie and throwing it in the freezer for later. It's an easy recipe that takes no time to make. This is also a great casserole to provide in a meal train or give to a friend who needs a special "pick me up" dinner.
I love one pot dishes so much! And this cheesy one pot Mexican chicken spaghetti is to die for. Plus, I can get it on the table in just 30 minutes!
Chicken Alfredo roll ups are a fabulous quick and delicious dinner that the entire family will love! Make them ahead of time and throw it in the freezer to heat up on an evening that you don't want to cook.
Are your kids always begging for chicken nuggets and pizza? Then they'll love this pizza casserole! This easy casserole recipe is only five ingredients and is great for even the pickiest of eaters.
Pineapple on pizza is super controversial, but man, the combination of flavors is so tasty. This Hawaiian lasagna is reminiscent of those flavors! It's so refreshing and yummy.
Change up taco night and make it pasta night instead. This Mexican pasta bake is so easy to make. Throw it together the next evening you need something quick and nutritious!
Once you try this one pot chicken Alfredo, you won't want any other Alfredo. This easy recipe has all the creamy pasta and tender chicken, without all the mess or time. You're going to love it!
Chicken spaghetti is a classic recipe that never gets old. It's a comforting dish that the whole family will love. You'll love making the nutritious meal on a busy weeknight.
Every pasta dish is made a little more fun with bow tie pasta. You're going to love these cheesy dish…and it's great for picky eaters!
I love bringing this dish to potlucks. Creamy corn and macaroni and cheese is a great side for any meal, and perfect for the holidays. But I make it at home for dinner sometimes too!
Main Dish Casseroles
Casseroles can be a side dish, but they can be the main dish too! These main dish casserole recipe are super filling, nutritious, and many of them are freezer friendly. If you have leftover ham make sure you try this Ham and Green Bean Casserole. And if you need a hands-off recipe, you can't beat a Tater Tot Casserole that's made in your Crock Pot!
Green bean casserole is a holiday classic, but with this twist it's perfect to eat as a meal. Meat, veggies, and creamy sauce, all in one dish! Doesn't get much better than that.
Five ingredients and one baking dish are all you need to make this tasty dish. You can have it prepped and ready to go into the oven in about 15 minutes. It's such a tasty way to get your kids to eat their veggies.
Fair warning…this casserole is addictive. It's mouthwateringly delicious! Make this creamy chicken dish for dinner on a busy weeknight. Just don't expect to have leftovers, because everyone will be going for seconds!
This is one of my family's favorite dishes! Dorito casserole is so cheesy and loaded with seasoned ground beef taco meat. If your kids are picky eaters, you should try this recipe!
Everyone needs a good sweet potato casserole recipe to use a round the holidays. This one is it! Not only is it delicious, but you can make it in your crock pot and save your oven space.
Quinoa is a great alternative to rice and this Mexican quinoa bake is so tasty. You only need 10 minutes to prep this easy weeknight meal!
If you are low on energy and need a win in the kitchen grab some frozen fish sticks and whip up cheesy fish stick hash brown casserole tonight!
Need a dinner recipe with only 10 minutes of prep time? Chicken and Wild Rice Casserole is a quick and easy recipe that is perfect for the weeknights! I especially love it on cold evenings.
This is fun twist on your classic tater tot casserole! There's no canned soups in this recipe and it tastes like a cheeseburger with tots. Such a win!
If you need a way to use leftover turkey after the holidays, you can make turkey sheperds pie! Holiday leftovers are boring no more!
Mexican casserole is one of our favorite quick and easy meals that is totally family friendly. My kids never say no to this and neither do I!
This is one of the easiest casserole recipes that I know about! Plus, it's an easy way to get my kids to eat their veggies.
I love this chicken hash brown casserole! It's cheesy and gooey and really the best comfort food recipe. You're gonna love it!
Yum, yum, yum! This cheesy chicken stuffing casserole will be a favorite to add into your dinner rotation. It's like holiday stuffing, but with cheese and chicken, and perfect for a one dish dinner!
Ok, this just one of the coolest casseroles. My family loves meatball subs, so making it in casserole form is just *chef's kiss*. So tasty and family friendly!
This is a true Minnesotan hot dish recipe! You can make this yummy Hamburger Wild Rice Casserole in the Crock Pot for a super easy dinner that packed with protein.
This one dish dinner is great to throw into the oven while you get other things done around the house. You'll have an dish with perfectly seasoned chicken in no time.
This super easy recipe is the perfect combination of comforting flavors. Your family is going to love this tasty chicken casserole!
This is the perfect comfort food dish! I love throwing it together on cold evenings in the winter. The whole family just gobbles it right up.
Need a way to hide veggies so that your kids will eat them? Make this tasty BBQ chicken zuchinni noodle casserole. Zoodles are a great way to get your serving of veggies in. Mix the with greek yogurt, bbq sauce, chicken, and cheese, and you've got a winning dish!
Sloppy joes can be really…well, sloppy! But make them in casserole form and it's easier to eat, but just as tasty. Such a fun recipe!
The night I made this Mashed Potato Casserole for the first time, my husband declared, "I think those are the best-mashed potatoes you've ever made." I think that speaks for itself. You've got to try this recipe!
Taco night just got easier with this taco casserole! All of the delicious flavors of tacos, just put together in one easy dish.
This recipe is from my Mom's recipe box and a family-favorite casserole recipe! Now I'm sharing it with you so that you can put this delicious casserole on your family table for dinner.
This tasty casserole is always in rotation during the winter months at our house. It's such a quick recipe too! Great for busy weeknights when you need a hearty meal.
Throw this amazing recipe into your weeknight dinner rotation! If you're tired of pasta but want Italian, you'll love this chicken and rice casserole.
This was one of my favorite casseroles growing up and your family is going to love it too! It's a great dish to have for dinner, and perfect to bring to a potluck. It's always a crowd favorite.
Enchilada Casseroles
Put a little spice in your dinner tonight with our favorite enchilada casserole recipes. I've been making these Chicken Enchiladas for years and it's perfect to serve if you have guests, or when you need to makie a quick and easy dinner recipe! There's so many delicious enchilada casseroles in this round up.
Looking for a delicious dinner recipe? These creamy chicken enchiladas are amazing. They're better than chicken enchiladas at a restaurant!
Need a "stick to ribs" meal? Make these enchiladas with crispy potatoes and tasty beef. It's such a filling and nutritious meal!
These enchiladas are the best combo of seafood and Tex-Mex. I love making this when I'm hosting guests for dinner. They're always a hit with any crowd!
Spice things up for dinner with these tasty chicken ranch enchiladas. Such a fun twist to serve for dinner.
Craving Mexican? This enchilada casserole is crazy easy and tastes just like the classic enchiladas you'd get at the restaurant.
This white chicken enchilada pasta is absolutely as good as it sounds! You're going to love this tasty pasta casserole.