The BEST Casserole Recipes!
You just can't beat a traditional casserole recipe! There's something comforting when you dive into a hearty casserole for dinner. I grew up eating them for dinner, but we referred to them as Hot Dishes in Minnesota! Whatever you call them, casseroles or hot dishes, they are amazing. We have gathered the best casserole recipes for you today! We have Mexican inspired dishes, pasta, rice, Tater Tot and more! Make sure you start trying them on your meal plans today!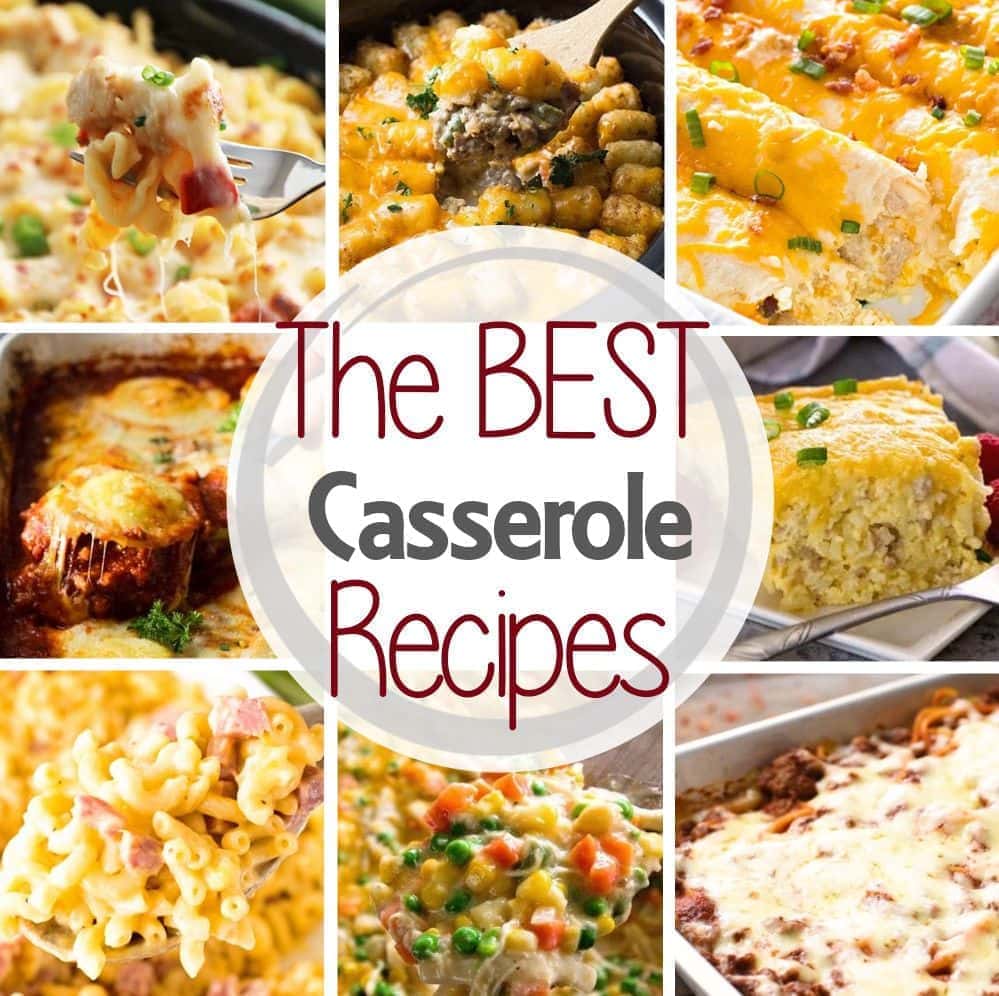 You can't go wrong with a casserole because they are warm, served in one dish and relatively easy to make. And best of all, many casserole recipes work well as leftovers or freezer meals.
Can we get a "Heck, yes!" for leftovers? There's nothing better in my opinion because I either don't have to cook another night or I can eat them for lunch.
If you have a small family simply make larger casseroles in two 8" x 8" dishes. Cover one with foil and put in a resealable freezer bag and pop it in the freezer for another night.
Don't forget to grab the freezer meal labels I linked below!
[et_bloom_inline optin_id="optin_3″]
We've collected our favorite cozy, hearty casseroles and put them all in one post just for you to browse. My family loves a good dinner with a "hot dish" since that's what we call them here in Minnesota!
My daughter's favorite one is Pizza Casserole followed by Chicken Wild Rice Casserole!
The only question is which one are you going to try first?
Casserole Recipes!
Click the words below to jump to that section!
Breakfast Casseroles
There's nothing like waking up to a hearty breakfast is there? I love making casseroles for breakfast because a lot of time you can make them the night before. I'm linking a few of my favorite overnight breakfast casseroles.  My ultimate favorite is this delicious Tater Tot Breakfast Casserole!
Pasta Casseroles
A hearty pasta casserole is the perfect recipe for a weeknight dinner. We have twist on your favorite spaghetti casseroles, Alfredo casseroles, Crock Pot versions and more. My family always loves this Spaghetti Pie Casserole. It's a favorite from my childhood.
Main Dish Casseroles
Serve up a hearty main dish casserole recipe to feed your family tonight. They are filling and there are so many different twists on them, plus a lot of them are freezer friendly. If you have leftover ham make sure you try this Ham and Green Bean Casserole. More of a traditionalist? You can't beat a Tater Tot Casserole that's made in your Crock Pot with bacon!
Enchilada Casseroles
Put a little spice in your dinner with our favorite enchilada casserole recipes. I've been making these Chicken Enchiladas for years and it's perfect for serving if you have guests or making for a quick and easy dinner recipe!