Farmer Approved Field Meals!
Tons of inspiration for field friendly meals that will feed your hungry farmers through the spring and fall. The best part, these are all tested by a farm family and given their approval. Everything from sliders, casseroles, sandwiches and more!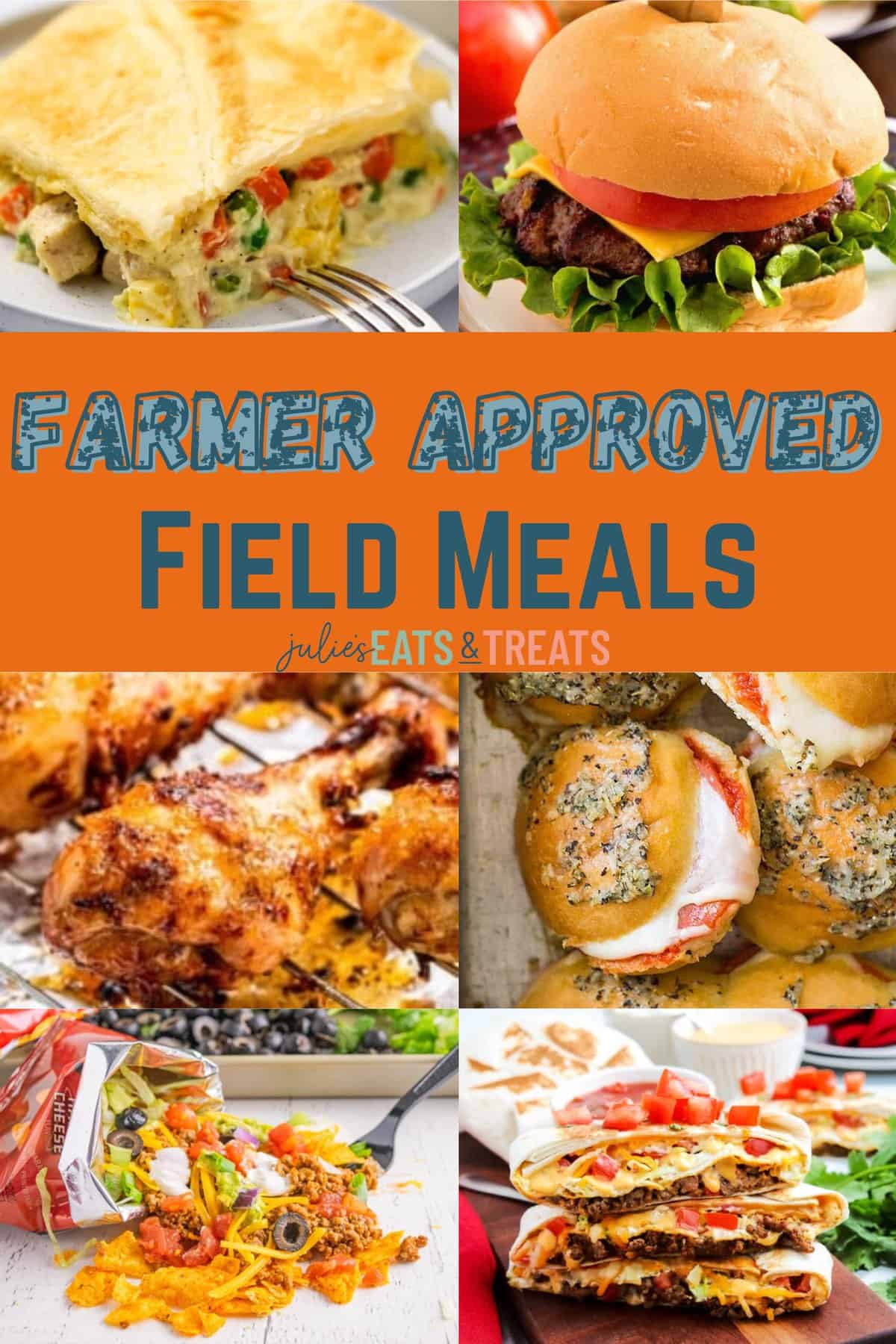 These meals pass the "no knife required" test. Which means that everything listed can be eaten with a fork or with your hands. Throw one of these easy meals in Tupperware, aluminum pans, or styrofoam boxes. Then pack a fork, napkin, and a beverage and you will be ready to be deliver hearty field meals to your hungry farmer!
We know that meals for farmers in the field can't be complete without a sweet treat! So we were sure to include some delicious and easy dessert options too.
Here's to good food and a bountiful yield! 🍅🌽 Happy harvesting!
Main Dishes
Looking for a good portable meals for farmers in the field? These Pizza Crescent Rolls are the perfect! Pack them away in an insulated lunch pack so your hardworking farmer has a fresh hot meal in the field.
Serve up a hearty cheeseburger casserole to fuel your hardworking farmers on-the-go. This delicious casserole is packed full of protein to keep you full for a long day of work.
If you need a quick option to add to your list of field meals, this refreshing tuna salad is perfect. Loaded with protein and has the most delicious flavor.
Wholesome egg roll in a bowl is a quick and tasty pick-me-up. Savory and simple!
This effortless Stromboli is a one of those savory and delightful meals for famers in the field. Plus it's really quick to make!
Get ready to flip for this fuss-free fiesta of flavors – all on a single sheet pan! A fabulous meal to keep you energized all day long.
It's burger bliss with a twist – tater tots and gooey cheese make this incredible casserole a taste explosion! 😋
Pop these drumsticks in the air fryer for a crunchy, golden-brown exterior and juicy, tender meat inside. Then pack them up for a protein packed field meal.
🧀🥣 Stirring up a symphony of cheesy goodness, one slow-cooked spoonful at a time. You'll love this easy crock pot mac and cheese.
Savor the flavor of taco stroganoff! 🌮 Who said it can't be taco Tuesday for those farmers pulling a long shift?
Set it and forget it! Not only is this a great field meal, but you can also pop it in the oven and relax after a hard-day's work before dinner.
Dive into layers of creamy potatoes and savory ham, baked to perfection in a cozy casserole. A hearty, stick to your ribs meal that anyone would love.
Get ready to tango with tender chicken and al dente pasta, all drenched in a smoky, spicy Cajun sauce. Who wouldn't want this yummy meal?
Mix, munch, and marvel at the irresistible combination of zesty taco flavors and satisfying Dorito crunch. Dorito taco salad is a great way to sneak in those necessary servings of veggies.
Comfort food field meals for farmers…chicken cordon bleu casserole, is a nod to a classic homestyle dish that your farmers will love! 🍗🧀
🥩✨ Elevate your steak game with these succulent bites, perfectly cooked in the air fryer to juicy perfection. A great meal on-the-go!
Skillet lasagna is a modern twist on a classic favorite – meaty, cheesy, and oh-so-satisfying. One of my favorite meals for farmers in the field.
Giddy up and get ready to lasso some deliciousness! 🐎🌵 A classic burger is one of the best field meals there is!
Warm your soul with a flaky, golden crust that envelops a hearty medley of tender chicken, vibrant veggies, and creamy sauce.
With each bite, you'll savor the warmth and comfort that only a homemade stroganoff can bring.
Air fryer shrimp is a guilt-free indulgence that'll have you reaching for more – a seafood sensation that's both easy and impressive. And it's a great field meal too!
Pizza pasta party: The best of both worlds! 🍕🍝 A great meal to pack away in the thermos for a hot lunch in the field.
Rolling up comfort and flavor in every bite for our hardworking farmers. These delicious pinwheels are easy to make an full of protein to keep you full.
Slow-cooked tenderness meets farm-fresh flavors in every bite of our hearty Cube Steak. Such an easy and simple recipe!
This noodle bake is like a cozy hug for your taste buds, guaranteed to make you say 'Mmm!' with every bite.
Bite-sized delight: Pizza Pinwheels! These twists of flavor are perfect for hardworking farmers to fill up on! 🍕
Dive into layers of al dente rigatoni, savory marinara sauce, and a cheesy embrace, all baked to perfection. Bring Italy to the fields of your farm!
🐔🍚 Nourishing our hardworking farmers with a hearty dose of deliciousness. We love this simple chicken fried rice.
Dive into layers of thinly sliced beef, sautéed onions & peppers, and melted cheese. Philly cheesesteaks will never get turned down around here!
Whether tucked into tacos, piled onto nachos, or enjoyed on their own, these Instant Pot Carnitas will transport your taste buds to your favorite taco shop!
Elevate your dinner game with this time-saving, flavor-packed combo. It's a great field meal too!
Chicken pot pie is well known, but ever heard of beef pot pie? It's a comforting masterpiece that's as impressive as it is delicious.
This cheeseburger pie is like biting into your favorite burger, but in a delightful pie form. One of the best hearty field meals!
Dive into layers of tender chicken, savory stuffing, and a gooey cheese blanket that'll warm your heart and satisfy your cravings.
Get ready to dig into a slice of home-cooked heaven! 😋 Chicken pot pie casserole is a classic that never gets old.
Delivering a taste of home straight to the fields. You'll love this savory casserole that's packed full of protein.
A nutritious and flavorful dish that's as strong as the folks tending the fields. It's really quick and easy to make too!
Ready to wow your taste buds? Our air fryer pork tenderloin is here to steal the show. Protein to keep you fueled all day long.
Dive in and savor every bite of this Italian classic! This timeless dish is a great meal for farmers in the field who need to keep their bellies full as they work hard all day long.
Elevate your sandwich game with our hearty Meatloaf Sandwich! 🥪 This is a great easy field meal to throw together in a pinch.
Recreate the crave-worthy goodness of your favorite fast-food delight right at home. It'll save you some money and a trip into town for the drive-thru!
Farm-fueled feasting at its finest! This baked ravioli is loaded with protein and incredible flavor.
Bringing the vibrant flavors of homemade orange chicken to our hardworking farm crew. You'll love this quick meal!
A delicious twist on a traditional meal. This taco ring has layers of savory goodness that anyone would enjoy.
Tender chicken, crisp green beans, and golden potatoes, a symphony of flavors and textures that's simply irresistible.
It's comfort food with a kick, a perfect marriage of two classics that warms your heart and satisfies your hunger.
Hamburger Stroganoff: Comfort in Every Bite! 🍔 Not to mention, the perfect field meal for farmers.
Savor the hearty goodness of tender roast beef nestled between crusty bread, served with au jus for that extra kick of flavor.
Elevate your farmer's mealtime experience with a dash of elegance and a whole lot of flavor! 🌾🍽️
This easy meal is a warm, comforting dish that refuel, satisfies, and brings a taste of home to the heart of the farm.
A meal that brings the excitement of taco night to the fields – tender pasta, zesty spices, and all the fixings.
Tender ham, melted cheese, and a touch of magic, all nestled between soft buns. Whether it's a quick snack, a party platter, or a meal on the go, these sliders bring a burst of flavor and warmth that'll brighten your day.
Savor these sliders, fuel up, and know that your work is appreciated with every delicious bite.
These bite-sized flavor bombs bring the pizza party straight to the fields. A fun recipe to add to your rotation of field meals for farmers.
Perfectly portioned for a quick bite between tasks, these sliders are a reminder that great meals can be both delicious and convenient.
A taste of Italy with a garlic shrimp twist: Tortellini toss delight! 🍤🧄 Seafood is a great field meal!
With every juicy bite, you'll experience the perfect harmony of sticky sweetness and irresistible savory flavors.
Dive into a dish that's hearty, homey, and all-around delightful – perfect for satisfying those comfort food cravings! 😋🍽️
Chicken and wild rice casserole is like a cozy hug in every bite! 🍗 Comfort food that you didn't know you needed.
Mix creamy sauce, tender pasta, and a splash of creativity, then sprinkle on the cheesy charm. Tuna casserole is a great on-the-go meal.
Juicy chicken, crunchy veggies, and surprise bursts of sweetness from plump grapes – it's a party for your taste buds!
Drumroll, please! Baked chicken legs are taking the stage! 🍗🔥
Walking Tacos are a delicious and convenient delight for hardworking farmers. Not to mention, you can use topping straight from your field!
Elevate your quesadilla game with a super fun twist – tender pulled pork meets gooey cheese, all nestled between crispy tortillas.
Whether it's a family dinner or a weeknight treat, this Crock-Pot creation is a reminder that good things come to those who wait! 🍽️
Say goodbye to the box and hello to a world of fresh flavors and creativity. Homemade hamburger helper is way better than anything you could buy at the store.
Our king ranch casserole is the perfect fuel to keep those tractors rolling and spirits high.
Get ready to relish every bite of this timeless deli favorite! 😋 Sandwiches are the perfect field meal!
It's a hearty and satisfying dish that warms the soul and fills the belly, all without the fuss of multiple pots and pans. One pot of incredible comfort food.
Whether you're enjoying it on a sandwich, over rice, or as a dip, this dish is the ultimate crave-worthy indulgence.
Nothing says 'we appreciate you' like hearty, homemade mini meatloaves made with love. Great for packing into a lunch for farmers on-the-go.
Transform the classic favorite into a cozy casserole that'll have your taste buds dancing. Sloppy joe casserole is a game-changer!
Indulge in comfort food at its finest with this delightful Cheesy Ham and Noodle Casserole!